Recipes for Ground Turkey Meatballs
If you are tired of Beef Meatballs and looking for something healthier, try these Recipes for Ground Turkey Meatballs.  I change up the recipe two different ways and both are delicious. It really depends on what I have available.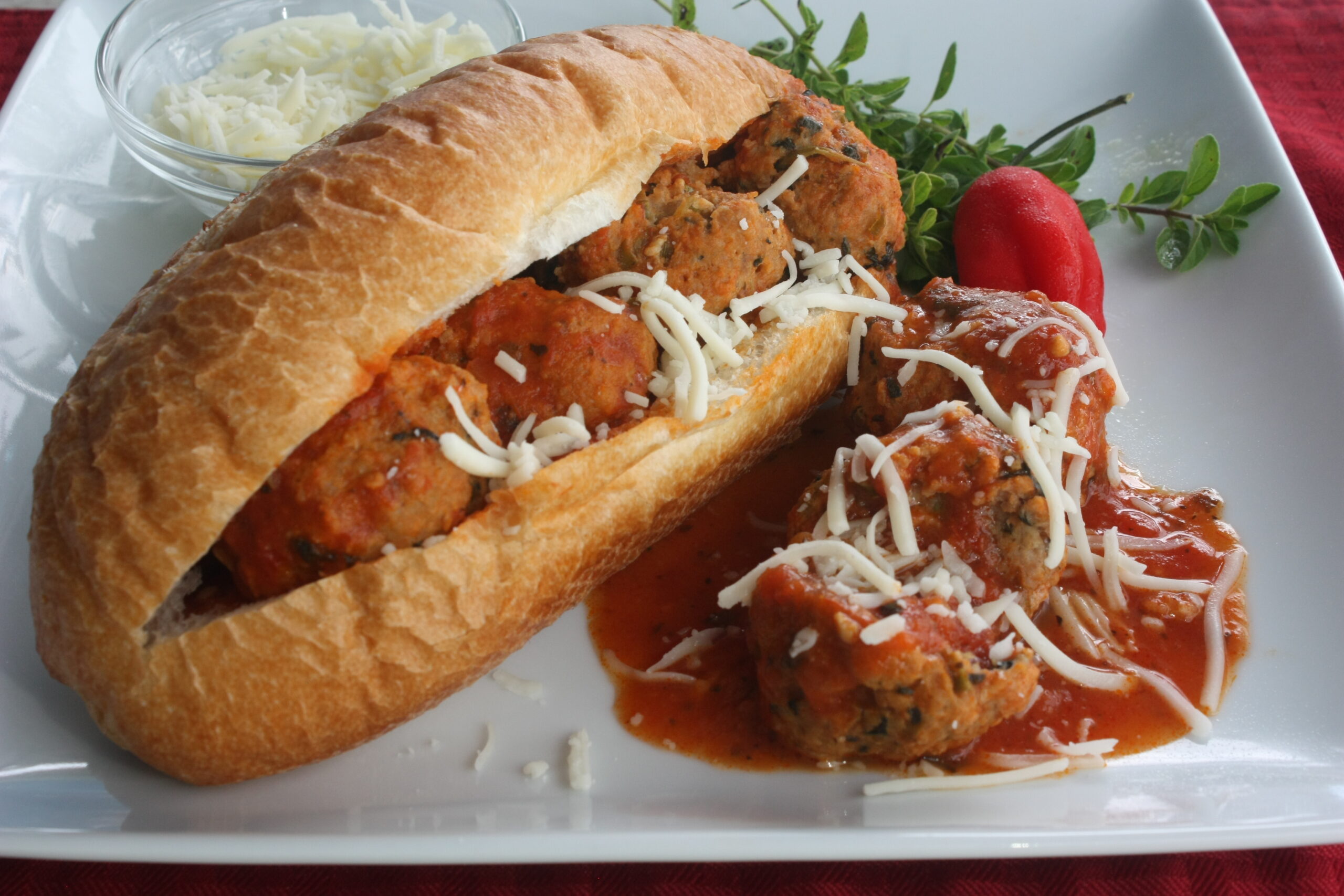 The difference between the two is whether or not I have Spinach & Parmesan Cheese and on hand.  I like to add spinach for additional nutritional benefits and flavor.  Just like any kind of meatball they are delicious served with pasta, as a sandwich, or by themselves. 
These super moist Recipes for Ground Turkey Meatballs are one of my family's favorite meals.  It's a meal we have at least twice a month.  It only takes 15 minutes to cook in the Pressure Cookers so I prep the ground turkey the night before so it makes for a quick after-work meal. 
What is Ground Turkey?
Ground Turkey is Turkey meat ground or minced.  Depending on the lean percentage Ground Turkey includes dark, light meat and skin.  Just like Ground Beef, Ground Turkey is available in different lean percentages. 
The difference is you will find Ground Turkey usually in a 95% lean 5% fat, for this recipe I used an 85% lean 15% fat because that is what I had.  I've also have made it with 95% lean 5% fat and it's still moist and delicious.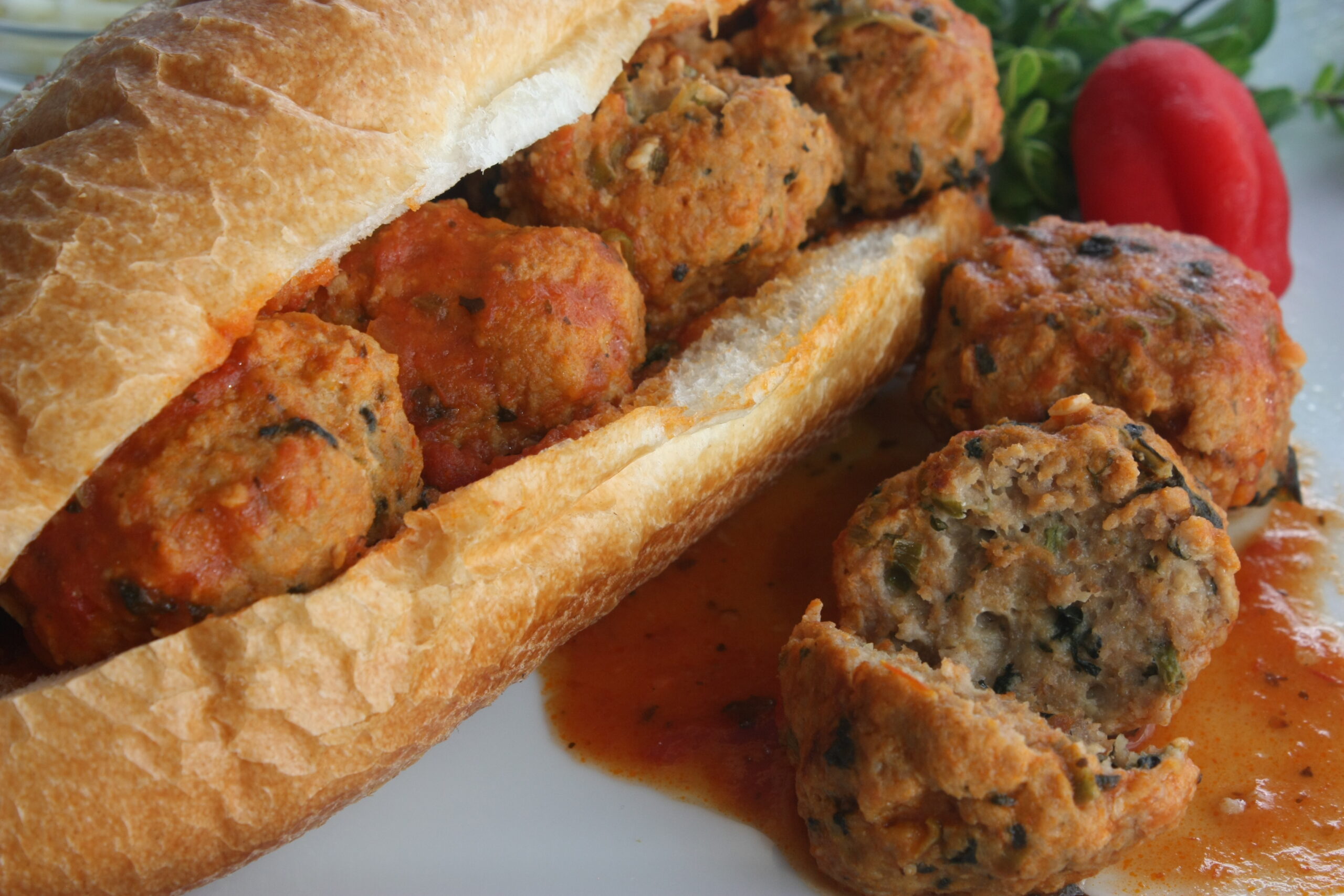 Is Ground Turkey Better Than Ground Beef?
In some ways, Ground Turkey is much better than Ground Beef, but it's really a matter of opinion.  I enjoy them both very much but like to limit my red meat intake due to high cholesterol.  So, if you are watching your cholesterol, I would choose Ground Turkey over Ground Beef. 
Yes, Ground Turkey is a little healthier meat and can be used in burgers, tacos, chili, or meatballs.  Ground Turkey is lower in fat, high in protein, and low in calories.  Change it up and give these Recipes for Ground Turkey Meatballs a try. 
How to Cook Ground Turkey?
The leaner the meat the less fat it has to keep it moist. Ground Turkey must be cooked to an internal temperature of 165° for it to be fully cooked.  If you overcook Ground Turkey it will become dry, be sure to check the temperature with a cooking thermometer. 
Just like with Ground Beef don't overwork it when forming the meatball or burgers.  The meat should be loosely holding itself together, if you form a firm meatball, it will become dense and dry, and we don't want that to happen.
The benefit of cooking these Recipes for Ground Turkey Meatballs in the Pressure Cooker is it keeps the meatballs moist while cooking in the sauce. 
PRESSURE COOKER TIP:  Be sure to add 1 cup of water before adding in the pasta sauce and Turkey Meatballs.  If you don't the Pressure Cooker will turn off if it starts to burn on the bottom.  I've made this mistake a couple of times and it's not easy to clean the Pressure Cooker.  
Turkey Meatball Topping & Side Dishes
Here is a list of some of the toppings we like to put on our Turkey Meatballs
Any kind of Cheese (Parmesan, Mozzarella, Monterey Jack, etc.)

Sliced Onions

Fresh Basil

Sliced Bell Peppers

Red Pepper Seeds

More Sauce

Any kind of Hot Peppers to give your Meatballs some heat
Side Dishes for Meatballs
Baked Potato

Roasting Potatoes

Green Beans

Pasta

Egg Noodles

Corn on the Cob

Potato Wedges

Bruschetta

Salad

Rice

Garlic Bread

Asparagus

Broccoli 
The Secret Behind Tender Turkey Meatballs
Ground Turkey or Ground Chicken can become tough and dry when used in meatballs.  The Secret Behind Tender Turkey Meatballs are:
Include finely chopped ingredients in the mixture.  Adding one or two of these ingredients will add space in between the meat and not allow it to get so firm.  Adding chopped ingredients like onions, grated cheese, parsley, spinach,  peppers, breadcrumbs, etc. 

When forming Turkey Meatballs go easy on them, you are just forming the shape. DO NOT roll them for too long or too tight they will turn out tough. 

Meatballs should be a little larger than a golf ball, or about 1 inch in size.
Check out our Beef Meatball Recipes!
Easy and Delicious Crockpot Meatball
Cranberry and Chili Sauce Meatballs
Authentic Italian Meatball Recipe
Turkey Meatballs
Ingredients
1

lb

Lean Ground Turkey

85% Lean - 15% Fat

1

cup

Onion Diced

White, Yellow or Red

1

large

Egg

3/4

cup

Bread Crumbs

Plain or Italian Style

1

tbsp

Garlic Powder

1

tbsp

Italian Seasoning

1/2

tsp

Salt

1/2

tsp

Pepper

1

24 oz jar

Pasta Sauce

1

cup

Water
Instructions
Place 1lb of ground turkey in a large mixing bowl,

Add in the egg, diced onion, bread crumbs, garlic powder, Italian seasoning, salt and pepper a mix thoroughly.

Roll into golf ball sized meatballs. This should make between 12-15 meatballs.

Pour a cup of water into the pressure cooker first.

Pour 1 jar of the pasta sauce into the pressure cooker.

Add the meatballs on top of the sauce you just added.

Pour the second jar of the sauce over the meatballs.

Set the pressure cooker to meat/stew setting.

Set the timer for 15 minutes.