How to Cook a Rotisserie Chicken
Today I'm going to share How to Cook a Rotisserie Chicken.  Rotisserie Chicken is simple to cook what makes it different it the seasoning that is used. 
In order to Cook a Rotisserie Chicken, we need to tie it up or Truss it first.  The reason why it's good to truss a chicken is to ensure that the whole chicken cooks evenly.  I haven't made a video for this yet, so I decided to share the Food Network video on How to Truss a Chicken!
Why I Love Cooking Rotisserie Chicken
Rotisserie Chicken is one of my family's favorite meals and honestly as well as mine.  I keep an eye out on my local grocery stores for when they have whole chickens on sale.  It's a delicious Sunday meal that we can guarantee leftovers for Monday.  I always love that. 
Making a Rotisserie Chicken at home doesn't have to be intimidating, in reality, it's simple to do.  When you truss the chicken, it holds all the juices and flavor inside the chicken. 
You end up with juicy flavorful meat inside and crunchy crispy skin on the outside.  The crunchy skin is my favorite part because that has all the seasoning. 

How do you know when a Rotisserie Chicken is Done?
The best way is to use an electronic food thermometer. Every kitchen should have a food thermometer to be sure food is cooked properly. 
When using a food thermometer make sure you place it in the thickest part of the meat.  The thickest part of a chicken is the chicken thigh.  A chicken's internal temperature should be 165° F for it to be done. 
What to Make with a Rotisserie Chicken?
I used a Food Steamer for the fresh green beans and a Pressure Cooker for Potato Recipe below. 
Steam String Beans

Peas

Carrots

Potato Salad

Peas

Any kind of Vegetable is delicious with Chicken
We hope you'll try this recipe and come back to let us know what you thought!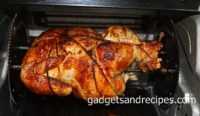 Print Recipe
Rotisserie Chicken w/Roasted Potatoes and Green Beans
Ingredients
1

5-6 lb

Whole Chicken

6-8

Medium Sized

Potatoes

Cut into 1/2-inch wedges

1

lb

Fresh String Beans
Chicken Spices
1/2

tbsp

Garlic Powder

1/2

tbsp

Onion Powder

1/2

tbsp

Italian Seasoning

1/2

tbsp

Paprika

dash

Salt & Pepper

Fresh Ground
Potato Spices
1/2

cup

Water

Needed for steam in the pressure cooker

1/2

cup

Red Onion

Finely Chopped

2

tbsp

Butter

Cut into small pieces

1/2

tbsp

Paprika

1/2

tbsp

Dried Oregano or Italian Seasoning

dash

Salt & Pepper

Fresh Ground

1/2

cup

Grated Pecorino Romano Cheese

Or Grated Parmesan Cheese
Green Bean Spices
1/4

cup

Sliced Almonds

2

tbsp

Butter

1/2

Garlic Clove

Minced

1

tbsp

Grated Pecorino Romano Cheese

Or Grated Parmesan Cheese
Instructions
Chicken
Combine all the Chicken spices listed above and rub all over the entire chicken.

Using kitchen string, tie down the legs and wings securely.

Put chicken into the Rotisserie and cook for approximately 15 mins per pound until the internal temperature reaches 170-175°F (76.7-79.4°C)
Potatoes
Pour 1/2 cup water into the pressure cooker. Use the steamer plate that comes with the pressure cooker and place it into the pressure cooker.

Combine all of the Potato spices listed above (except the grated cheese) and mix well onto the potato wedges. Place potato wedges into the Pressure Cooker onto the steamer plate.

Secure the lid to the Pressure Cooker and set the timer for 5 minutes.

Remove the potatoes and transfer to a serving plate.

Sprinkle with the potatoes with the grated cheese of your choice.
Green Beans
Place the fresh String Beans into the Steamer and cook for approximately 13-17 minutes.

In a separate pan, melt 2 tbsp of butter then add the minced garlic and cook for 1-2 minutes over low heat.

Add in the sliced almonds and cook for an additional 1-2 minutes.

Pour garlic seasoned butter mixture over the string beans and stir to coat them evenly.

Sprinkle with freshly grated Parmesan Cheese.