How to Make Crispy Chicken Wings in an Air Fryer
I love serving up Crispy Chicken Wings in Air Fryer for dinner.  It's a simple meal that can be made any day of the week using the Air Fryer.  I recently purchased a Power XL Air Fryer Vortex.  Be sure to check out the review on it.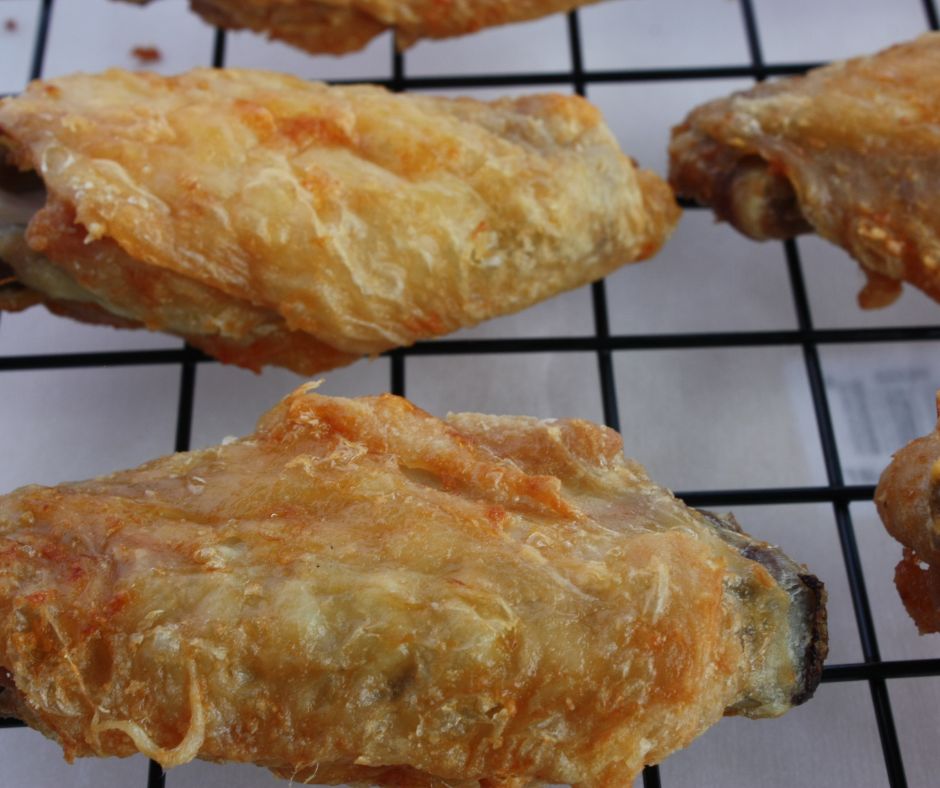 Air Fryers have been all the raves since 2010 when they came on the market.  The Air Fryer allows you to enjoy fried food without the added calories of oil. 
One of my favorite foods during Football Season (GO Birds!) is a Crispy Chicken Wing.  I would usually go out to the local bar and watch the game and order Wings and a beer.  NOW, I can make the Crispy Chicken Wings at home anytime. 
There are only a  few ingredients you need to make Crispy Chicken Wings in an Air Fryer.  Baking powder, salt & pepper, and your favorite seasoning. 
I do not put the seasoning on while cooking, I leave that for after.  I found that the seasoning burns when you put it on the Wings while cooking. One of the fun things with chicken wings is you can flavor it any way you want after it's cooked. 
Secret Tips to Crispy Chicken Wings
There are 2 key Secrets to making Crispy Chicken Wings. 
First, make sure you dry each chicken wing.  I know this may sound a little time-consuming but trust me it's worth it. Drying each chicken wing removes the moisture which is what makes them crispy on the outside. 
I use paper towels, several of them to dry off the chicken wings.  Get about 4 sections of paper towels and fold them in half.  Place one chicken wing in and squeeze it in your hand to remove as much moisture as possible. 
Second, secret is Baking Powder NOT baking soda! You don't need a lot of baking powder about 1 tbs per 2 lbs. of wings.  They don't need to be covered in baking powder just a dusting.   Baking Powder breaks down the protein and raises the skin's pH levels for a Brown Crispy Chicken Wing.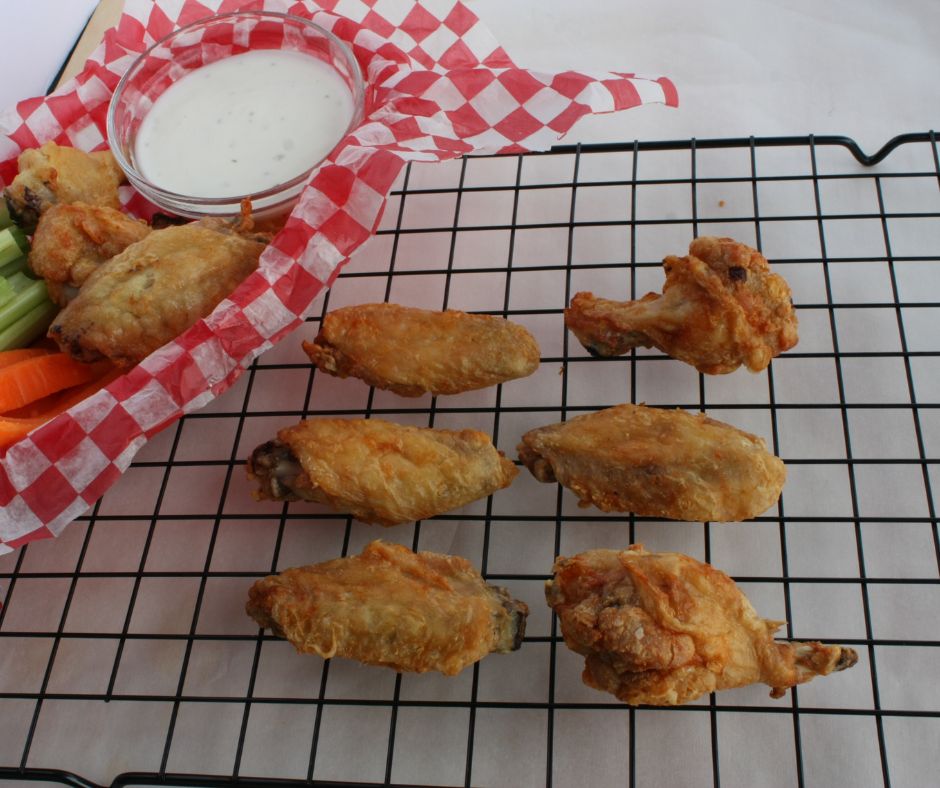 Extra Tips Crispy Chicken Wings in Air Fryer
Spray the basket with the right kind of oil.  The only reason you need to use oil is so your food doesn't stick to the bottom of the Air Fryer basket.  Avocado Oil, Olive Oil, Peanut Oil, Grapeseed Oil, Canola Oil, and Vegetable Oil are great types of oils to use in an Air Fryer.  Why these types of oils?
They are high-temperature oils that can withstand the heat without burning or smoking.   DO NOT USE Corn Oil, Coconut Oil, or Sesame Oil, they will burn and the AirFryer will start to smoke.  They can't handle the high temperature in the Air Fryer.
ADDED EXTRA AIR FRYER SECRET! 
Add water to the bottom of the basket, just below the vent holes.  Why do you ask? While cooking greasy food in an Air Fryer the grease will drip into the water and not to the bottom of your Air Fryer. The grease won't lay on the bottom and burn, also for easy cleanup.  This will also ensure your Air Fryer does not smoke and make your smoke alarms go off while cooking.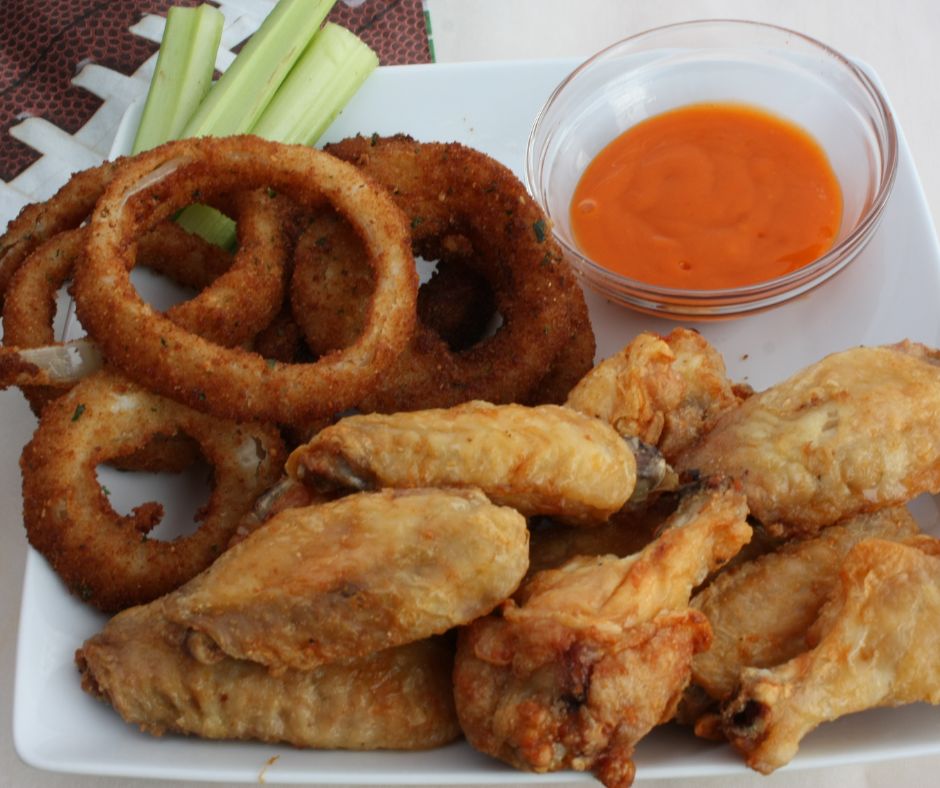 Start off at a low temperature then go high. Starting off with a low temperature while cooking Crispy Chicken Wings will cook the inside first. Once they are cooked then Crisp them up at a higher temperature.  Cooking at a high temperature the whole time will burn the outside of the Chicken Wing and the inside will not be fully cooked. The proper internal temperature for a Chicken is 165 degrees. 
Keep Leftover!!!  You can Reheat Crispy Chicken Wings in Air Fryer and they taste like you just cooked them.  Only cook them at a medium temperature to not lose the crispness but get them hot. An Air Fryer is Amazing for Leftover.
Enjoy Your Crispy Chicken Wings in Air Fryer. Please Share How You Seasoned Your Crispy Chicken Wings!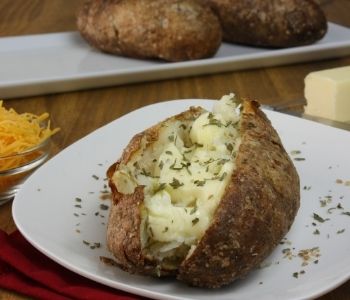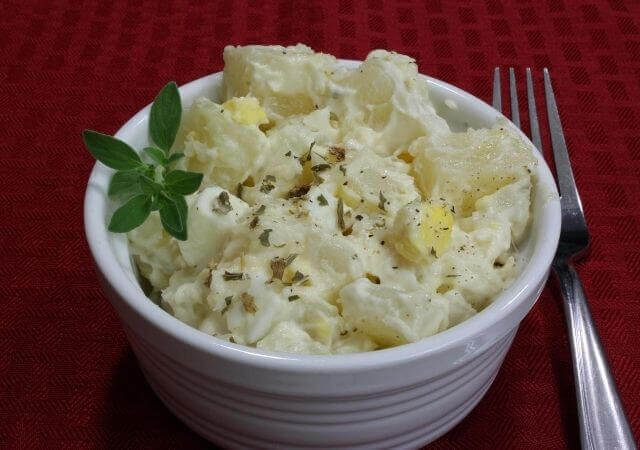 Print Recipe
Air Fryer Chicken Wings
Air Fryer Chicken Wings Crispy
Ingredients
10-12

pcs

Chicken Wings - Wingettes / Drumettes

1

tbs

Olive Oil

1

tbs

Baking Powder

1

tbs

Garlic Powder

1

tbs

Onion Powder
Instructions
Add 1 cup water in the bottom of the air fryer

Pat dry wings with paper towels to get rid of excess liquid

Preheat the Air Fryer at 385° for 5 minutes

In a bowl, add wings then sift the baking powder over wings

Add in garlic and onion powder and mix together

Arrange wings in the air fryer but do not over crowd the basket

Set air fryer timer for a total of 10 minutes at 385°

After the first 10 minutes, flip wings over in the basket

Increase temperature to 400° to Cook for the remaining 8 minutes or until desired crispness

Check wings internal temperature with digital thermometer this should be 165°