Best Old Fashion Potato Salad
When I think of summertime I think of barbecues and picnics, which included my mom's Best Old Fashion Potato Salad.  But I just could not wait for the next barbecue with all this social distancing happening with the Covid-19 virus.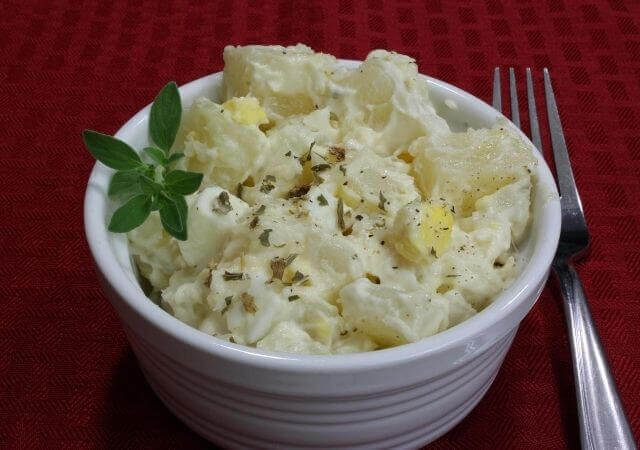 So, I decided to make a Potato Salad Recipe as a side dish for dinner with Hamburger and Hot Dogs.  I was happy I did, it was delicious.  
This recipe is for a family of four, but you can increase the ingredients to make a larger batch if you have more mouths to feed.
In the recipe below just adjust the servings number of people and the recipe will adjust to how much of each ingredient you will need. 
Ingredients for Potato Salad
Here is my Best Old Fashion Potato Salad Recipe to use as is or as a base to make it your own. 
First, I peel the potatoes and then chop them before cooking. I've used russet potatoes but you can use any kind you like.  I do all the chopping of the potatoes, onions, and eggs at the same time. 
It's easier to taste test the potatoes, and they'll cool faster in bite-size pieces.  I use my Food Chopper to make for quick chopping of the onions and eggs.

Once the potatoes have cooled, add all ingredients, and mix gently.  Add salt and pepper to taste.  Now Enjoy!
What is in Potato Salad?
Boiled Potatoes are the main ingredient and then it depends on what region or style you want after that. Potato Salad originated from Germany then was introduced to Europe and then to the US in the 19th century. 
The German Potato Salad did not include any mayonnaise in it, instead, it has oil. American style Potato Salad includes ingredients such as potatoes, mayonnaise, onions, celery, and eggs and is served either cold or at room temperature. 
The Best Old Fashion Potato Salad Recipe is a good starting point for creating your very own Potato Salad. Experiment by adding other ingredients such as bacon, relish, peppers, chives, dill, or any other ingredient your family enjoys. Have Fun with It!

What is the maximum number of days potato salad can sit around?
Idaho Potato and USDA Guidelines recommend keeping Potato Salad anywhere from 1 to 4 days depending on how it's handled.
When Potato Salad is made for a barbecue/picnic and it sits out in the heat, it should be discarded the same day. 
If it's made for a house party and kept at room temperature, then placed back into the refrigerator, you could keep it between 1 to 2 days.
But if made as a side dish for several dinners but kept it in the refrigerator after each serving, then it will last between 3 to 4 days.

How to get the Perfect Hard-Boiled Eggs?
NOT to Boil them, instead Steam them.  You will get the Perfect Hard-Boiled Egg and they are easy to peel.  Check out my recipe for the Perfect Hard-Boiled Egg. 
Fun Facts about Potatoes!
According to the NASA website, back in October 1995, the Space Shuttle Columbia took five potatoes tubers into space.  They grew them in the Astroculture plant growth facility. The potatoes became the first vegetable to grow in space.  This plays an important role for long-duration space flights.  The potatoes will provide food, water, and replenish oxygen and help remove excess carbon dioxide from the air for the crew.

Peter Glazebrook in the UK grew the heaviest potato and it weighs 10lb 14oz. Guinness World Records recorded it on September 4th, 2011.
The world's largest serving of Potato Salad weighed 7,224lbs 8ozs. Back in September 2002, Silva Ltd, Latvia made a Potato Salad that included 2,072lbs 5ozs of potatoes.  The other ingredients included mayonnaise, carrots, sausages, hard-boiled eggs, canned peas, pickled cucumbers, and salt.


Potatoes are 80% water and 20% solids.

The World's Largest Potato Chip is in the Potato Museum which is in Blackfoot, Idaho.  Pringle's Company in Jackson, TN produced the potato chip and it measures 23" x 14.5" back in 1990.

Average Americans eat about 124 pounds of potatoes per year. Whether it's a baked potato, potato chips, French fries, or hash browns, etc.

Baked or Boiled an 8-ounce Potato has only 100 calories per serving.

Dairy products are the number one most consumed food in the United States and Potatoes are the second.

Potatoes are a great source of vitamin B6, Potassium, Manganese, Vitamin C, Protein, and Dietary Fiber.

One of the ingredients in Vodka is Potatoes.

Spud, tater, and earthapple are other names for Potatoes.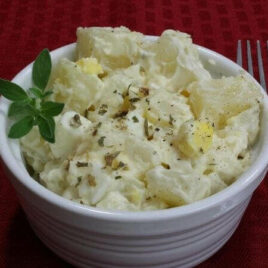 Print Recipe
Best Old Fashion Potato Salad Recipe
Ingredients
5

Russet Potatoes

2

large

Eggs

2/3

cup

Chopped Onion

1/4

tsp

Garlic Powder

1/2

tsp

Celery Flakes

1/2

tsp

Ground Mustard

2/3

cup

Mayonnaise

Salt & Pepper to taste
Instructions
Peel Potatoes and chop into bite-size pieces. It will take less time to cook if they are in bite-size pieces.

Boil bite-sizes potatoes in a pot of water and add a pinch of salt. Boil until they tender but still firm.

Place 2 large eggs in a pot of water and let boil for about 15 minutes. If you have a steamer you can also steam the eggs in about 10 minutes. Check out my Perfect Steamed Hard Boiled Eggs Recipe.

Drain Potatoes and Eggs let cool to room temperature before mixing with other ingredients.

While the potatoes are cooling.

Chop Onions into small pieces so they don't overpower the Potato Salad but still adds flavor.

Mix together chopped onions, garlic powder, celery flakes, ground mustard.

Chop eggs into small pieces once cooled.

Once the potatoes are cool add them to the mixture and combine together slowly.

Now add the mayonnaise and start with a 1/2 cup you may want to add more but it's best to start out with less because you can always as more. Gently combined together well.

Add salt & pepper to taste, then refrigerate for about 1 hour or until chilled.

Serve and Enjoy!