Easy Creamy Crock Pot Mac n Cheese
This Easy Creamy Crock Pot Mac n Cheese is a delicious side dish for the holidays and weekends.  There is no need to cook the elbow pasta first, it's that easy.  Just put all the ingredients in the Crock Pot (Slow Cooker) and you will be AMAZED!
When I tried this the first time I was Amazed at how easy and delicious it turned out.  Making this Creamy Crock Pot Mac n Cheese was one of the simplest meals I've ever made. 
This is one of those recipes that can be made in large portions or just for two.  I made it just for two people and still had leftovers for the next day.  Just double the recipe and you can feed the entire family. 
What is in Mac and Cheese?
Mac n Cheese or Mac and Cheese however you want to say it.  Mac is referrers to Macaroni.  The traditional Macaroni used is the elbow pasta, but I've seen it made with different types of pasta.  Such as Rotini, Conchiglie, and Rigatoni but you can use whatever kind you like.  It will change the flavor a little bit. 
Then there is the Cheese! This is where you can get creative.  It all starts with Cheddar Cheese, whether it's Sharp, Mild, or Medium Cheddar.  Then you add additional flavors with Cream Cheese, Parmesan, Gruyere, or Monterey Jack Cheeses.  You can use any kind of cheese that has meltability.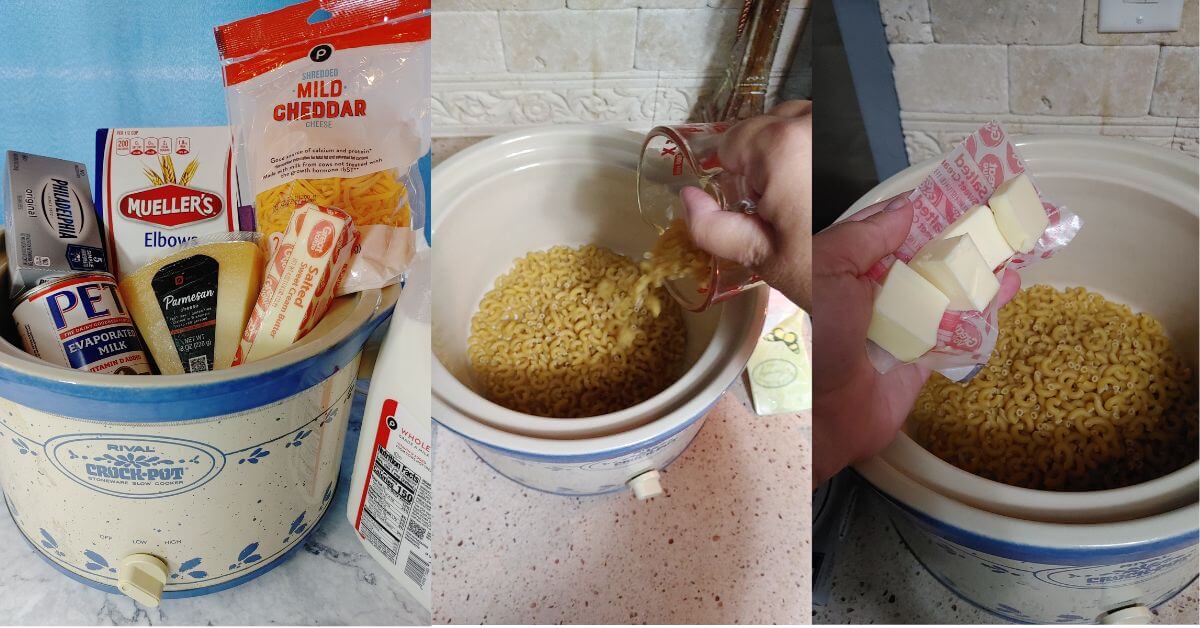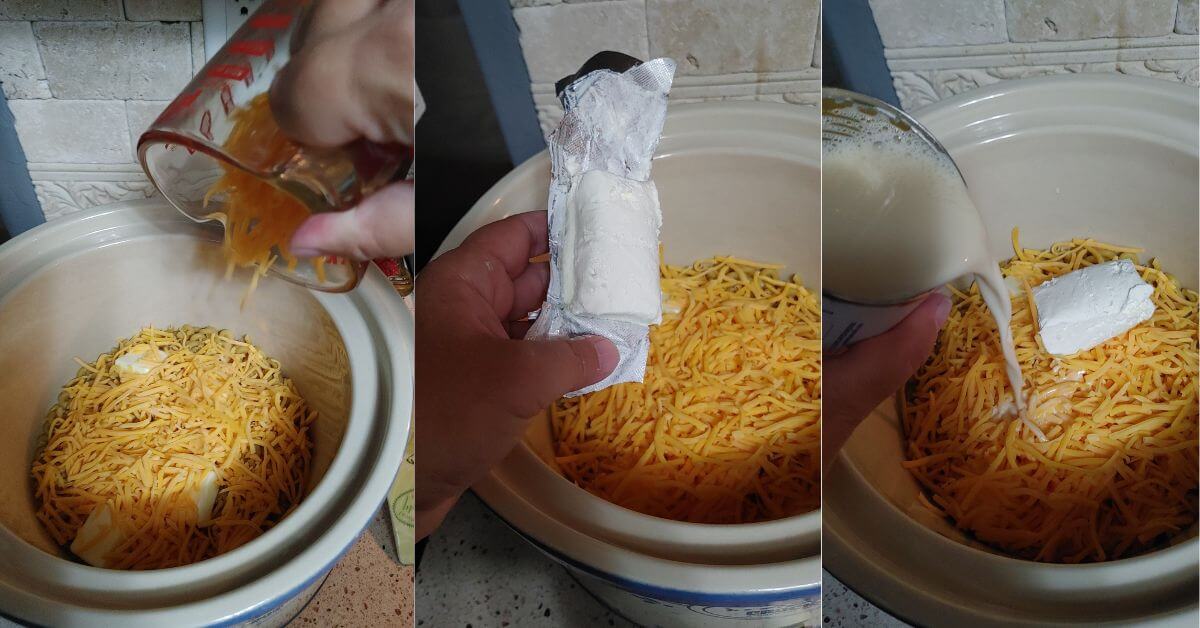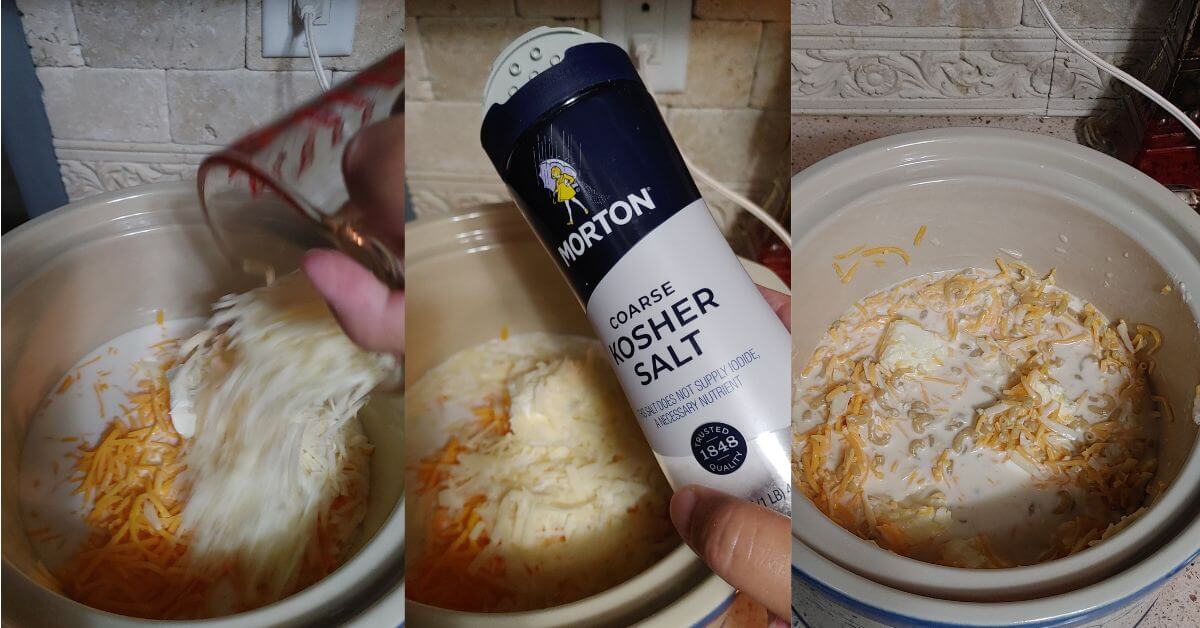 Best Cheeses for Melting
Here is a list of cheeses that you can melt for Creamy Crock Pot Mac n Cheese.
Cheddar

Cream Cheese

Parmesan

Gruyere

Colby

Fontina

Swiss

Havarti

Muenster

Gouda

Slice American

Brie
This is one of the ways you can make any Creamy Mac n Cheese Recipe your own.  Give different cheeses a try, but I would make small portions, so you don't waste good pasta and cheese.  Include Cheddar Cheese in your Mac n Cheese and add from there.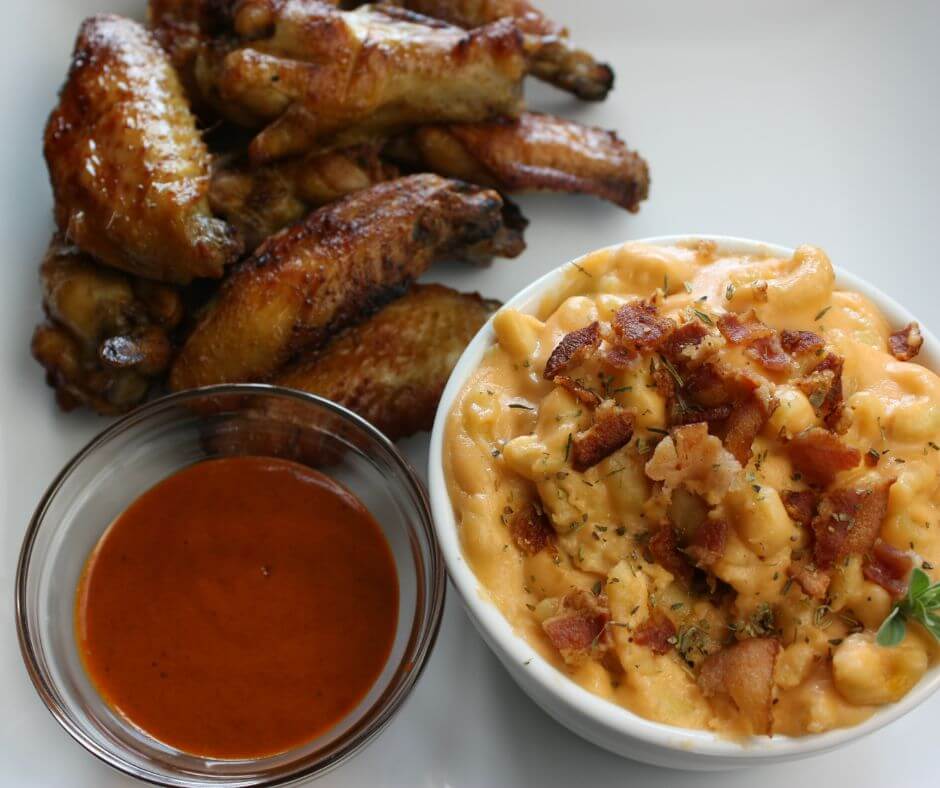 What to Make with Mac and Cheese
What to make with Macaroni and Cheese?  That is an easy answer, just about anything!  Macaroni n Cheese is considered comfort food, therefor you can have it with Chicken Wings,  Chicken Breast, Meatballs, Hamburgers, Beef Ribs, Hotdogs, and the list goes on. 
BUT the question I would ask is what you can Add-in the Macaroni and Cheese. This is where you can really get creative and add in any of the following to give Your Mac n Cheese an Upgrade.     
Bacon (goes great with just about anything)

Ham (small ham cubes)

Peas

Onions (chopped)

Shredded Chicken

Tuna Fish

Tomatoes (in cube pieces)

Shrimp

Broccoli

Sausage (small pieces)

Bread Crumbs (topping)

Scallions
We could go on and on, but I think you get the idea.  If you can think of it try some in a small bowl first.  Cook the Creamy Crock Pot Mac n Cheese and then add additional ingredients. 
Is Mac n Cheese Good as a Leftover?
Yes, you can keep Macaroni and Cheese in the refrigerator for 3 to 5 days in an airtight container.  When heating up leftovers you can do it in a microwave or on the stovetop.  Either way, add some milk to thin out the Creamy Cheese Sauce.  Add a little bit of milk at a time and microwave for about 1 minute at a time.  You don't want to cook it too long, it will get too thick. 
Recipes to make with Creamy Homemade Mac n Cheese 
If you like this recipe or others, please comment below and let me know how it turned out. 
Easy Creamy Crock Pot Mac n Cheese
Ingredients
1/2

lb

Elbow Macaroni

1/2

stick

Butter

2

cup

Shredded Mild Chedder Cheese

1/2

cup

Freshly grated Parmasean Cheese

2

oz

Philadelphia Cream Cheese

1

can

Evaporated Milk

1

can

Whole Milk

1

tsp

Kosher Salt

1

tsp

Black Pepper
Instructions
Pour the evaporated milk and the whole milk into the crock pot

Next, add the elbow macaroni, butter, Parmesean cheese, cheddar cheese and finally the Philadelphia cream cheese

Mix all ingredients throughly

Set crock pot to the low setting

After every half an hour, stir ingredients

Cook until pasta is cooked through and sauce has thickened properly

If sauce gets too thick, add whole milk, and stir to thin in out