Habanero Pepper Flakes Recipe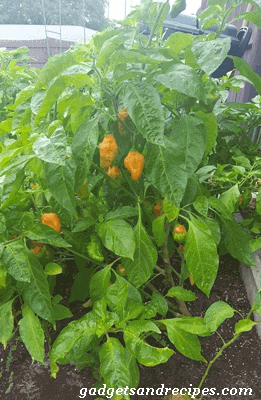 ---
This year we decided to grow some Habanero Peppers in our garden. To see how well they would grow.  We really enjoy spicing up our food and like the health benefits, you get from Capsaicin (according to WebMD the active component found in chili peppers).  
We purchased a few Habanero Peppers at our local grocery store and took some seeds out to plant in the garden.  
By the way, Yes, you can grow food that you purchase at the grocery store.  We will share our home grown secrets later such as our homemade Habanero Sauce recipes!!!!
Much to our surprise, the Habanero Peppers grew very well here in Southwest Florida.  We are harvesting about 30 peppers every week.  There are so many Habanero Peppers we didn't know what to do with them all. We decided to freeze some they would last longer.

It was time to get creative on what we could do with this many Habanero Peppers.  
Because it's usually difficult to find anything hotter than Crushed Red Peppers on the supermarket shelves.  The standard boring pepper flakes, we decided to make our own Habanero Pepper Flakes.
It was once again time to experiment. After all, variety is the spice of life!
 How to make Habanero Pepper Flakes
---
Starting with 20-30 Habanero Peppers, chop them into small pieces to help speed up the drying process. If you cut the pieces too big it will take much longer to dry them out.
We used the Vidalia Chop Wizard (shown here from Amazon) to chop up the Habanero Peppers.  Vidalia Chop Wizard is a nice kitchen gadget to have overall and chops the pieces at consistent sizes.  
Habanero Pepper Recipe
---
If your traditional oven has an option for Convectional cooking, use this feature, it will speed up the drying process.  Convectional cooking comes in handy when you're toasting or dehydrating food by eliminating moisture as quickly and efficiently as possible.  
Using the Convectional option on your oven, turn the temperature to 250 degrees. During the cooking process, it may be wise to have a few fans on and a few windows open to control the fumes lol.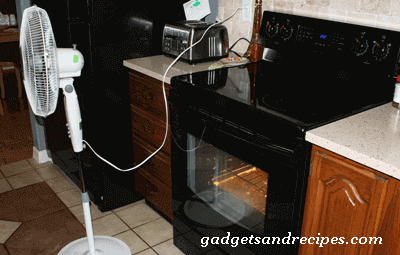 Chop the Habanero Peppers into small pieces (we used the Vidalia Chop Wizard)
Line a cookie sheet with parchment paper 

Lay the Habanero Pepper pieces on the cookie sheet, make sure the pepper pieces are flat not piled on

Cook for 20 minutes

After the first 20 minutes are up, move the Habanero Peppers around and

cook for another 10 minutes

After the 10 minutes are up, move the Habanero Peppers around  again and

cook for the final 20 minutes
At this point, the total cooking time is 50 minutes. You'll start to notice the peppers getting a little brown but still maintaining their nice orange color.
You'll also notice that your sinuses are clear as well LOL.  
After the cooking/drying out process is complete, let the peppers cool down. Using your best food processor gadget, grind the peppers into flakes. We used a Magic Bullet Blender if you have one of them and don't know what to do with it.  You can even add some Pink Himalayan Sea Salt crystals in before you grind them up this is just an option.
Carefully pour the your Home-made Habanero Pepper Flakes into any shaker and enjoy. Use it on any such as chicken, beef, pasta or even eggs if you can take the heat!!!!!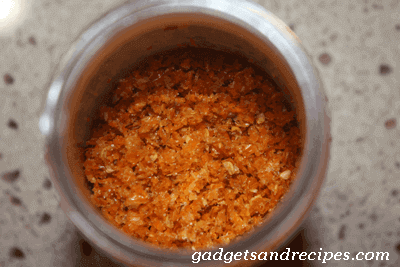 We are going to try our luck with growing and creating Ghost Pepper Flakes or even the Carolina Reaper in the near future using the same cooking techniques.
That should make for some hellish fun!!
If you try this please leave a comment and let us know how it turns out.