Crock Pot or Slow Cooker whichever you call it is great for parties and making the house smell delicious all day.  It's great for big meals that you will have a couple of days or a house full of friends for the big game.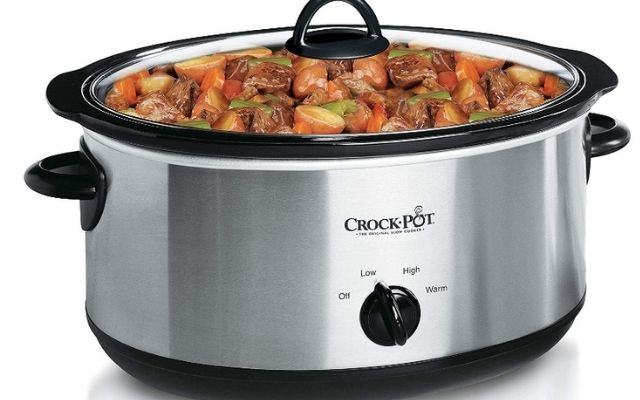 How does a Slow Cooker Work?
Slow Cooker can also be known as a Crock-Pot which is one of the best gadgets to have in your kitchen.  
The Crock-Pot was invented in 1940 and reintroduced in the '70s.  More women were getting back into the workforce outside the home.
Because women were working outside the home they had to improve the Crock-Pot over the years. Some models have digital timers you can start a meal in the morning and it will shut off automatically.  Dinner will be ready when you get home from work.
The Crock-Pot comes in all different shapes and sizes. The sizes range from 4 quarts for a small meal or 8 quarts to feed a family. 
Some have lids that lock and cord wrap for easy traveling. Whether you are cooking a meal for just 2 people or a larger one for a family they make them also.
Crock Pots even come in your favorite colors or favorite NFL sports teams.  Shop NFL merchandise at ChampionsOnDisplay.com
What to make in a Crock Pot/Slow Cooker?
Slow Cookers are great for everyone!  There are many kinds of meals to make in a Slow Cooker.  
You can cook chicken, meatballs, chili, soup, and so much more!   There are all kinds of cookbooks which include millions of recipes.  
If you own a Crock Pot/Slow Cooker then you should own at least one cookbook.  We will share some of our favorite Slow Cooker Recipes with you!
So make sure you pick up a Slow Cooker for the next big Party!