Rotisserie Oven for Home Use
A Rotisserie Oven is ideal for chicken, turkey as well as other meals including beef roasts.  The meat cooks evenly while the juices get distributed throughout making it so flavorful.  
The precise rotation speed allows for self-basting and causes excess grease and fat to drip away to make a healthy meal.  This keeps the meat tender and delicious!
When cooking with a rotisserie you can monitor the cooking process.  The outside of a chicken or turkey gets a nice brown color with a crispy skin.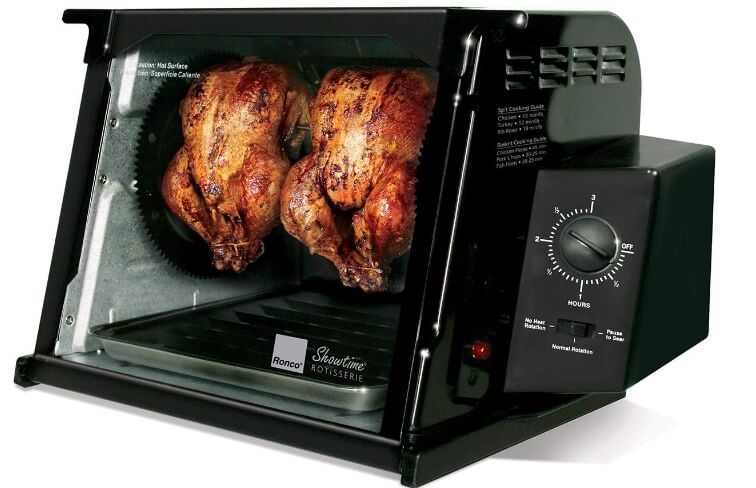 Recipes for the Holidays 
It's very easy to use as well as easy to clean up. Rotisserie Oven is a great way to cook any holiday meal like Thanksgiving, Christmas, or Easter. 
Some Rotisserie Oven can cook up to a 15 lb. turkey or a 10 lb. ham perfectly every time.  Just season it the way you like, make sure you tie up the meat and place in the machine and then set the timer.  
Some models of the rotisserie ovens have a delay timer and automatic shutoff. Which is great for those busy days when you might forget to turn the oven off at the right time. 
Rotisserie Oven Accessories
Rotisserie ovens have many accessories that you can purchase so you can cook many different kinds of foods.  Some of our favorite accessories include basket, kabob rods, and liquid injector.
The basket and kabob rods are great for making different kinds of seafood. You can find some of the accessories on Amazon at some really great prices.   
What is a Rotisserie Oven without some great cookbooks to go along with it? The recipes are mouthwatering for any time of the year.  You can check out some great cookbooks here.
Here are a few of our favorite meals to make in the Rotisserie Oven!!!!  I hope you enjoy them and add a few of your own ingredients to give it your own flare. When you do make a meal please feel free to share it with us, we would love to try it for ourselves.