The Best Baked Salmon Recipe Ever
Suddenly, I was in the mood for a Baked Salmon dinner.  I needed a break from cooking chicken or beef.  I ended up making the Best Baked Salmon Recipe Ever with only the ingredients I had on hand.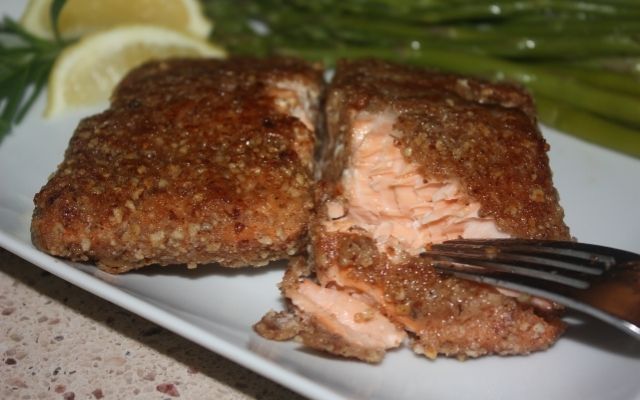 Surely I could have kept it simple by quickly grilling the Salmon Fillets on my indoor T-Fal Grill.  Cooking Salmon is not a bad choice for cooking gadgets mind you, but I wanted a little more flavor.
Take out your Copper Chef Pan along with the Food Steamer.  I decided to check the cabinets and see what I could come up with and a couple of items caught my attention.
I was thinking a nice Pecan/Brown Sugar mixture crust would taste delicious on a Salmon Fillet.  It will give the Salmon a little crunch.
Pecan and Brown Sugar Salmon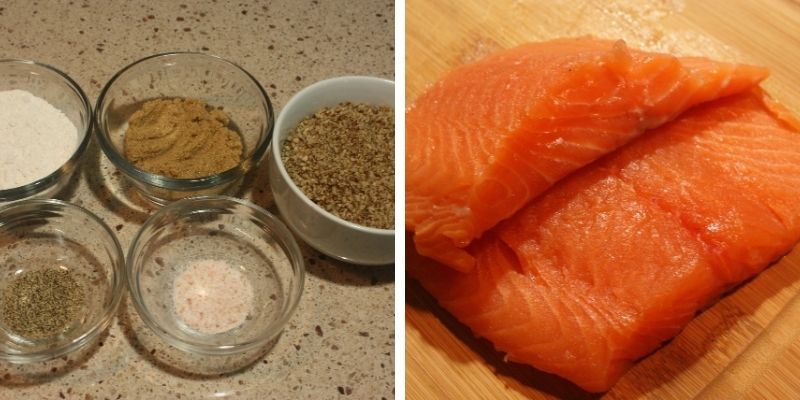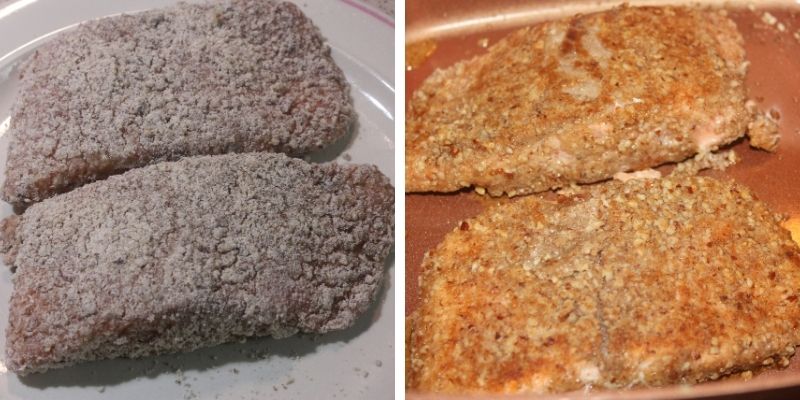 Salmon doesn't have a fishy taste at all most people say and I agree.  It has a mild refreshing and subtle taste with a little bit of sweetness inside.    
Adding the Pecan and Brown Sugar to Salmon brings out the sweetness and adds some crunch with every bite.  I made more of a breading around the Salmon instead of just laying the Pecans & Brown Sugar on top. 
This is why you have to fry it first with a little bit of oil before placing the Salmon into the oven to cook.  This holds the pecans to the Salmon.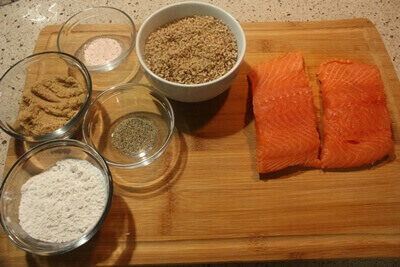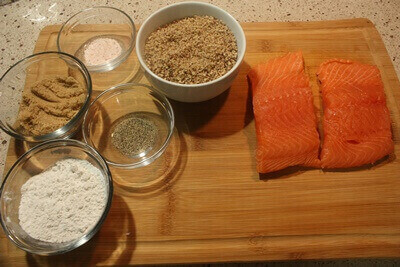 Side Dishes with Salmon
I steamed asparagus in a Food Steamer as a side dish but Potato Wedges would go just as well.  
Some other Side Dish Options are:
Brown Rice

Couscous

Snap Peas

Baked Potato

Garden Salad

Glazed Carrots

Steamed Broccoli
Finish this meal off with a nice glass of chilled Pinot Noir or Chardonnay. 
If you want to impress your partner for a date night at home make the Best Baked Salmon Recipe Ever. You will be glad you did, simple and delicious.   This was unbelievably delicious and exceeded my expectations. 
Sometimes you have to work with what you have!!
Hope you give this one a try……Enjoy!!!!!!!!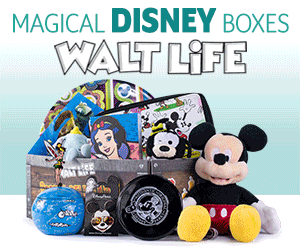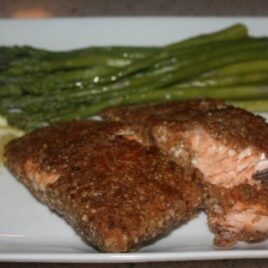 Print Recipe
Crusted Salmon Recipes Baked
Ingredients
2

pcs

Salmon Fillet

about 6 ounces each

1

bunch

Fresh Asparagus

1

cup

Milk

1

cup

Pecans

finely chopped

1/2

cup

All purpose Flour

1/4

cup

Brown Sugar

1

tsp

Salt

1

tsp

Black Pepper

2

tbsp

Olive Oil
Instructions
Place the Salmon Fillets in a large (gallon size) ziplock bag and add the 2 cups of milk. Seal the ziplock bag and turn the bag a few times to coat the Salmon. Let stand for approximately 10 minutes.

Using a food processor, chop the pecans finely.

In a shallow mixing bowl, mix the following ingredients together. Pecans, flour, brown sugar, salt and pepper.

Gently coat the Salmon Fillets with the Pecan mixture on both sides.

Heat the Olive Oil in a Copper Chef Pan or a large skillet and on med-high heat, brown the Salmon on both sides.

If you're using a traditional baking pan, spray it with a nonstick cooking spray first then add the Salmon Fillets. If you are using the Copper Chef Pan, this will go directly from the stove to the oven.

Bake the Salmon Fillets at 400° for 8-10 minutes or when the Salmon flakes apart easily with a fork.

Using a food steamer, steam the Asparagus between 10-15 minutes.