Perfect Baked Potatoes in Oven in Just 45 Minutes
Today, I wanted to make the Perfect Baked Potatoes in Oven to go on side of my Roast Beef Sandwich.  When I say Oven, I am talking about my Convection Oven.  I don't use this feature much, but I am going to start using it more.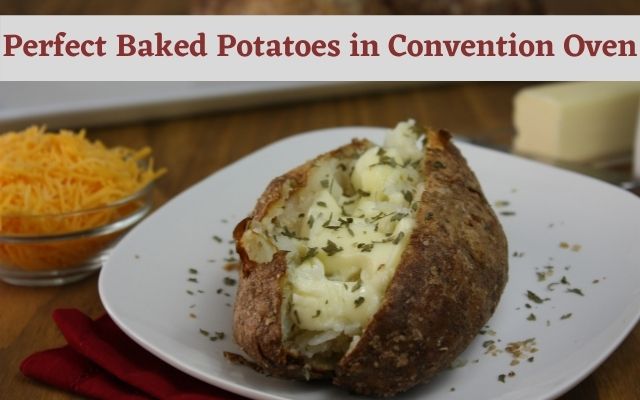 So, be on the lookout for more Convection Oven Recipes. 
Potatoes are a comfort food for me.  Some of my favorite potato recipes are mashed potatoes, baked potatoes, and potato salad.

What is Convection Oven Cooking?
You probably own a Convection Oven and don't even realize it.  Take a look at your oven and see if it has the word Bake with a little fan next to it.  Go ahead I'll give you a second……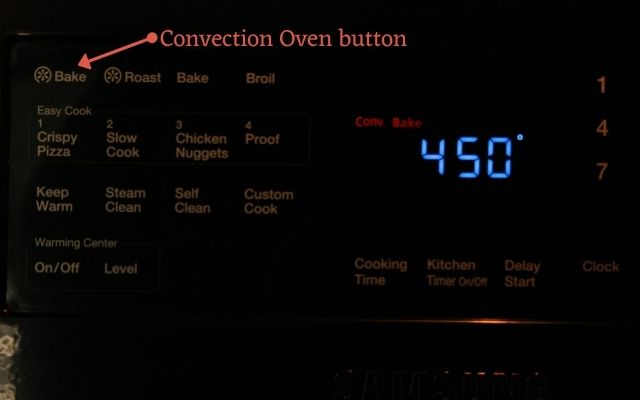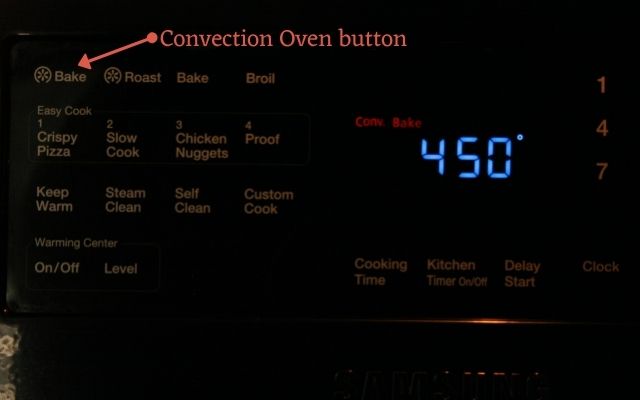 You probably never noticed it before because we are used to hitting the bake and adjusting the temperature.  If you've never used your Convection Oven before this is the perfect recipe to try it out with.
If your oven doesn't have a Convection Oven button they do sell them as a separate countertop gadget.  They range anywhere from $60 to $280 for a Countertop Convection Oven. 
Let's explain what a Convection Oven does and why you would use it.  Here are a couple of reasons why I use my Convection Oven. 
It's similar to an Air Fryer, yes it's true. The air in the oven heats up and there's a fan in the back that circulates the hot air evenly. Therefore, food will cook evenly. 

Using the Convection Oven will reduce the time you will need to cook. The convection oven reduces cook times by about 25 percent because the fan blows air and keeps an even temperature around the food. 

Convection Ovens are better for browning food because it creates a dry atmosphere while cooking. If you never had Chicken Wings in a Convection Oven you should really give them a try.  The wings are crispy and brown. 

How Long to Cook Baked Potatoes in the Oven?
Cooking a Baked Potato in a Convection Oven takes 45 minutes.  But if you're cooking a Baked Potato in a regular oven it can take anywhere between 60 to 70 minutes.  Which is about 15 minutes less time you have to wait for that Perfect Baked Potato.
How to Cook the Perfect Baked Potato in a Convection Oven
Preheat Convection Oven to 425°F.
I like to use Jumbo Russet Potatoes for Baked Potatoes.  Wash off each potato you are planning to cook.   Remember Potatoes grow in dirt and should be cleaned off otherwise you will taste grit.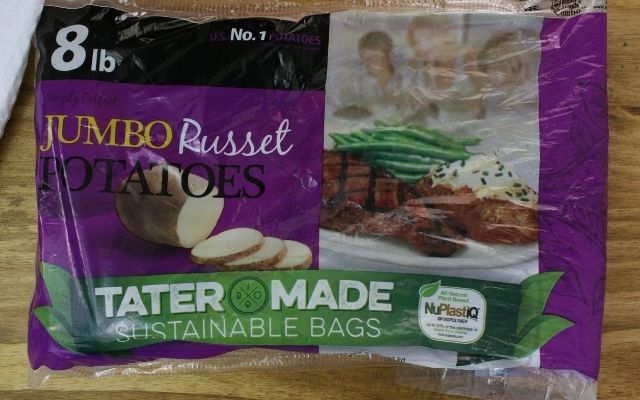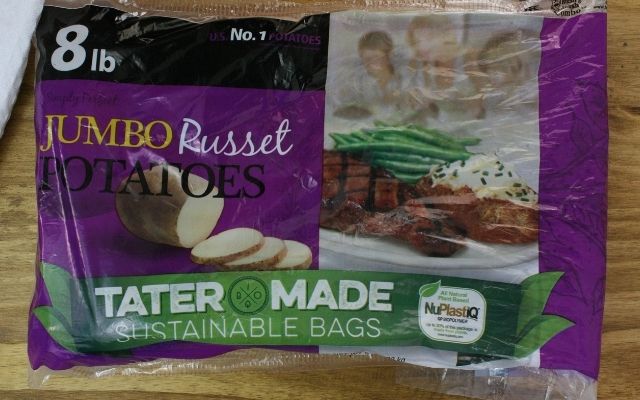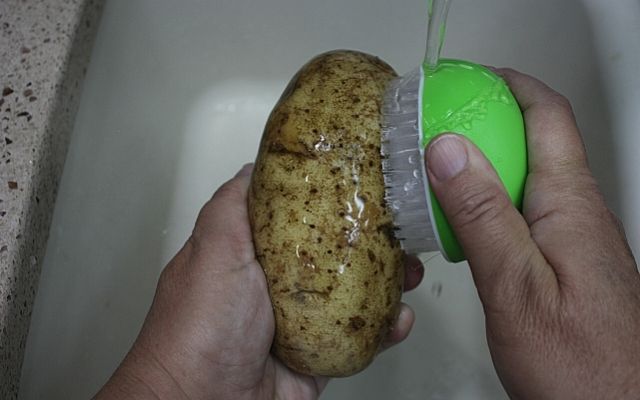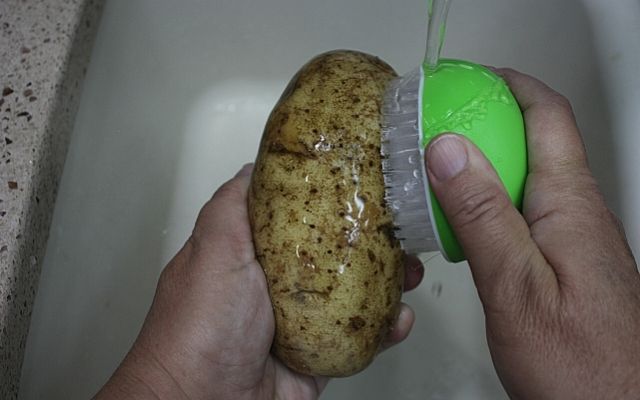 Melt 1 tbs of butter in the microwave for 10 seconds for each potato you are cooking.  I made 3 potatoes, so I used 3 tbsp of butter and microwaved for 30 seconds. 
Add about 1 tbsp of coarse kosher salt to the butter mix together.  I used coarse kosher salt, but table salt is just as good.  Put the Russet Potato onto a skewer and pierce it through the middle. There is a video below to see how it's done.  
I used a Corn on the Cob holder to poke holes in the Potato, but you can use a fork if you don't have them.  The corn on the cob holders is pointy and sharp they go in the potato easily.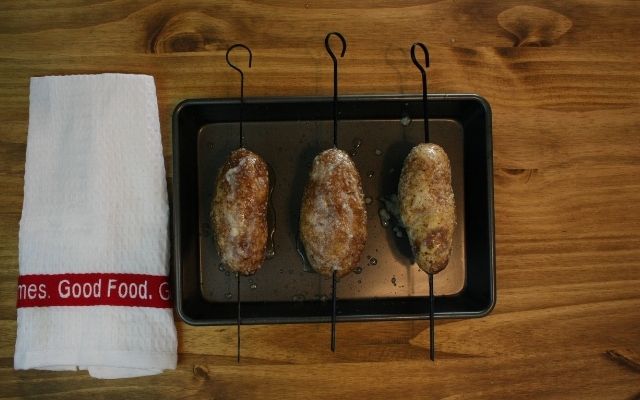 Brush the whole Russet Potato with a nice coat of butter and salt on the skin.  Place on a shallow pan like a brownie pan.  This allows the potato to be lifted off the pan because we are using the skewers. 
The skewers are doing two things, one they are keeping the potatoes off the pan and letting the skin get crispy.  The second is they are getting heated from the inside because the skewers hold the heat. 
Here's a video to see exactly how to make the Perfect Baked Potato in a Convection Oven. 
Baked Potato Toppings Ideas
Butter

Sour Cream

Bacon

Shredded Cheddar Cheese

Chili

Broccoli and Cheese

Caramelized Onions

Salsa

Chives

Mushrooms/Onions

Gravy
Get creative try two different ingredients at the same time.  Perfect Baked Potatoes in Oven can be topped with just about anything or Nothing at all it's that Delicious.  If you don't believe me give it a try yourself and let me know what you think?
What will go with this delicious Bake Potato recipe?  Check out these Recipes…..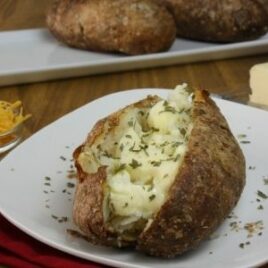 Print Recipe
Perfect Baked Potato
Ingredients
3

Russet Potatoes

Jumbo Size

3

tbsp

Butter

Melted

1

tbsp

Kosher Salt
Instructions
Preheat Convection Oven to 450°

Wash off Russet Potatoes with a brush.

Melt 3 tbsp of butter in a microwave for about 30 seconds. If the butter is not completely melted mix around with a brush to complete melting.

Add Kosher Salt to melted butter and mix together.

Peirce the Russet Potatoes with a skewer through the middle the best you can. Be careful not to poke your hand. ***

Poke more holes in the Russet Potatoes using corn on the cob holders or a fork on the top and bottom.

Brush the mixture of melted butter and kosher salt all over the Russet Potato that is on the skewer.

Place the skewer with Russet Potatoes on it on a rectangle non-stick brownie pan so the butter doesn't drip in the oven.

Cook for 45 minutes

Let cool for about 5 to 10 minutes. Cut open and add your favorite toppings.