Making Delicious Crispy Chicken at Home!!
You can make delicious, juicy, tender, and Crispy Chicken right in your kitchen without deep frying.  When you use a Rotisserie Oven to cook a whole chicken it's also a healthy delicious meal that the whole family will enjoy.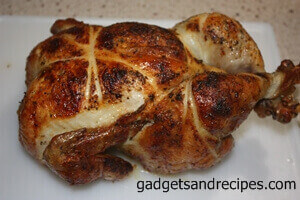 This meal might take some time to cook but it's well worth the wait.  I own the Ronco Showtime Large Capacity Rotisserie Rotisserie Oven and have used it for years.
Rotisserie Ovens cook slowly and evenly making your Chicken moist flavorful meat that is nicely golden brown with crispy skin.  It's Crispy Crunchy Chicken on the outside and tender and moist on the inside. 
Make sure to check the internal temperature of the chicken before removing it from the Rotisserie Oven.  The internal temperature for chicken should be 165 °. If you don't have a meat thermometer be sure to get yourself one, they are well worth it.
I have the Powlaken Instant Read Meat Thermometer and it's wonderful because it is waterproof.  The last meat thermometer I owned was not waterproof and I had to be careful every time I cleaned it.  
Containing both dark and lean white meat, a whole roasted chicken makes an excellent dinner for all taste buds.  While some enjoy the flavorful dark meat and others prefer the lean white breast, most will agree they really look forward to the delicious crispy skin.  
How to Truss a Whole Chicken for Rotisserie Oven
The easiest way I found to Truss a Whole Chicken for the Rotisserie Oven was through a video on chefsteps.com.  They provide step-by-step instructions with pictures and a video.  So be sure to check them out.  I am by no means an expert at Trussing a Whole Chicken yet, but I am going to keep practicing.  Good Luck to you as well.  Have Fun with it.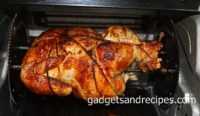 Print Recipe
Crispy Chicken
Healthy Crispy Chicken Dinner
Ingredients
6-7 lb

Whole Chicken

1

tsp

Garlic Powder

1

tsp

Dried Oregano or Italian Seasoning

1

tsp

Paprika

1/2

tsp

Salt

1/2

tsp

Pepper
Instructions
Use cooking strings to tie together the legs and wings

Combine all dried seasonings and rub onto chicken covering it evenly

Carefully insert the rotisserie spit rods from one end of the chicken through the other end

Place chicken into the rotisserie and cook for 15 minutes per pound and internal temperature reaches 165°

Carefully remove the chicken from the rotisserie and cut off all the cooking strings. The legs and wings should easily pull apart.