Could you possibly use a single pan to roast, steam, bake, and even deep fry? How nice would it be if you could cook just about any type of meal and only use one pan?
Well, you can now with the Copper Chef Pan which is a non-stick, deep-pan using infused copper technology.
Cook on any surface tops Electric, Gas, Glass Ceramic and Induction. You can take the Copper Chef Pan from the stovetop to your oven.
Five Layer Construction
Double Top Layer – Polished ceramic coating. PFOA/PTFE free.

Base Layer – Non-stick ceramic coating.

Aluminum Core – Provides excellent thermal conductivity and heat distribution.

Outside Layer – High temp exterior coating.

Induction Base – Stainless Steel induction base heats up faster and retains heat longer. 
The Copper Chef Pan is ideal for searing thicker cuts of meats locking in the natural juices. 
Cook any type of food you can think of in the Copper Chef Pan and don't worry about the food sticking to the pan. 
For the calorie-conscious people out there, no need to worry about adding any extra fat or butter to this non-stick pan.  
It's not like traditional cookware where you need to use cooking sprays or oil so food doesn't stick.  
Finally, who wants to have to deal with a difficult pan to clean at the end? No worries with this pan, the Copper Chef Pan is very easy to clean and is dishwasher safe. 
The REAL Copper Chef Square Pan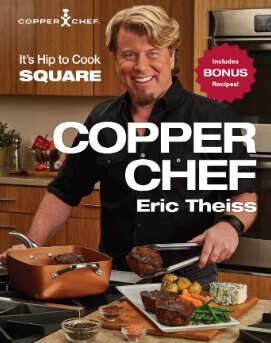 Don't buy the cheap Copper Chef Pans because I have tried different brands and most of them don't really work. 
The ONLY ONE I use and Absolutely Love and does what it says it does is the Copper Chef Square Pan that Eric Theiss uses.
Which is the Made by Copper Chef. Trust me I have tried several other brands and they stick or the coating chips off very easily.
I use my Copper Chef Round Pan every morning for eggs and they really do slide right out of the pan. 
Must-Have for every Kitchen, I Think.

Purchase the Copper Chef Pan from Amazon and Walmart
.