Best Ever Crab Cakes Recipes
This is our Best-Ever Crab Cakes Recipes that you can create yourself in no time. A simple yet tasty Crab Cake you can make using the Copper Chef Pan in about 15 minutes.
If you enjoy Crab Cakes, you'll love this as a meal or as a simple Crab Cake sandwich, either way, it's delicious.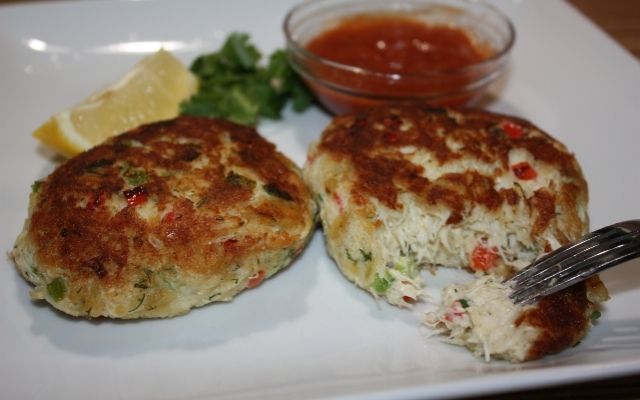 What Kind of Crab Meat to Use?
Fresh or Jumbo Crab Meat can be expensive, so I opted for Lump Crab Meat instead for this recipe just to cut costs.  If you want to splurge go ahead and use either Fresh or Jumbo Crab Meat and it will work just as well. 
The important part to remember when you make Crab Cakes is to use fresh, high-quality crab meat.  Depending on how many Crab Cakes you want to make, and the cost is up to you.  I was able to make six equally sized Crab Cakes with a 1 lb. can of Crabmeat.  
How to Serve Best Ever Crab Cakes Recipes
Crab Cakes can be served as either an appetizer, as a sandwich, or as a main dish.  To make as an appetizer or as slider sandwiches just make the Crab Cakes in smaller sizes. Family and friends will enjoy this delicious Finger Food for any party. 
I enjoy a big Crab Cake Sandwich with a slice of tomato for dinner. Then I add a side of fries or baked potato. Yummy! 
Crab Cake Filler
The filler ingredient in this recipe is Saltine Crackers but besides that, it's all Crab Meat.  I like to use Saltine Crackers because they when making my Crab Cakes because they don't take away from the great taste of the Crab Meat. 
This Crab Cake Recipe has red and green bell peppers.  But if you want to turn up the heat a bit, check out our Hot Corner. Pick any pepper and replace the red bell pepper with the pepper of choice.
Crab Cake Sauce
Serve with some cocktail sauce or tartar sauce and lemon wedges to add flavoring.
Quick Cocktail Sauce
¼ cup of Ketchup

2 tsp of Horseradish

Hot Sauce (optional)
Quick Tartar Sauce
1 tsp of Dijon Mustard

¼ cup of Mayo

1 tsp of finely diced Onions

1 tsp. of Sweet Pickle Relish

Salt and Pepper to taste
Add a little coleslaw or steak fries as optional side dishes. 
No need to wait for Crab season you can make this any time of the year.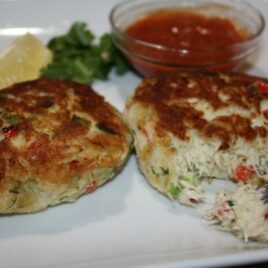 Print Recipe
Best Crab Cakes Recipe
Ingredients
1

lb

Lump Crab Meat

Picked over for shells

1

cup

Mayonnaise

1/2

cup

Green Bell Pepper

Diced

1/2

cup

Red Bell Pepper

Diced

3

tbsp

Lemon Juice

From a fresh Lemon

1

tbsp

Hot Sauce

Of your choice

1

tbsp

Cilantro

Fresh, chopped finely

1

tbsp

Dill Leaves

Fresh, chopped finely

4

whole

Scallions

White parts chopped

1

tsp

Ground Mustard

1

cup

Crushed Saltine Crackers

Approximately 28-30 crackers

2

tbsp

Extra Virgin Olive Oil

Salt & Pepper to taste
Instructions
In a large bowl, mix together the Mayonnaise, Lemon Juice, Hot Sauce, Cilantro, Ground Mustard and Dill Leaves

Add in the Lump Crabmeat, Green & Red Peppers, crushed Saltine Crackers, and the chopped Scallion Whites

After mixing all ingredients together, form four 3-inch patties equally

Heat 2 tbsp of Olive Oil in the pan, add the crab cakes and cook for approximately 5 minutes per side until golden brown
Notes
Gadgets used for this Recipe