Kitchen Tools and Gadgets for Everyone
These are Fun Kitchen Tools and Gadgets for Everyone you Know!   Whether you are looking for a Christmas, Birthday, Bridal Shower, House Warming, Mother's Day, or Father's Day Gift here is a list of some Fun Kitchen Gadgets.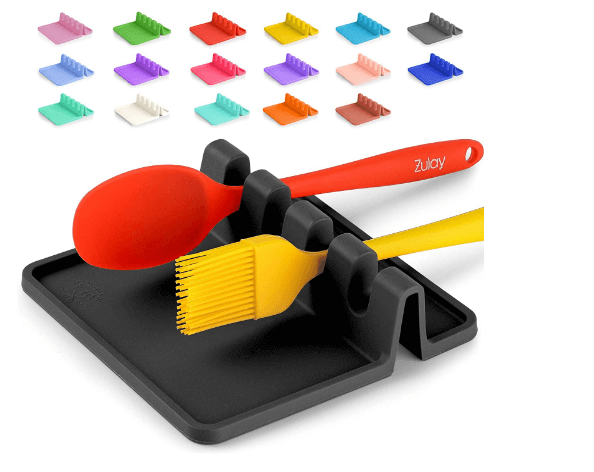 This is a Kitchen Tools and Gadgets for Everyone will want!  When cooking you don't just use one cooking tool you usually have a couple of spoons or spatulas.  This colorful 4 slot Utensil Rest will keep your counter clean and your utensils close at hand. 
The modern shape will accommodate large and small cooking tools.  When cooking is done place the Utensil Rest on the top rack of the dishwasher for simple and easy cleanup.  No more messy countertops while cooking.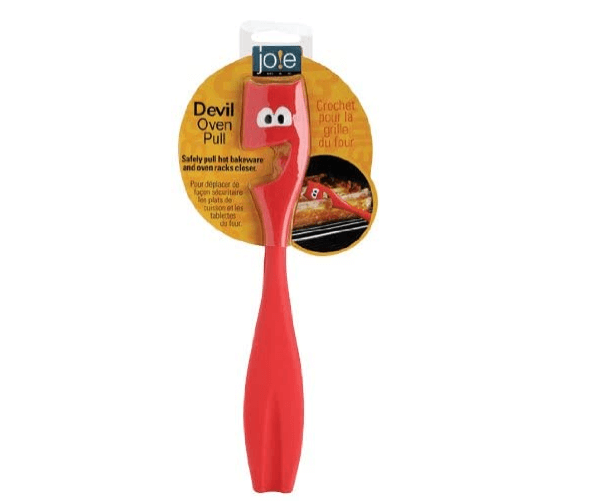 STOP burning your hands and arms when taking food out of the oven.  I'm sure we all have done it, reached into a hot oven to pull out a delicious pie or cheesecake, and got burns on our arms. 
That's where this Fun little Kitchen Tool comes in handy.  Instead of reaching into a hot oven just use the Open-Mouth feature to pull bakeware or oven racks closer to you.  This Silicone Oven Devil Rack Puller is heat-safe up to 536° Fahrenheit, durable, sturdy, and compact for easy storage. 
I don't have this exact set but I wish I did!  When I purchased these items they were sold separately but then this 3 piece set was available.  I absolutely love my 5-blade Herb Scissors they make for quick chopping up fresh herbs from my garden. 
The Leaf Herb Stripper makes for quick leaf herb stripping.  It can be used for Thyme, Basil, Rosemary, Kale, Collard Greens and so much more.  The curved edge on the Leaf Herb Stripper is also used to cut herbs, there is no need to grab a knife.   
This 3 in one Peeler, Slicer, and Julienne make easy peeling potatoes to cucumbers.  Peel foods in a matter of seconds!  These kitchen gadgets are comfortable and safe to use with a non-slip handle.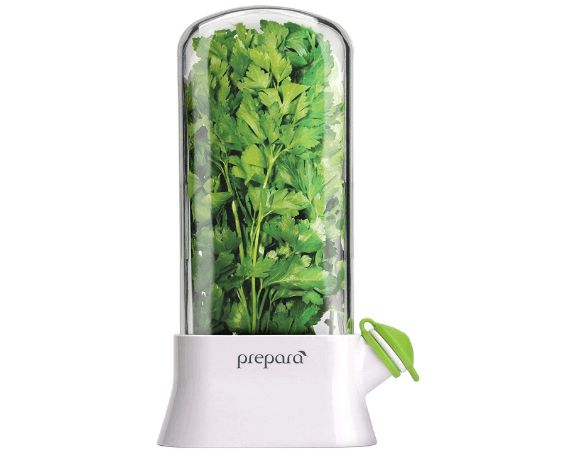 Some of the herbs I grow in my garden are Basil, Thyme, Chives, Rosemary, and Oregano. Keeping them all fresh after the growing season is a tough task.  Until I found this Herb Savor Pod my herbs last up to about 3 weeks longer as long as I change the water every 3 to 5 days. 
This BPA-free container is designed to prolong the life of fresh herbs whether they are store-bought or garden-grown.  Your herbs will no longer get crushed or bruised with the clear hardshell pod, that fits any refrigerator door.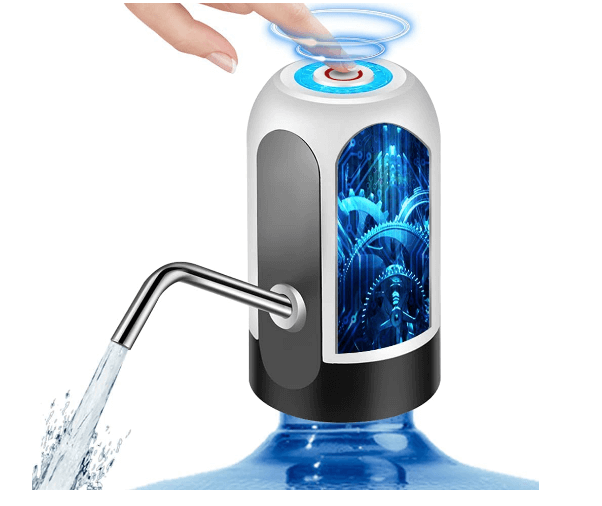 There is no need for one of the big water coolers in your home or office anymore! This Automatic Water Dispenser fits on 2, 3, 4,  or 5-gallon water jugs.  You will have spring water right at your fingertips with this one-touch technological. 
One of the best things about this is you can take it anywhere you go whether it's camping, fishing, dorm room, or at home.  Can be used between 30 -60 day once it's fully charged with a USB Charger.
AvoSeedo Avocado Tree Growing Kit with Pot
An Avocado Tree Kit is a FUN Gift Family and Friends will enjoy.  If someone you know enjoys Avocados they will be Surprised and Love growing their own Avocado Tree.  It's like Magic watching the roots grow through the plastic from the seed a of store-bought Avocado. 
Or you can get this Adorable Avocado Beach Tree kit.  Watch as a tree grows from the belly of this little guy floating in a pool. Adults and kids will love this as a Gift!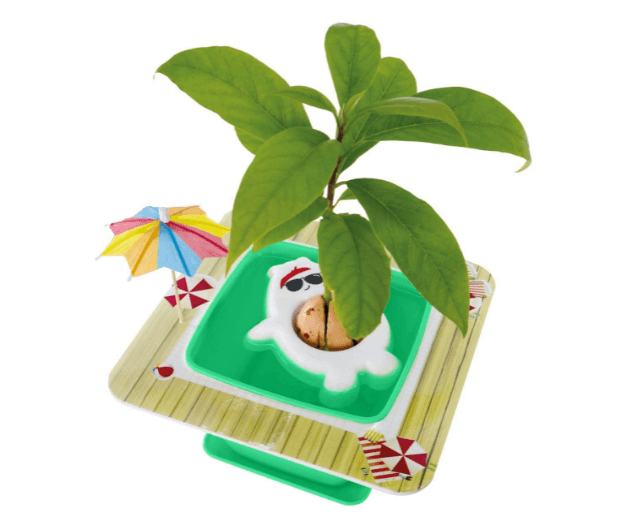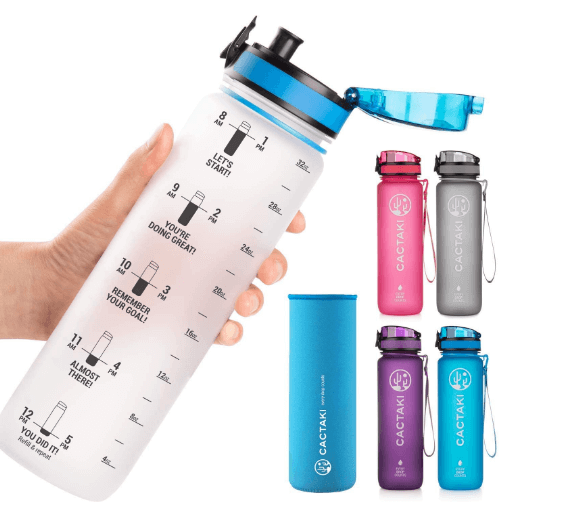 Stay hydrated and healthy with this 100% BPA and Toxin-Free Water bottle.  What makes this water bottle different from the rest is the marked times on the side of it to remind you to drink. 
It's a CHEERING Bottle if you think about it because it motivates you to keep drinking water.  We all have been told that drinking at least 32 to 64 ounces of water a day is great for your body. With this bottle, you can drink keep track of how much water you really drink during the day.  Great for the gym, work, camping, cycling, any outdoor activities, an Awesome Gift for a Fitness conscious person. 
I was looking for fun coasters for my home and I found them with this Vintage '80's set.  It's a set of 6 drink coasters that measure 4.2 x 4.2 x 0.5 inches.  This Vintage Record Coaster set includes artists such as Elton John, Queen, Pink Floyd, The Beatles, Elvis Presley, and Michael Jackson.
They will be a conversion piece at your home or given as a gift.  If someone in your life loves music this will be the Ulitmate Gift for them, purchase a set and you will find out.   Amazing Gift Idea!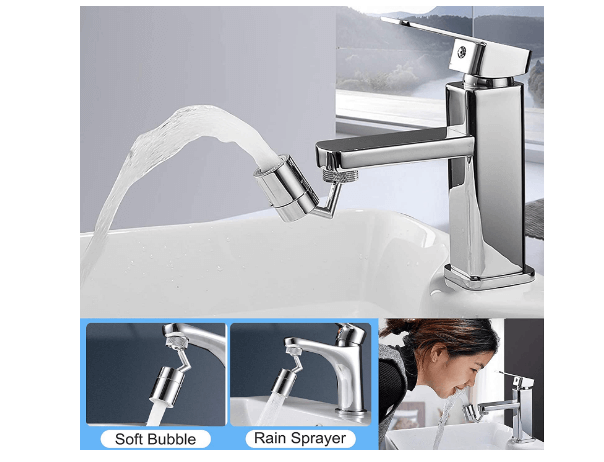 Kids, Adults, and Elders will want this 720°Rotate Aerator Water Faucet attachment.  Turn any bathroom or kitchen faucet into a water fountain.  This swivel sink faucet aerator conserves water by allowing air to mix with water.
Great for drinking water, gargle, or wash out your eyes.  There are two spray modes, a soft bubble stream, and a high-pressure spray shower for when you just need to wash your hands.  It's easy to install because it comes with a male and female thread to attach to any faucet.  I have one in my bathroom and love it!  Do you have one?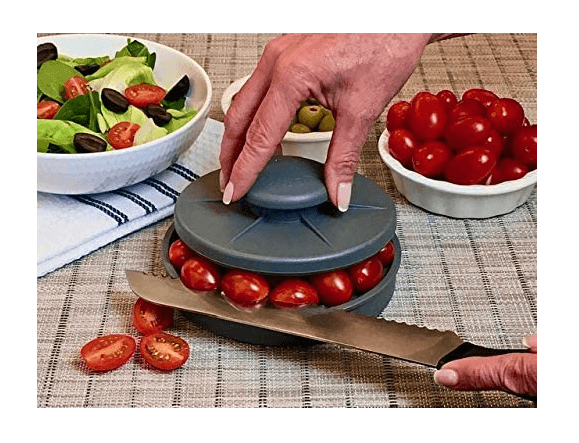 Protect your fingers while cutting fruits and vegetables with this Non-slip Rapid Slicer.  This is one of those Kitchen Tools and Gadgets for Everyone you know!  Fun and simple to use but also Safe.
Great for slicing a bunch of grapes, tomatoes, shrimp any kind of small produce in one smooth move.  You can even slice Chicken Breast in half to make thin slices for Chicken Fajitas, or Shrimp for Shrimp Salad.  Made in America and dishwasher safe for easy cleanup and BPA Free.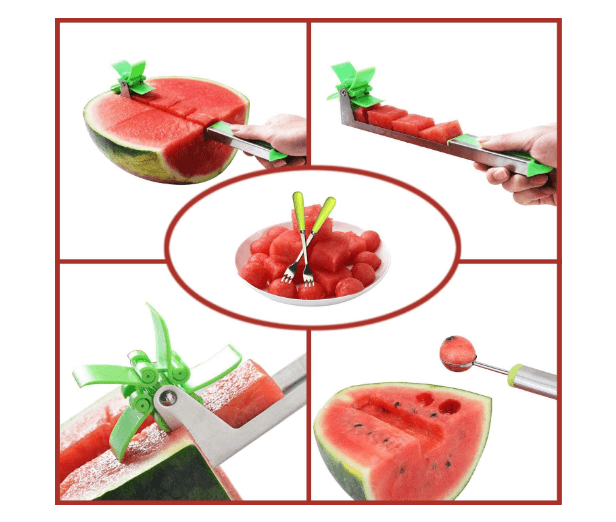 Next time you purchase a Watermelon you will wish you had this Watermelon Slicer Cutter.  It makes cutting watermelons so simple and fun, anyone can do it.  It cuts Watermelon into cubes for a fruit salad or for garnishing a plate or cocktail. 
Kids will think it's fascinating and fun and will want to help.  Put the knives away and let kids help cube the Watermelon.  You do have to cut the Watermelon in half first but then the kids can do the rest.  Since Watermelons are juicy when they are ripe you may get spattered with some of the juice so be sure to put down a towel while cubing.   MORE Fun Fruit Cutting Tools Check out Different Ways to Cut Fruits and Vegetables!
Who doesn't love cupcakes, pudding, chocolate, or jello?  These baking cups are multi-purpose because they are non-stick molds that can be placed in the oven, refrigerator, or freezer. 
They're BPA Free, Non-Toxic, Flexible, and Reusable, and are all-around fun to use. There are 4 different shapes, flowers, hearts, stars, and circles, and come in 6 different colors.  Great for parties or just a weekend of baking.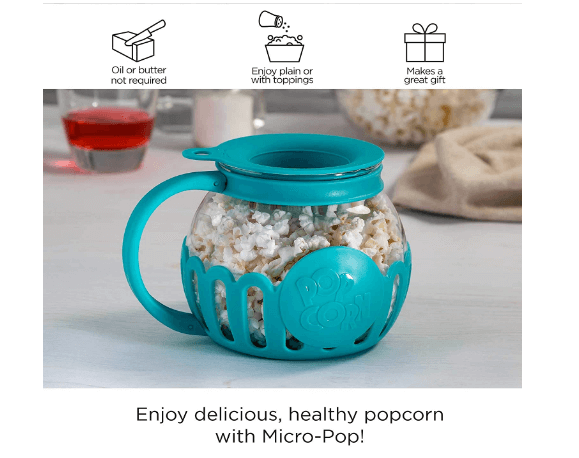 Fresh homemade popcorn is still the best, I know Pop Secret Popcorn, Movie Theater Butter is delicious and easy.  But when I want to add some Popcorn Seasoning during popping I love my Microwave Micro-Pop Popcorn Popper.
It's beautiful, borosilicate glass, temperature safe, and dishwasher safe who wouldn't love that.  Make  Movie Night Popcorn a Healthy Treat again because you control what you put in it.  Great for afternoon work snacks, big game snacks, or just family movie nights.  You will wonder why you didn't get this sooner. 
For MORE Fun Kitchen Tools and Gadgets Check out