Kitchen Gadgets Under $20 That Are Fun In Your Kitchen
Whether you are a gourmet chef or a home cook getting new Kitchen Gadgets is fun.  We've assembled a list of 21 Kitchen Gadgets Under $20 That Are Fun In Your Kitchen.  These are functional gadgets that will bring joy and fun to any bad day.
Or maybe you're looking for an awesome fun gift for a friend who loves to cook. Look no further these are great gifts for any holiday or birthday and they are available on Amazon.
Here are my Top 21 Kitchen Gadgets Under $20 That Are Fun In Your Kitchen that everyone needs.  Make cooking fun!
Kitchen Gadgets Under $20 That Are Fun In Your Kitchen
---
---
This is a fun bright color stainless steel Smiley Face Spatula that will brighten anyone's day.  It makes cooking a lot more fun, kids will want to help in the kitchen.  Great gift idea for anyone who loves to cook and if they don't enjoy cooking at least it will bring a SMILE to their face.  Dishwasher safe, Easy to Clean, Nylon Grip Handle, and Silicone Heads.  Also available in a Bumblebee and a few others.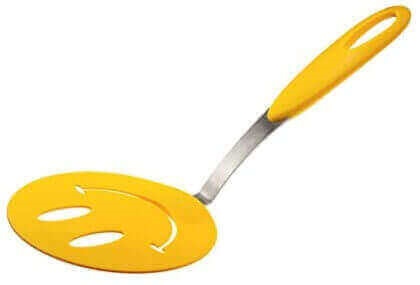 ---
Having a Pizza Party or Pizza Night instead of ordering out order take in.  This fun Monkey Pizza Cutter will start the night off with lots of laughs.  Everyone will want to cut the pizza with this guy.  The monkey feet actually pedal while he's cutting the pizza.  LOL The silicone monkey and stainless steel cutting wheel you will roll right through the pizza.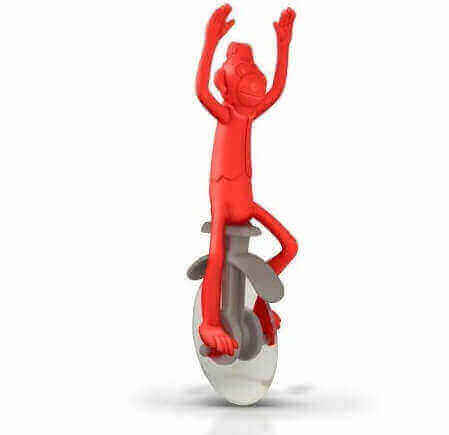 ---
No more cold fingers with this fun Mitten Ice Tongs.  Perfect for all occasions any time of the year it doesn't have to be cold outside to use these mittens.  Your fingers won't get cold while preparing an ice-cold cocktail.  A Great Polyana Gift Idea because everyone will love these mittens.  It's a great way to break the ice at a party.  LOL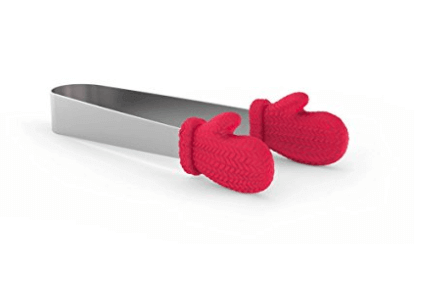 ---
Functional and Fun Buddy Paper Napkin Holder it's Team Work.  These little guys will always be there to help you hold the napkins.  Holds various napkin sizes it measures 6 inches wide, 3.5 inches high, and 3 inches depth.  Friends and family will want to take them home.  They can also be used to hold recipe cards or local delivery menus the ideas are endless.
---
This is a great addition to go with the Cold Finger Mitten Ice Tongs (above #19).  If you have any kind of party you can make these beautiful snowflake ice cubes. Put out the Mitten Ice Tongs and it will get people talking.  You can also use the silicone tray to make candy, jello-shots, ice cream, or whatever you can think of.  It's dishwasher safe and oven silicone safe so make some cute brownies or cookies.  They are also available in a Fish mold, Ducks, Hammer, Pound symbol, Diamond, Gun, and more.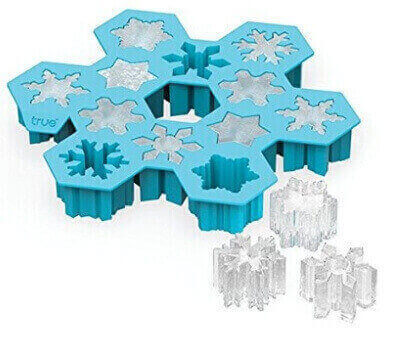 ---
Great for small kitchens, RV's, and camping or anywhere you don't have a lot of space for a dish rack.  It's stainless steel and measures 19.1 long x 3.4 wide x 1.2 inches depth.  It can be placed on a kitchen sink or any other surface that you find convenient.  When you aren't using it just roll it up and put it away under your sink.  If you don't need two pack it also comes in singles.  It's not just for dishes you can rinse off food and let it drip into the sink. 
---
Time to monkey around in the kitchen with this fun whimsical monkey fruit and vegetable peeler.  He's 6 inches long with stainless steel blades and ergonomic non-slip handle.  Kids and adults will want to help in the kitchen to prepare meals with this little guy.  Peel apples, potatoes, carrots, pears, cucumbers, the possibilities are endless. He also has other friends to help out in the kitchen check out Bird Peeler, Turtle Fruit Slicer, Fish Colander, and Bee thermometer, and more. 
---
Every guy you know will love this fun Circular Saw Pizza Cutter.  Having the guys over for a game, make some pizza and cut it with a circular saw.  Be the Pizza Boss at your next Party. It's built tough with stainless steel cutter and dishwasher safe.  Cutter has a removable shield for easy cleaning.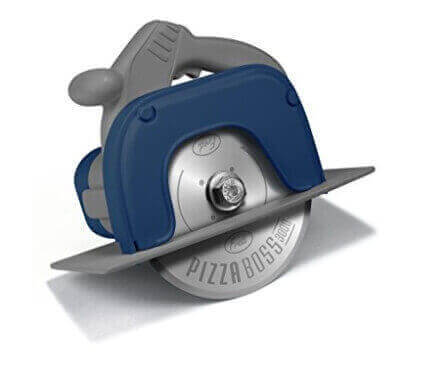 ---
" All hands hoay" Arrr This Pirate Bottle Opener is fun for bartenders or just have friends over for some wine.  Have a " Yo Ho Ho" time with friends but be sure to not get "Three sheets to the wind".  You will "Shiver me timbers" your friends with this fun Peg-Leg Pirate.  Rescue wine from the bottle it's trap in. 
---
If you feel hungry enough you could eat like a horse or want a child-size portion of pasta this clever Noodle Measuring Tool is fun to use.  This witty design will portion out how much pasta to make so no food is wasted. Making spaghetti is tricky because you don't think you are making a lot but pasta expands when it cooks.  No more guessing how much to make whether you are cooking for 1 or a family of 4.  Its dimensions are 10.6 long, 3.1  height, .79 inches wide.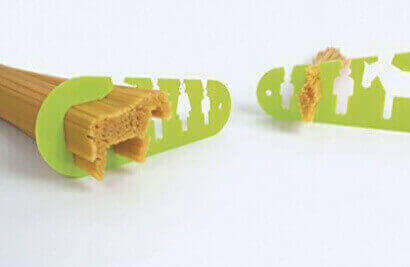 ---
Counter Art Cutting boards make it simple to know which cutting mat to use.  These 4 Flexible Cutting Mats have fish, chicken, beef, and vegetable icons so there is no cross-contamination.  Food safety is very important this has micro ban protection and built-in defense properties that inhibit odor-causing bacteria.  The cutting area measures 11.5 inches wide by 15 inches long.  Great for camping, RV life, boating, and anywhere on the go.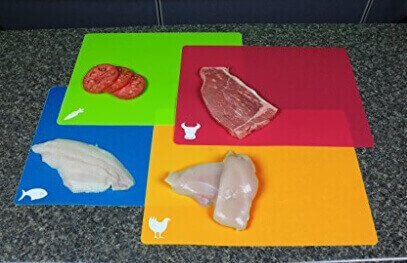 ---
Nobody likes doing dishes but these Hand-Puppet Dish Gloves will make it a lot more fun.  They are 100% latex gloves with a lining.  If you need a little smile to brighten your day these gloves will do the trick.  You will have other people wanting to play with these puppets and do dishes.  Who wouldn't love if someone else did dishes once in a while?  They are also available as Beauty Queen, Skeleton Hands, or Pink Tattoos "Tuff Dish".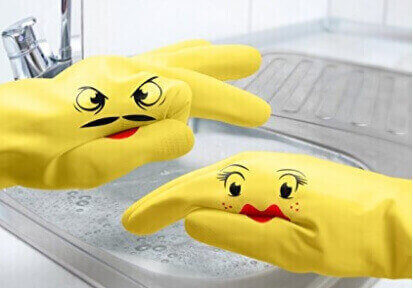 ---
Ten tools in one compacted gadgets.  Creative Kitchen tool includes a masher, apple cutter, mesh cutter, lemon squeezer, bowl, avocado scoop, citrus cutter, grater, and grapefruit squeezer, and 5 picks. This multi-function tool is great to make fruit salads, smoothies, or cocktails for any party.  It measures 6″ x 6″ x 6.6″ and weighs about 1.2 pounds.  This would be a great and fun practical housewarming gift for someone.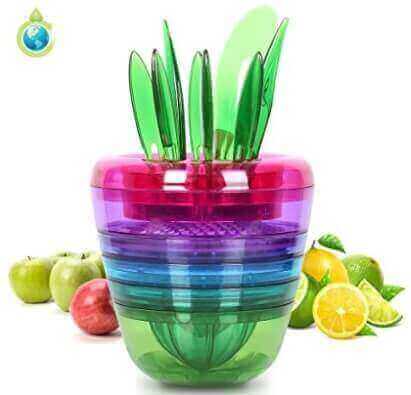 ---
Have you ever been cooking and the spoon just keeps sliding into the pot?  Ugh, This Little Adjustable Spoon Hugger will Save your Spoon from falling in.  He's heatproof, steam proof and dishwasher safe. Clever and fun gadget for anyone that cooks.  He has adjustable arms so he can hug anything his little arms can get around.  Use him in your garden to hold plants to stakes. Cute and functional gift.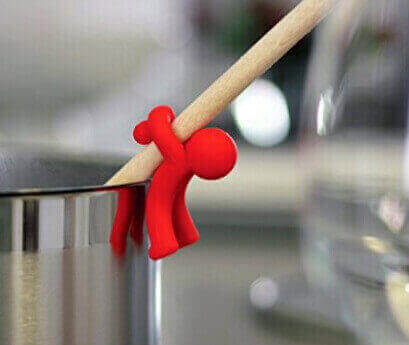 ---
This Oh so cute little Pig will separate the Egg Yolk from the Egg Whites.  A handy little tool for when you want to whip up some egg white cream for your fluffy desserts.  Maybe you just need the egg yolk for a delicious cookie recipe.  Crack the eggs into a bowl and stick this little piggy's nose in the bowl and he will suck up the yolk for you.  This little piggy went to the market to get Egg Yolks.  lol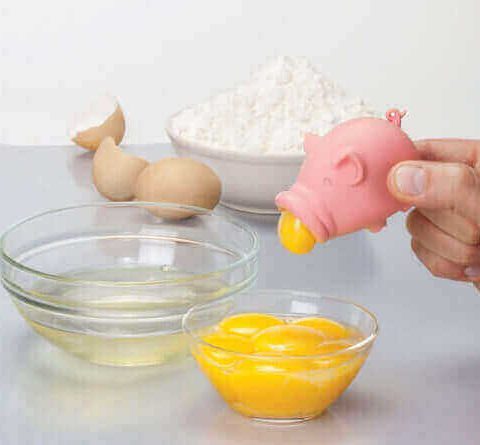 ---
This is a great combo for your kitchen.  The 5 Blade Herb Scissors that allows you to cut fresh herbs right into the bowl.  Minced or chop herbs with no messy cutting board.  Easy and Quick Clean up with the Herb Scissors.  Multipurpose Peeler has 3 different blades a regular, serrated, and julienne with a comfortable grip handle.  Great Kitchen Combo.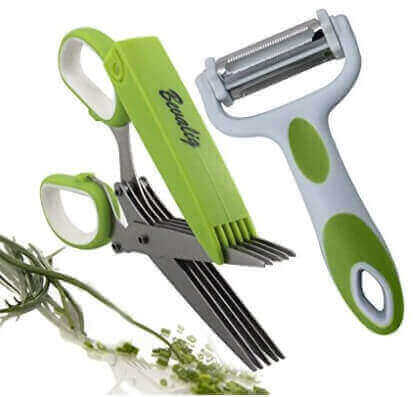 ---
Make cooking fun and delicious with this Professional Spiral Vegetable Slicer.  You can make healthy zucchini chips or apple slices in seconds.  It's just like scarping a pencil with a simple turning motion to make spaghetti squash.  This is a great gift for any food enthusiast or health-conscious individual.  Perfect for someone who is a vegan or gluten-free to make your own pasta.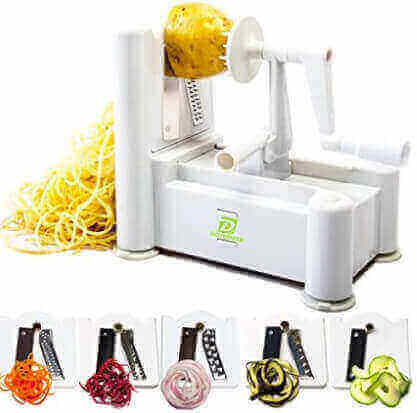 ---
High-Quality food-grade silicone material design not to spill food while pouring.  You will wonder how you ever lived without this simple Funnel Tool.  No need for a colander anymore just slip on pot and start draining right from the pot. You can also attach to a bowl to pour the perfect pancake or muffins.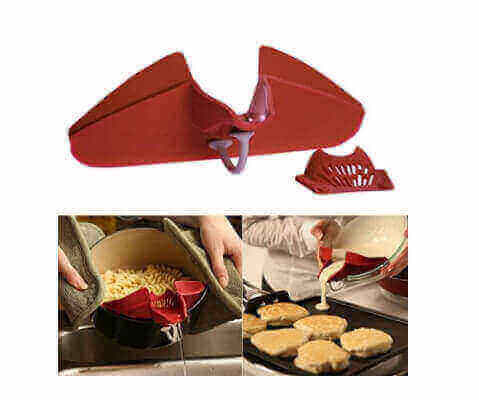 ---
All in One Set for everyone that wants to eat more fruit.  This set comes with a Strawberry huller, Banana cutter, Mellon baller, Watermelon slicer, and Pineapple corer. You can also buy them individually if don't need them all, the pineapple corer has been our favorite out of this set.   If you are having a party and want to WOW your guest with some creative fruit art. Get this set. Get creative and make fruit Palm Trees or Happy Face your kids will want to help make the creations.  Everyone will be eating more healthy fruit.  
---
The Copper Grill Mats are great for outdoor cooking.  These mats are great, nothing sticks to them, and they're very easy to clean up.  You will still get the grill marks that everyone loves to see.  All the flavors stay with the meat and not dripping into your grill.  Our grill grates were rusty and dirty from years of use so we purchased these grill mats.  OMG, They worked great and it was cheaper to purchase then-new grates. They are Amazing! They also come in black. 
---
This is our Favorite Kitchen Gadget Under $20 because we use them all the time and they are so much fun.  Have fun in the kitchen with these funny little helpers.  Your family and friends will want to help you just so they can use these little guys.  Great gift idea for woman or men because they are great conversion piece.  We use them for serving or cooking a meal.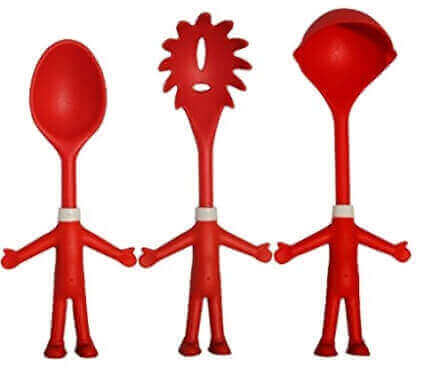 All 21 Kitchen Gadgets Under $20 That Are Fun In Your Kitchen can be purchase through Amazon.  If you are an Amazon Prime Member some Gadgets include Free Shipping.