How to Cut Up a Pineapple
How to Pick Ripe Pineapple?
Before you can cut into a delicious juicy pineapple you need to know how to pick a ripe one.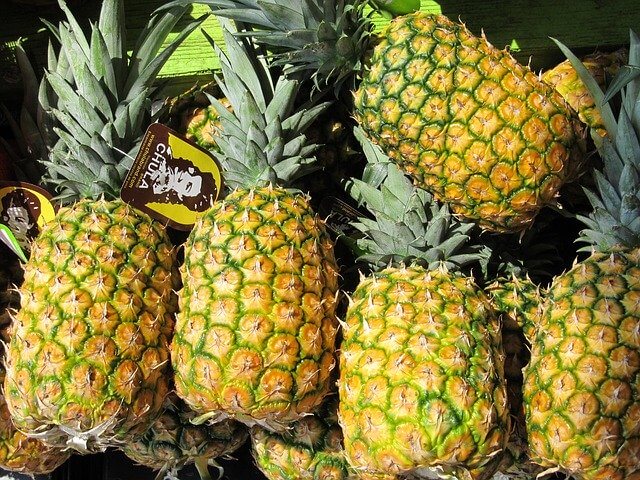 3

Simple Ways to Find a Ripe Pineapple
COLOR – When thinking about pineapples I think of bright yellow color. As the pineapple grows it starts out a greenish color then turns yellow as it ripens.  When picking out your next pineapple remember this rule, the more yellow the exterior is the riper the pineapple is.  If it's a ripe pineapple the more flavorful it will be.
SQUEEZE IT – A ripe pineapple should be firm but still slightly soft. Give the pineapple a little squeeze to see if the exterior is a little soft that your thumb moves a little. Pineapples that are green and hard still need time to ripen.
PLUCK THE CROWN – The easiest way to find out if a pineapple is ripe is to pluck one of the crown pieces from the center. If you can pluck one out easily then the pineapple is fresh, ripe, and ready to enjoy.  
Be sure to try these tips the next time you go to the grocery store to pick out your next Pineapple. 

Quick 'n' Easy way to slice Pineapples!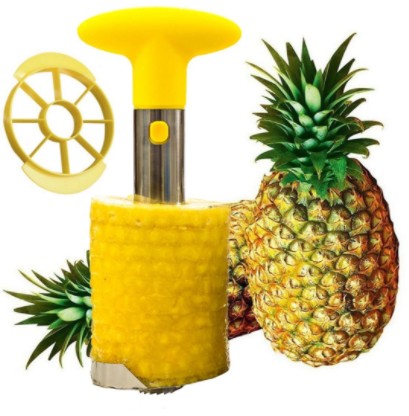 The Quickest and Easiest way to core and slice a Pineapple is with the Easy Kitchen Tool Stainless Steel Fruit Pineapple Peeler Corer Slicer Cutter.  If you are looking for how to cut up a Pineapple this clever and simple gadget will slice or chunk Pineapple while coring.  
There is no need to cut the outer skin off a Pineapple, all you do it cut the top off.  Insert the Pineapple Peeler and twist it down into the Pineapple.  Pull out the Pineapple…..Instantly you got yourself perfectly Pineapple Slices.

How to Cut Up a Pineapple Perfectly
Pineapple Slices are great snacks or garnishment for your favorite cocktails.  This is a little tool you didn't know you needed for your kitchen, once you have one you will wonder how you lived without it.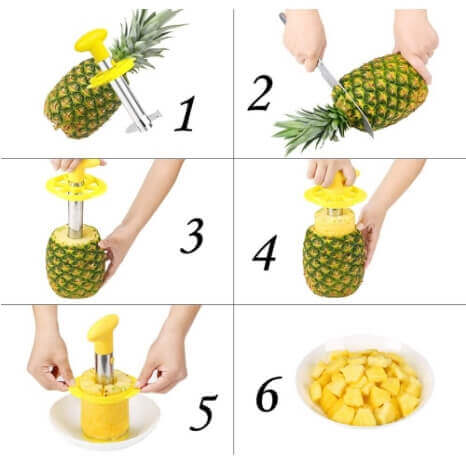 This is what customers are saying about the Easy Kitchen Tool Stainless Steel Fruit Pineapple Peeler Corer Slicer Cutter.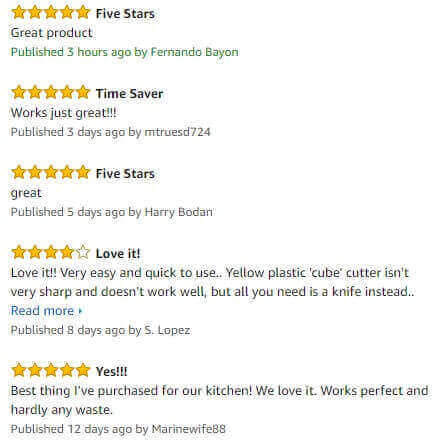 A Pineapple will regenerate.  If you purchase a Pineapple at the grocery store and cut off the top crown and place it in dirt it will grow.  

One Pineapple plant will only produce one Pineapple each season.

It can take anywhere between 18 to 20 months for a Pineapple plant to produce one ripe Pineapple. 

Pineapples are delicious on many foods such as Meats, Pizza, Rice, Soup, Desserts, served in Cocktails, or just as a Fruit Dish. 

Once cut a Pineapple should be eaten within a week if stored in the refrigerator. 

Pineapples are a great way to tenderize meat because it has bromelain enzyme which will break down the proteins in meat.  Bromelain Enzyme also has great health benefits such as it's an anti-inflammatory. 

Pineapples are rich in Vitamin C and Manganese along with many other vitamins.

The TV comedy-drama show Psych, on USA Network, featured a Pineapple in all 95 episodes. Next time you watch it look for the Pineapple.   
The next time someone asks how to cut a Pineapple, let them know about this cool kitchen gadget.  We used this gadget for when we cook our Pineapple Glazed Spiral Ham.