There are several cooking gadgets that are must-haves for your kitchen.  Meals can be cooked in 40 minutes or less which is a great time saver.  Some cooking gadgets can even make an entire meal in one pot.
So if you enjoy spending time in the kitchen creating delicious meals, then you should add some gadgets to your kitchen. Maybe you know someone who loves to cook!  Or need a gift for someone but just don't know what to buy them.
Someone might even ask you what you would like as a gift? Now you can tell them a Cooking Gadget that you will actually use.
Kitchen Gadgets are great gift ideas for everyone, men or women! They will delight the cook in your life.

Great Gift Ideas!
Cooking Gadgets are great gifts that keep giving.  Gadgets have really improved over the years with new technology.  Now some have auto shut-off or delay start times and pre-set cooking times. They even make cooking times faster by 70% while leaving in all the flavor and health benefits.  
There are Cooking Gadgets that come in different colors to go with your kitchen decor.  You don't have to find a place to hide them away because it doesn't go with your kitchen, you can leave it on the counter and show them off.
Cooking Gadget Must-Haves!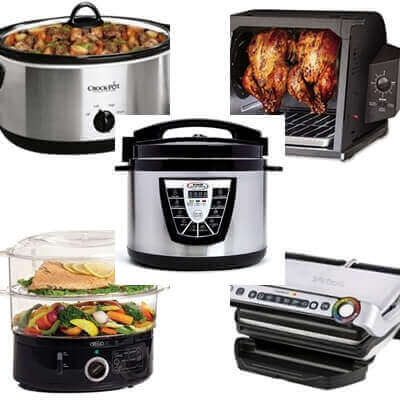 Here is a list of Top 5 Cooking Gadgets that we have in our home and use at least once or twice a week or more. 
Top 5 Kitchen Gadgets
Pressure Cooker
Crock Pot
T-Fal Optigrill
Rotisserie
Food Steamer
There are so many fun Cooking Gadgets
on the market these days, why not go grab some for yourself or a friend who loves to cook.