Barbecue Chicken Quarters
Want to make delicious Barbecue Chicken Quarters without firing up the grill? By using any type of Rotisserie Oven, you will get crispy skin and moist chicken inside just like you would if you cooked it on a grill.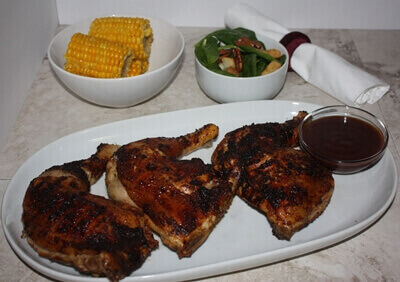 When planning meals for the week on a budget I will opt for a Chicken Quarters vs Boneless Chicken Breast. Chichen Quarters are the least expensive part of the Chicken to purchase.  The average national cost is about $0.89 cents per pound. 
The cost per pound is cheaper because it takes less time for the butcher to cut. There is not time cutting out the bones and off the fat.  Chicken Quarters are extremely flavorful since you get a drumstick and thigh dark meat.  
How to Cook Barbecue Chicken Quarters In a Rotisserie
We used our favorite Showtime Rotisserie for this meal which didn't take a whole lot of time to prep. The food basket that comes with the Rotisserie Oven is used to hold the Chicken Quarters while cooking. Depending on how large the Quarters are, you can easily fit 3-4 pieces inside the basket. 
Side Dish Ideas
Some of the side dishes that I serve with this Barbecue Chicken Quarters are as  followed:  
Mixed Vegatables

Corn on the Cob

Baked Beans

Ceaser Salad 
So if it's raining or snowing outside and you can't fire up the grill.  Grab your Rotisserie Oven and make these Barbecue Chicken Quarters for Dinner Tonight!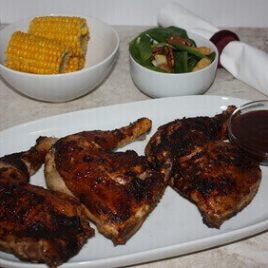 Print Recipe
Barbecue Chicken Quarters - Rotisserie Cooking
Ingredients
BBQ Dry Rub Spices
2

tbsp

Chili Powder

2

tbsp

Paprika

1

tbsp

Onion Powder

1

tbsp

Garlic Powder

1

tbsp

Brown Sugar

1

tsp

Black Pepper

Freshly Ground

1

tsp

Pink Himalayan Sea Salt

Freshly Ground
Instructions
Rinse off the Chicken Quarters thoroughly

Mix all of the BBQ Dry Rub Spices listed above together in a bowl

Rub the spices evenly all over the Chicken Quarters

Arrange the Chicken Quarters into the food basket

Place the food basket into the Rotisserie and close door

Set the timer on the Rotisserie between 45-60 minutes until the internal temperature reaches 170-175 degrees
Notes
Gadgets used for this Recipe


(adsbygoogle = window.adsbygoogle || []).push({});
var ci_cap_scriptId = "131692";
var ci_cap_bid = "1431950001";
var ci_cap_format = "300x410";
var ci_cap_channel = "Chicken%20Recipes";
Coupons powered by Coupons.com