Oven Fresh Seasoned Baked Potato Wedges
Seasoned Baked Potato Wedges are one of my family's favorite side dish and they're simple to make.  They can be customized to each family member's favorite flavors.   
We make the basic recipe and then add in any additional ingredients depending on the mood we are in. They can be spicy, hot, cheesy, mild, or onion or garlic flavor.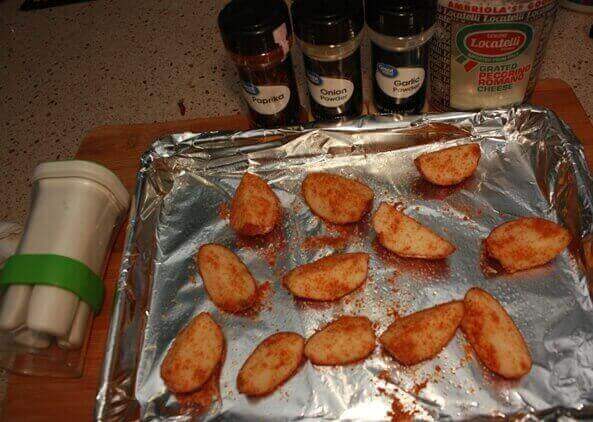 To make them hot we add Crushed Red Peppers or to spice them up we add Cayenne Pepper.  Add more Garlic or more Cheese to enhance that flavor.
Potatoes are comfort foods for many families I know they are for mine. We make mashed potatoes or baked potatoes a couple of times a week and can get a little tired of that.  So, I started making Seasoned Baked Potato Wedges at least once a week. 
Which Potatoes are the Best?
What is a mealtime without a vegetable and a potato of some sort? Right 🙂 Potato Wedges can be made with Yukon Gold Potatoes, Russet Burbank Potatoes, or Red Potatoes depending on what you have on hand.  I like using Red Potatoes because the skin is thin. 
What Goes with Baked Potato Wedges?
Seasoned Baked Potato Wedges are a complement to many delicious meals.  We enjoy them with Hamburgers, Crab Cakes, and even Baked Salmon. What are some of your favorite meals that include Potato Wedges?
Potato Wedges are a great Finger Food for tailgating, potluck parties, or any kind of gathering.  So, forget about the French Fries and start making Crispy Oven Baked Potato Wedges for dinner.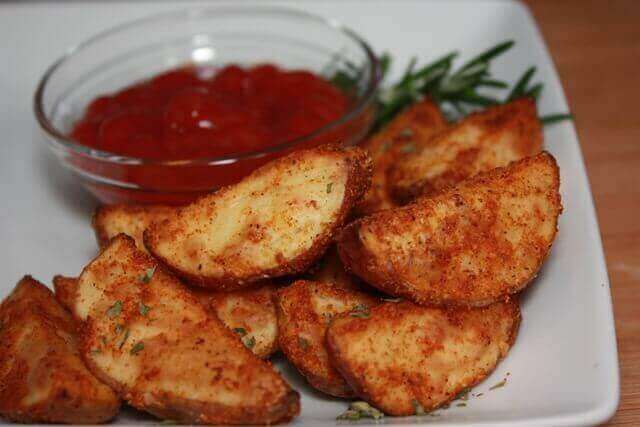 How to Cut Potato Wedges?
There are two ways you can cut potato wedges. The first way is to keep cutting the potato in half pieces until you have wedges.  The second way is to use a Wedge Cutter which is what I used.  It makes for easy cutting, but the potatoes can't be too big or there won't fit in the cutter. 
Potatoes are a healthy side dish to add to any meal because they are high in potassium and vitamin C. In this recipe the potatoes are baked instead of frying, it's a healthier side dish.  
Tasty Dipping Sauce Ideas:
Sour Cream & Dill

Sour Cream & Chives

Ketchup

Ranch Dressing

Honey Mustard

Hot Sauce

Cream Cheese Dip
Once you try them please let us know what you think, we also love to hear whether your family enjoyed them as much as ours.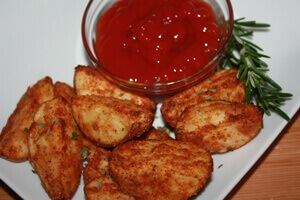 Print Recipe
Seasoned Baked Potato Wedges
Ingredients
1/4

tsp

Paprika

1/4

tsp

Onion Powder

1/4

tsp

Garlic Powder

1

tsp

Locatelli Grated Pecorino Romano Cheese

Sea Salt

Pepper

Cooking Spray
Instructions
Preheat oven to 425° degrees

Line a baking sheet with non-stick aluminum foil this will allow the potatoes to brown without burning. Spray the aluminum foil with cooking spray just a little

Wash off potatoes and pat dry with a towel. Cut into wedges, we used the Prep Solutions by Progressive Veggie Cutter to make for very easy cutting

Pat dry all sides of each quarter potato

Mix together Paprika, Onion Powder, Garlic Powder, Locatelli Grated Pecorino Romano Cheese, Sea Salt, and Pepper in a zip lock bag

Put Potato Wedges into a bowl and lightly coat with cooking spray

Pour the mixture over the Potato Wedges and make sure all sides are coated

Cook the potatoes for 25 minutes, you DON'T have to turn them
Notes
Seasoned Baked Potato Wedges Tips
Roasting potatoes at a high temperature makes them soft and fluffy on the inside and crispy on the outside.

Low-Fat Cooking spray will make your Potato Wedges less oily and much healthier.

Don't overcrowd the pan or the potatoes may not cook evenly.

Make sure at least one of the sides are touching the foil.