Easy and Delicious Crockpot Meatball Recipe
Have you ever made Crockpot Meatball Recipe that would melt in your mouth? If not, then you should try making meatballs in a crockpot. When you cook meatballs in a crockpot it takes a while to make but it's well worth the wait. 
Give this Easy and Delicious Crockpot Meatball Recipe a try and let us know what you think.  
What kind of Ground Beef?
Starting with good ground beef does make a difference.  The best choice is 80% fat and 20% lean ground beef because it keeps the meatballs tender and juicy. 
You could go to 70% fat and 30% lean ground beef to help with the cost, but you will have more grease during cooking.  I use a spoon to remove some of the greases on top and no one knows the difference. 

How Long to Meatballs in a Crockpot 
The key to this recipe for meatballs is how they are cooked.  You don't pre-cook or brown them in the oven.  Just put them in the crockpot right after you roll them.  While cooking the ground beef soaks in the pasta sauce making them tender and juicy.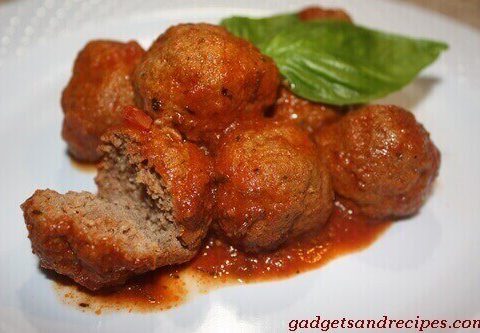 Homemade Italian Meatballs Recipes
Meatballs are one of those comfort foods for any time of year.  They are great on cold winter nights.  Great for Sunday football games especially if you have a CrockPot with your Favorite NFL Team on it.
Meatballs are the go-to meal that everyone enjoys, great for big parties.
If you want the perfect size meatballs I recommend the Meatball Master.  It makes 32 meatballs from 2.2 lbs. of ground beef.  Each meatball is approximately 1.5 inches in diameter and weighs 1 oz.  When the meatballs are all the same size they'll cook evenly. 
How to Spice Up Crockpot Meatball Recipe
This is a basic Homemade Meatball Recipe but if you're like my family you can spice up every once in a while.  There are two ways you can spice up meatballs. 
The first way is to add some crushed red pepper seeds to the ground beef mixture and that turns up the heat some.  The second way is you can add your favorite Hot Pepper to the sauce, and it heats up the whole meal.   
Cooking meatballs all day it makes your home smell amazing. 
Just add your favorite pasta and garlic bread and your meal is complete.
Print Recipe
Homemade Meatballs
Ingredients
2 1/2

lbs

Ground Beef

80% / 20% Lean Ground Beef

2

large

Eggs

1

cup

Italian Style Bread Crumbs

1

tsp

Garlic salt

1

tsp

Italian Seasoning

1

tsp

Parsley Flakes

3

tsp

Parmesan cheese

Salt & Pepper to taste

fill to almost the top

Jar of Prego Italian Sauce

or any kind of pasta sauce you enjoy
Instructions
In a large mixing bowl combine all the ingredients and mix thoroughly.

Use about a 1/4 cup of each meatball and roll in your hands until they have a nice ball shape.

Turn the crock pot on high and cover the bottom with a thin layer of Prego Italian sauce (or your choice of sauce) and place each meatball in the crock pot after it is rolled.  After the bottom layer is full of meatballs cover them with another layer of sauce and continue  the process until all the ground beef is used.

It usually makes about 30 golf ball sized meatballs.

Leave the crock pot on high for the first 2 hours and then turn down to low for 7 hours.
Notes
Now if you really like Hot and Spicy food, check out our Hot Corner for the level of pepper to your choosing and poke a few holes in it and place it in the sauce.  
The pepper flavors will soak into the pasta sauce and you will have "Highway to Hell Meatballs".  Make sure you choose wisely because some of the peppers are pretty

Hot!!!!!