How to Make a Bruschetta?
When I think of Summertime one of my favorite recipes is Bruschetta.  It's so simple to make and I will share my recipe on How to Make a Bruschetta?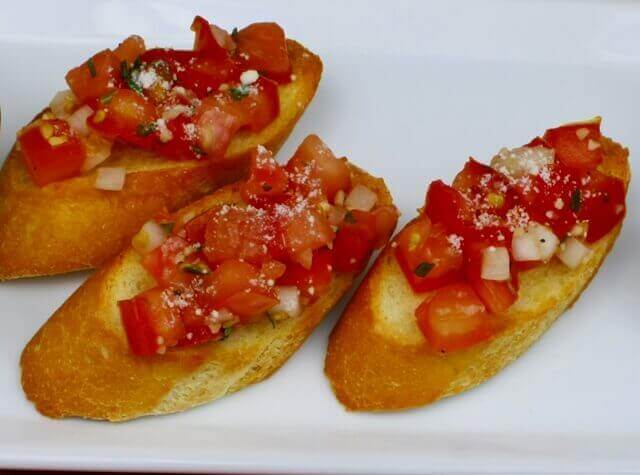 I have seen recipes for Bruschetta made with just tomato, basil, and olive oil but I like to add more flavor. 
You only need a few ingredients for this delicious Tomato Basil Bruschetta Recipe. This is one of my favorite appetizers to make for summer gatherings because a little goes a long way.
Once you see how simple it is to make you'll make Bruschetta a more often.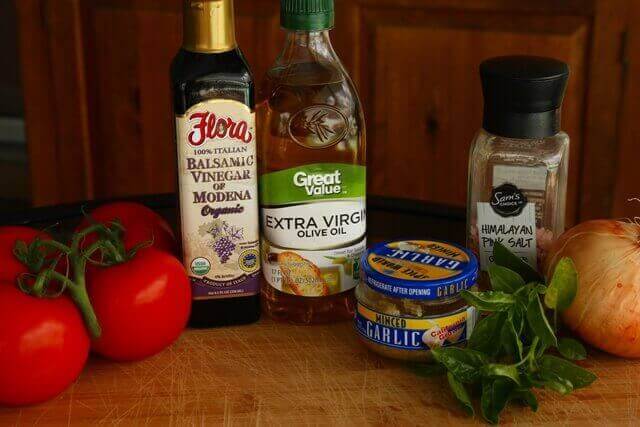 In the spring I plant tomatoes, basil, and green onions in my garden so I have fresh ingredients for my recipes. Right around the middle of summer, my tomato plants blossom with lots of fresh juicy tomatoes.
This is when I take out my Food Chopper and start chopping tomatoes to make Bruschetta.  The quantity on this recipe is good for a family of four but I usually make it in larger quantity.  Since I get so many delicious fresh tomatoes.  
In the summer months, Bruschetta is my go-to appetizer or side dish recipe. It's great for BBQs, Picnics, or just backyard fun. 
It's a light and fresh recipe that goes well with meatball, hamburgers, hotdogs or chicken. Pretty much any summer meal you can think of.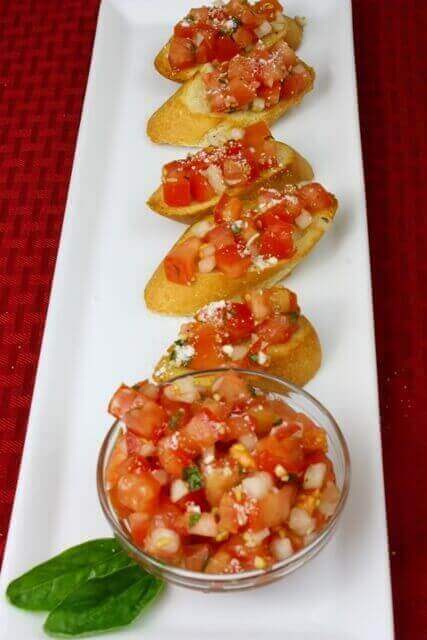 How to Pick a Good Tomato?
---
You want to make sure tomatoes are ripe when making Bruschetta.  If you start off with mushy tomatoes your Bruschetta will end up soggy.
See, Touch and Smell are three key factors in picking a ripe tomato. 
See – Look over the tomato to make sure it doesn't have wrinkles.  If there are wrinkles then it's starting to get overripe, you want smooth skin.
Touch – Pick up the tomato and place it in the palm of your hand, it should have weight to it.  DO NOT SQUEEZE the tomato you could bruise it. 
Smell – Put the tomato close to your nose (but not to close) it should have a sweet smell almost kind of earthy.  
I've made Bruschetta using ten (10) delicious tomatoes and for the weekend of fun by the pool.  It's good to have on hand just in case you have pop-over visitors.   It refrigerates well for about three days, after that the tomatoes can get a little soggy.   
You don't have to just use just Red Tomatoes I have mixed in the Yellow or Orange Tomatoes to really give it that summertime fresh look.  Yellow and Orange Tomatoes have less acidic and taste a little sweeter.  
So now you know How to Make a Bruschetta, why not give this recipe a try and let me know what you think in a comment below. All reviews are welcomed.  🙂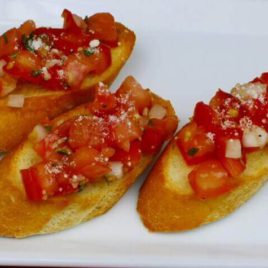 Print Recipe
Tomato Basil Bruschetta Recipe
Ingredients
4-5

ripe

Tomatoes

Tomatoes on the vine (about a 1 or 1-1/2 lbs)

1/4

cup

Yellow Onion

8-10

whole

Basil Leaves

Sliced or chopped

2

tsp

Minced Garlic

1

tsp

Extra Virgin Olive Oil

2

tsp

Balsalmic Vinegar

1

tsp

Salt & Pepper to taste

1

baguette

French Bread

1/4

cup

Extra Virgin Olive Oil

Used to brush on each bread slice

1

tsp/each slice

Grated Pecorino Romano Cheese

Or your choice of grated cheese
Instructions
Preheat oven to 450°F (230°C) for Bruschetta Toast

Chop Tomatoes & Onions into square pieces and put them into a large mixing bowl

Chop the fresh Basil Leaves and add them to the bowl

Next, add the Minced Garlic, Balsamic Vinegar, and Salt & Pepper and 1 tbsp of Olive Oil

Mix together all the ingredients

Slice the Baguette diagonally into 1/4" thick slices. This should make approximately 18-20 pieces.

Brush Olive Oil on one side of each of the bread slices and place Olive Oil side down on a cookie sheet lined with parchment paper.

Place the slices into the preheated oven on the top rack and toast for approximately 5-6 minutes or until lightly browned

Remove the bread slices from the oven when they are lightly browned

With Olive Oil side up, spoon on Bruschetta mix onto each piece, about 1 tbsp

Sprinkle the top with your favorite grated cheese
Notes
I like to refrigerate the Bruschetta for at least 30 minutes before serving so all the flavors mix together nicely.  
Be sure to check out our other Appetizers/Finger Food Recipes!