Cranberry and Chili Sauce Meatballs
If you are tired of Italian Meatballs why not try something new?  Try this Cranberry and Chili Sauce Meatballs it's my new go-to meatball recipe.  It's a little sweet and tangy.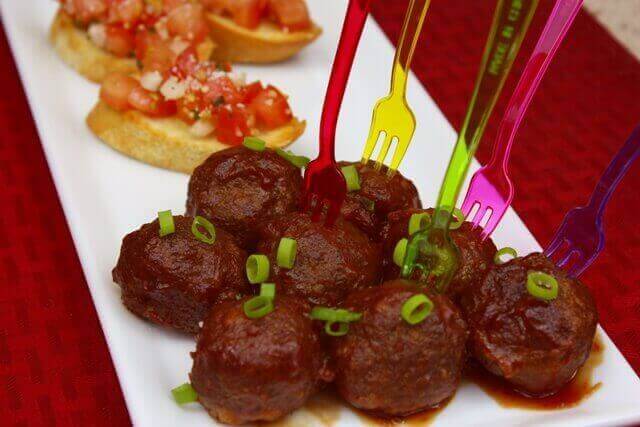 When I think of Cranberry Sauce I think of Thanksgiving or Christmas. Don't you?  I like making this delicious recipe as a Thanksgiving Appetizer, you know for the Thanksgiving Football Games. 
I've have gotten one of those cool Football Serving Trays to serve them in.  My Holiday guests Love it.  
When I make them as an appetizer I'll usually cook them the day before I need them. Then refrigerate them overnight and heat them up in a crockpot.
When I serve meatballs as an appetizer I will put out toothpicks, short rolls, or crackers for guests to enjoy.
I've even made this as a dinner and my family loves it.  I mean who doesn't love a delicious Meatball Sandwich? Right 🙂  
I like to make my meatball from scratch but you could also use frozen meatballs as well.  Meatballs are one of those meals where you always make enough for leftovers.  It's a two in one meal.
I use Nabisco Premium Saltine Crackers instead of Italian Breadcrumbs for my Cranberry and Chili Sauce Meatballs just to get away from the Italian flavor.  I used a Mallet Tool to break up the saltine crackers but you could also use a food processor or a rolling pin if you have one.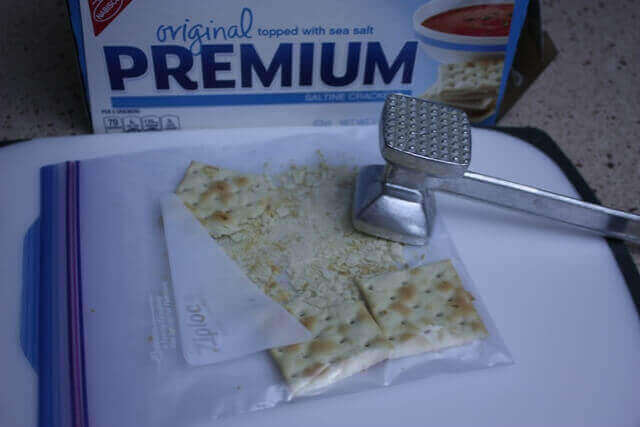 You could also use Ground Turkey, Chicken, or Beef and they all taste delicious. 
When I roll meatballs, I use a medium cookie scoop to make sure they are all the same size.  The medium cookie scoop is a perfect bite-size for appetizers or sandwich bun size.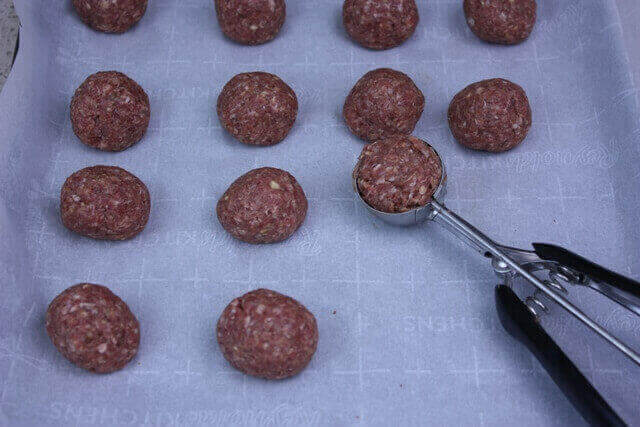 With this recipe, I cooked the meatballs in the oven first to make sure the meatballs didn't fall apart in a thicker sauce and I was pressed for time.  Baking in the oven will give meatballs that delicious browning flavor.  
5 Tips for the Best Meatballs
---
1) Meat Choice
Don't use lean meat like 90% / 10% or 93% / 7%, you want your meat to have some fat so it stays moist.  If you choose leaner meat the meatballs will turn out dense and tough. 
2) Rolling
Don't roll meatballs too compact or too tightly as they will turn out tough. It will turn out like golf balls and nobody wants to eat golf balls.  This is another benefit of using a Cookie Scooper to form the meatballs, you don't have to roll them for long because it's already round. 
3) Browning
Browning on the stovetop or in the oven will give meatballs flavor and great color. This is a debate in the meatball world! I do whichever I have the time to do.  Browning and No-Browning Meatballs have benefits both ways.  If you want to get rid of some of the greases from the fat due to the meat used browning will help with that.
4) Seasoning
This is the fun part you can Season Meatballs any way you like.  Get creative and try different ingredients in small amounts.  You don't want to overpower the meatballs with one seasoning you want to get the flavor of all seasoning.  
5) Mixing
Don't over mix your ingredients!  When you overmix ground meat you are breaking down the pieces even more and then it just becomes mush.  I like to mix all my seasoning into a small bowl then pour over the meat.  Gently mix together with the meat to incorporate the flavors.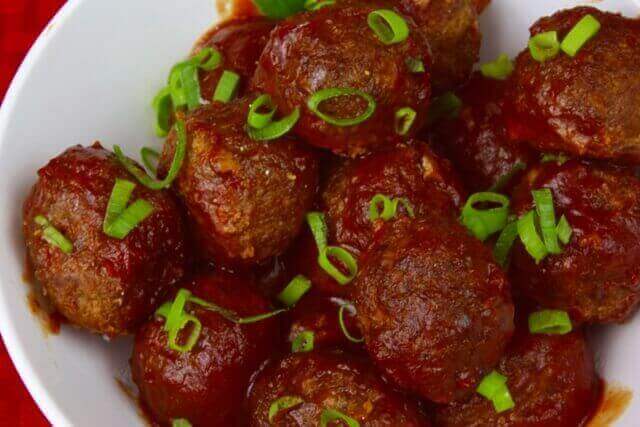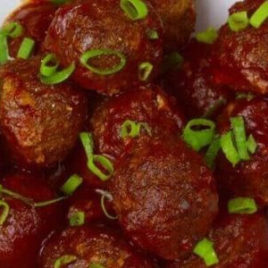 Print Recipe
Cranberry Chili Sauce Meatball Recipe
Sweet and Tangy Cranberry Chili Sauce Meatballs
Ingredients
Meatball
1

lb

Ground Beef

85/15

1/3

cups

Ketchup

10

whole

Saltine Crackers

Crushed

1

whole

Egg

1

tbsp

Soy Sauce

1/4

tsp

Minced Garlic

1/4

tsp

Sea Salt

1/4

tsp

Black Pepper
Chili Sauce
1

16 ounce can

Jellied Cranberry Sauce

1

14 ounce bottle

Chili Sauce

2

tbsp

Brown Sugar

1

tbsp

Lemon Juice
Instructions
Preheat the oven to 350° F (175° C)

In a large bowl, mix the ground beef, crushed saltine crackers, egg, soy sauce, minced garlic, ketchup, and salt and pepper

Using a medium cookie scooper, scoop and roll into golf sized meatballs

Line a metal cookie sheet with parchment paper and place the meatballs on it

Put the meatballs in the preheated oven and cook bake for 30 minutes

In another large bowl, combine all the Sauce ingredients listed above and whisk until a smooth consistency

Pour sauce into the crockpot and set on low

After meatballs have baked for 30 minutes, add them to the sauce in the crockpot

Continue to cook on low for 1-hour or until completely cooked stirring once or twice