Authentic Italian Meatball Recipe
Who doesn't love a delicious Authentic Italian Meatball Recipe? This easy Meatball Recipe is perfect for any night of the week.  It only takes 30 minutes to make, whether it's for meatball sandwiches or the traditional spaghetti and meatball dinner. 
Meatballs can be made with different types of meat, whether it's with ground beef, chicken, or turkey they are always delicious.  They can be put in soups, casseroles, or just as a sandwich. 
The Secret to a GOOD Meatball!
Make sure ground meat has a little bit of fat or else the meatballs will become dry. A good percentage is 85% Lean / 15% Fat, you can go as high as 90% Lean / 10% Fat anything more will become dry. 

Combine the ingredients together don't over mix them.  If you mix the ingredients too much the meatballs will be tough. 

I like using a medium ice cream scooper or a 1 1/8 inch meatball roller.  Keeping Meatballs all the same size will ensure they cook evenly.
Season Meatballs to your taste, this is the Authentic Italian Meatball Recipe but please feel free to add any other seasonings you like.  Once I even add some hot peppers to turn up the heat a little and they were delicious. 
Other Ingredients You Can Add
Here is a list of other ingredients you can add or switch up with when making an Authentic Italian Meatball Recipe. 
Minced Garlic

Fresh Parsley

Dried Oregano

Red Pepper Flakes

Cajun Seasoning 

Bacon

Get Creative Jelly
Make a large batch and freeze some for additional nights of the week.  Serve with any type of garlic bread goes well with this dish.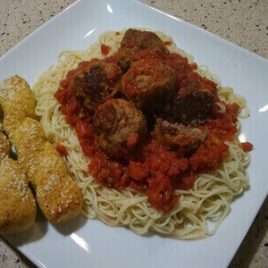 Print Recipe
Authentic Italian Meatball Recipe
Ingredients
1

lb

Ground Beef

4

serving sizes

Pasta of your choice

1

28 oz can

Whole Peeled Tomatoes

1

pkg

Garlic Bread
Meatball Spices
1

tbsp

Italian Seasoning

1

tbsp

Parmesan cheese

1

whole

Egg

1/2

cup

Italian Style Bread Crumbs

1/2

tsp

Garlic Powder

1

cup

Diced Onion
Sauce Spices
1/4

tsp

Garlic Powder

1/4

tsp

Onion Powder

1/2

tsp

Italian Seasoning

1

tbsp

Parmesan cheese

1

tbsp

Sugar

To cut the acidity of the tomatoes
Instructions
Sauce Mixture
Pour 1 - 28oz Whole Peeled Tomatoes into a food processor and pulse until desired thickness

Pour tomatoes into a bowl and add the Sauce Spices listed above and mix well, then set aside
Meatball Mixture
Mix all Meatball Spices listed above with the ground beef

Roll each one into golf ball size meatballs

Pre-heat Copper Chef Pan over medium heat for about 3-5 minutes

Add each meatball to the Copper Chef Pan and brown for 2-3 minutes on each side

Pour your homemade sauce over the meatballs in the Copper Chef Pan

Simmer for 20-25 minutes on medium heat or until done stirring occasionally