Recipes for Grilled Burgers on T-Fal
Looking for delicious juicy Recipes for Grilled Burgers at home. The secret to the perfect grilled hamburger or cheeseburger at home is to use a T-Fal OptiGrill.   There is no flipping or setting a timer, just watch the lights for your preferred doneness.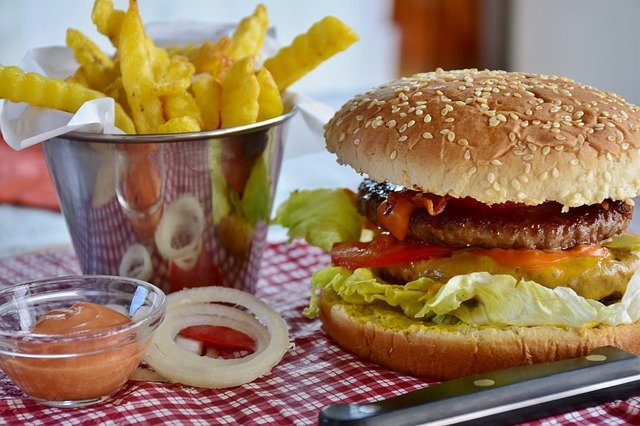 If you enjoy a flavorful burger cooked rare, medium well, or well done you can now cook just like the chefs and get it perfect every time.  It will be juicy and delicious at any time of the year.
Take the guesswork on how long to cook the burger or when to flip it.  It cooks evenly while it holds all the delicious flavors and juices. 
When you think of burgers you usually think of a BBQ but now you don't have to wait for spring or summer months to enjoy a burger.  You can cook burgers right in your kitchen and get the same mouth-watering taste of a BBQ grill.
When it's raining or snowing outside, and you can't use the grill.  Just take out the T-Fal OptGrill and start grilling!  
Best Recipe for Grilled Burgers
It doesn't have to be just Hamburgers or Cheeseburgers that you grill, what about Turkey or Chicken Burgers.  On the T-Fal OptGrill, any kind of burger comes out perfectly at home.  
When you find the best Recipes for Grilled Burgers at home you can add any seasonings or ingredients to your tasting.  You can make burgers from scratch or take the frozen burgers and put them right on the T-Fal OptGrill. 
When making burgers from scratch add some onions or onion soup mix to either ground beef, turkey, or chicken.  It really gives your burger a boost of flavor.

How Long to Cook a Burger on the Grill 
When cooking a burger on the T-Fal OptiGrill that question will never need to be asked again.  The only question will be "Do you like it Rare, Medium Well, or Well Done?"  Once you have that answer all you have to do it watch as the lights change to your preferred doneness.

What to Grill with Hamburgers
Once you have the yummy delicious Recipe for Grilled Burgers, you'll need a side dish.  Here are some of my favorite side dishes with a Grilled Burger:
French Fries

Macaroni and Cheese

Pasta Salad

Corn on the Cob

Potato Chips
Then you can enjoy the Perfect Grilled Hamburger or Cheeseburger every time!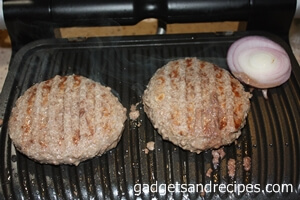 Print Recipe
Perfect Grilled Hamburger
Delicious and Juicy Prefect Grilled Hamburger Everytime!
Ingredients
1

lb

93/7 Ground Beef

80/20 is also good

1

pkg

Lipton Onion Soup Mix

Salt & Pepper to taste
Instructions
Combine 1 lb of Ground Beef with 1 pkg of soup mix.

Make 4 patties for a 1/4 burger, if you want them smaller you can make up to 6 burgers.

Flatten burgers and place on T-Fal Opti-Grill and watch and cook.