The Most Unusual Kitchen Gadgets
I have searched for the most Unusual Kitchen Gadgets on the market.  Here is a list of 20 that are available at Amazon that will amaze you. These are fun unique gadgets that are great gifts for anyone.
They are useful and Unusual Kitchen Gadgets that will make you smile and the task simple.  Pick up a couple for Birthdays, Holidays, Anniversaries whenever you need a Fun Gift.  I also pointed out a couple of Gift Alert Ideas be sure to check them out. 
The Most Unusual Kitchen Gadgets That are Useful!
This is an innovative Kitchen Gadgets for all the people who love Pickles. It's a Pickle Fork like no other it attaches to the jar so it's handy.  No more wet, pickle smelling fingers with a cute little fork. Includes a small and large flexible band to attach the fork holder.  Also, can be used for olives, peppers, pears, anything that comes in a jar.  Put this out at your next party and impress your friends.  Available at Amazon
Whisk Whiper Who would have thought?  Well, it is a pretty clever idea when you think about it.  That is one of the fun parts of making desserts is licking off the Whisk or Mixer.  Now with this Whisk Whiper, you will get every last drop of the batter.  It's available in 6 different colors and is a great gift for men and women. Available at Amazon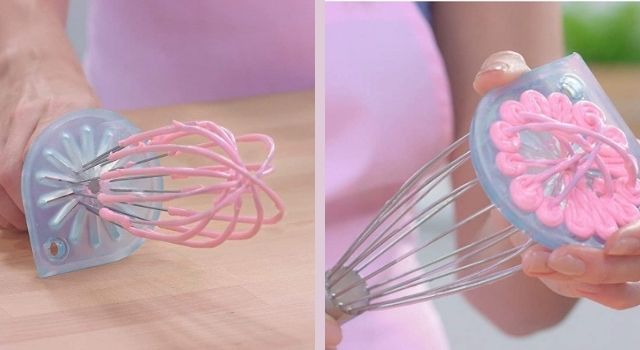 Sausage and Hot Dog Spiral Cutter! WHAT??  Oh yes, it's true there is such a thing.  It's a 2-piece set that will cut a spiral in a Sausage or Hot Dogs for your next BBQ. No more cutting it with a knife on one side then flipping it over to cut the other side.  This Spiral Cutter is easy and convenient to use, it's great for picnics and outdoor eating.  There's a Small size which is 3cm wide and a Large is 4.5cm wide both are included. Available at Amazon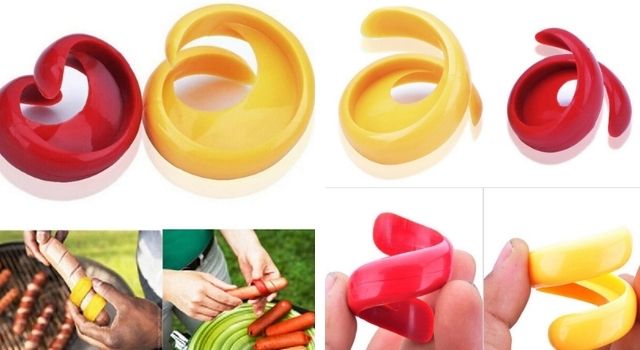 Coconut Opener Drilling Tool Knife is a fun Unusual Kitchen Gadget if you live in Florida.  There are coconut trees everywhere and those darn Coconuts are hard to open.  Coconuts are extremely healthy and contain important minerals and proteins.  But have you ever tried to open one?  It's not easy.  This clever Coconut Opener Drill Tool Knife appears to make that task so much easier. Available at Amazon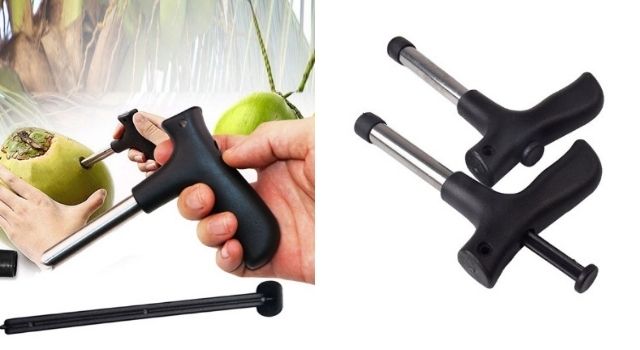 Seeds Pliers are used to cracking open those hard nutshells.  It's kind of like a nutcracker but for smaller nuts.  You can crack open sunflower seeds, pistachio, pecans, peanuts, and many other types of nuts.  There are three size openings for nut sizes 6mm, 7mm, and 8mm.  This would be a great unique gift for any nut lover in your life. Available at Amazon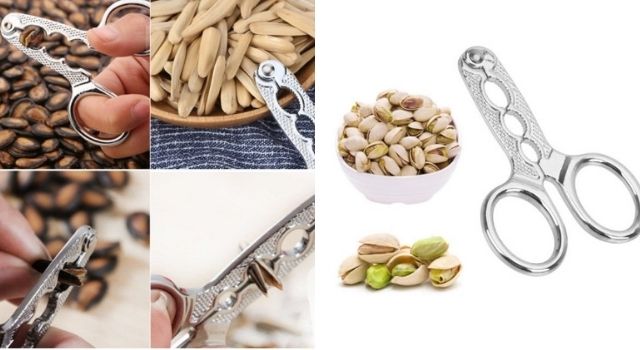 Warming Butter Knife and Spreader is a clever and unusual gadget.  This is not like other butter knives where you have to use a lot of pressure.  How does it Warm up you ask? The warmth from your hand is transferred to the knife and then cuts through it like butter.   Pretty Clever!  It also works with peanut butter, chocolate spread, cream cheese, and you can split frozen bagels and ice cream cakes.  Available at Amazon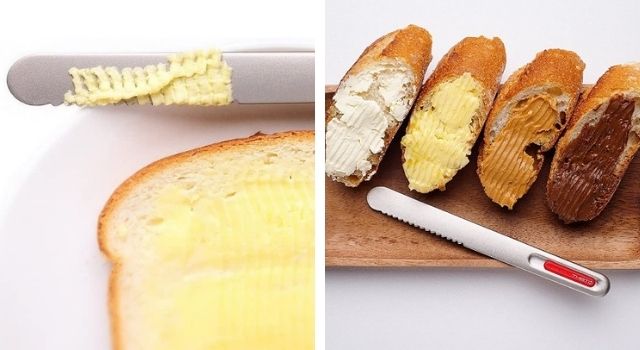 Collapsible Colander Strainers are one of my favorite simple gadgets.  I use these all the time when I make pasta, potato salad, cleaning fruits and vegetables.  They collapse and fit nicely in the cabinet.   No more trying to find a spot for a bulky colander to fit other bowls inside to safe space.  This was such a cool idea and I am so happy that someone created the Collapsible Colander Strainers.  If you don't have a set, I highly recommend you purchase a set soon, you will be happy you did. Available at Amazon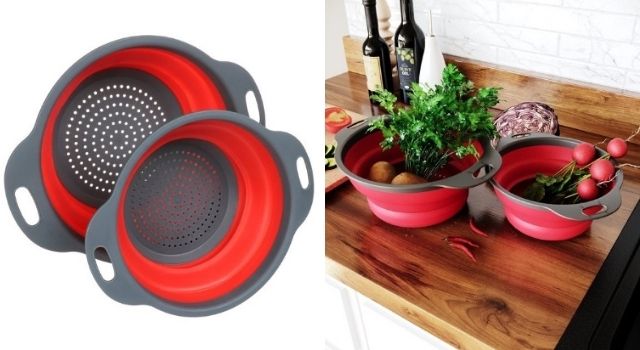 Funny Side Up Dog Egg Mold for all the Dog Lovers in the world.  Breakfast will never be the same if you enjoy sunny-side-up eggs.  Two eggs and bacon for breakfast just got fun.  This is an awesome gift idea if you don't know what to get.  It's also available as a Cat, Frog, or Robot.  Your kids and adults love this. Available at Amazon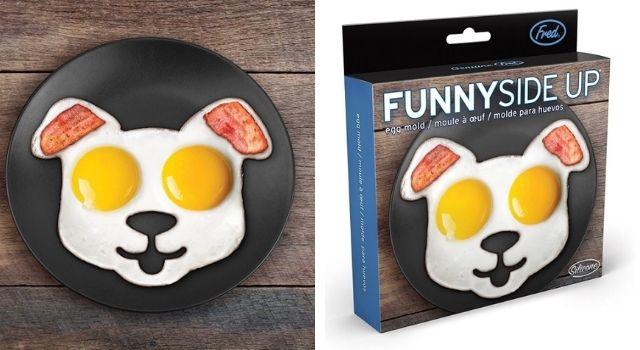 All-in-One Measuring Cup Cube is such an Amazing Unusual Kitchen Gadgets that your friends will be jealous of.  It's an All-in-One Measuring Cup with 19+ Cooking Measurements.  If you love to cook or bake this will save you so much time trying to find the right measuring spoon.  Just turn the cube and you will easily find what you are looking for.  This is a great gift idea for anyone that enjoys baking around the holidays.  Gift Alert Idea!  Available at Amazon
Oreo Mug Ultimate Dunking Gift Set with Cookies would be an Awesome gift to receive if you know someone who loves Oreo Cookies as much as I do.  Oreo Cookies are my favorite kind of cookie.  I love all the new flavors they have come out with such as Maple Creme, Chocolate Marshmallow, and Caramel Coconut.   My go-to Oreo Cookie is the Mega Stuff, it uses to be the Double Stuff until the Mega Stuff came out on the market.  The way I enjoy eating any kind of Oreo Cookie is dunking it in milk so this cup with cookie holders is so much fun.  Gift Alert Idea! Available at Amazon
TIP:  Poke a fork in the middle of the crème to dunk your cookie in milk without getting your finger wet.  Well, unless you enjoy licking your Oreo Cookie fingers. 😊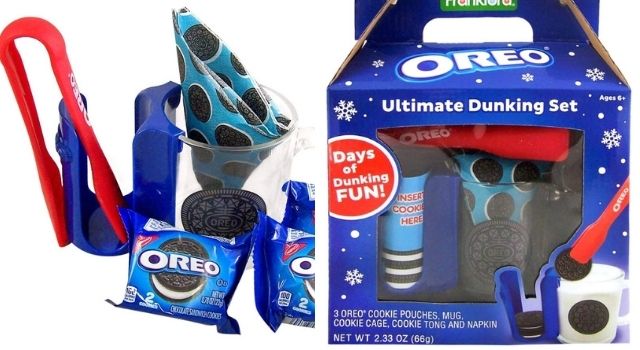 NobleEgg Egg Timer Pro is great for beginner cooks.  If you have never boiled an egg before this is a super easy kitchen gadget to use.  When I first started cooking, I would want a soft-boiled egg, but it would end up a medium boil or hard-boiled instead.  If I had the Egg Timer Pro in the water while I was cooking soft-boiled eggs it would have taken the guesswork out of it.  The Egg Timer Pro is cute and a simple kitchen gadget that can be used for Soft, Medium, or Hard-Boiled Eggs.  This Kitchen Gadget is great when you're making Potato Salad or Deviled Eggs.  Available at Amazon

Finger Trongs Prep and Eating Utensil are a fun Unusual Kitchen Gadgets gift for people who enjoy eating Finger Foods but don't like the mess.  These Finger Trongs are great when eating chicken wings, ribs, shrimp, and even breading food.  Anytime you don't want messy fingers these Trongs will do the trick.  Stop getting your keyboard, mouse, phones, or pens messy while working and eating.  Even for food prep, you don't have to worry about cross-contamination with the Finger Throngs because they include 6 pairs.  There are so many purposes for the Finger Trongs I could do a full article on them.  Let me know when you get your Finger Trongs and what you think about them.  Available at Amazon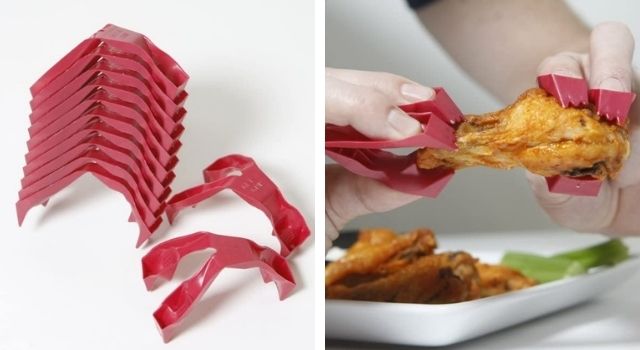 Lazy Spoon and Flexi Turner Set are 0ne of those Unusual Kitchen Gadgets that should have been invented sooner.  I have always wondered why all cooking spoons and turners aren't made this way.  When I cook, I don't know where to put my spoons or turners, so it doesn't make a big mess.  This set of 3 Lazy Spoon and Flexi Turner set is so convenient for any home cook.  Rachael Ray made more than just this one set she also has the 3-piece Lazy Kitchen Utensil Set.  Available at Amazon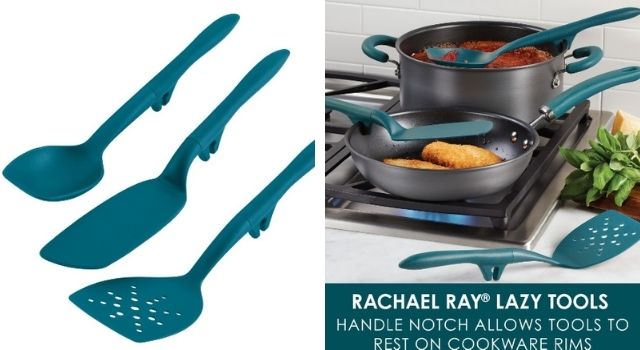 EZ Drinker Black Grill Master Apron is going to make all your friends jealous. This is such a cool and genius idea for anyone that loves to grill.  An apron that holds everything you need to grill, and I mean everything like beer/soda.  No more running around looking for condiments or grilling tools it will be right at your fingertips.  Perfect gift for outdoorsmen, dad, brother,  friends, even a work Christmas secret Santa.  The receiver will look great and have fun at the same time.  This is also available in Camouflage material.  Gift Alert Idea! Available at Amazon
The Unique Automatic Pan Stirrer looks like something right out of the Harry Potter film.  You can now stop burning food with this extra gadget in your kitchen.  When a recipe calls to stir continuously the Automatic Pan Stirrer comes in handy.  Or if you have a lot of things cooking at once this is a great idea.  Works well with thin liquids such as sauces, vegetables, milk, beans, or rice.  Available at Amazon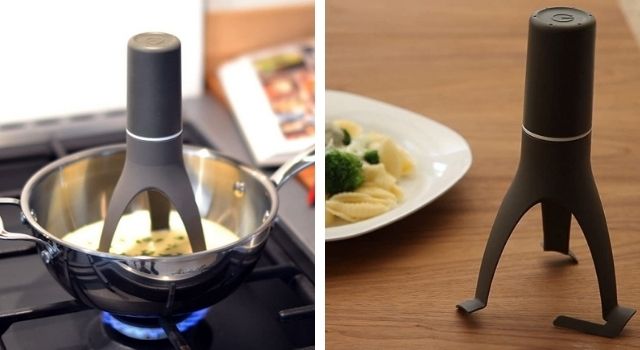 Microwave Cleaner Angry Mom with Fridge Odor Absorber is not only adorable but also helpful.  Cleaning the microwave is not something I think about every day, but when I do food is usually hard to clean off.   Since moms are so busy taking care of the house these little mamas will give a hand.  Keep your refrigerator smelling fresh and your microwave clean with these two mamas'.  Gift Alert Idea! Great Mother's Day Gift Idea!  Available at Amazon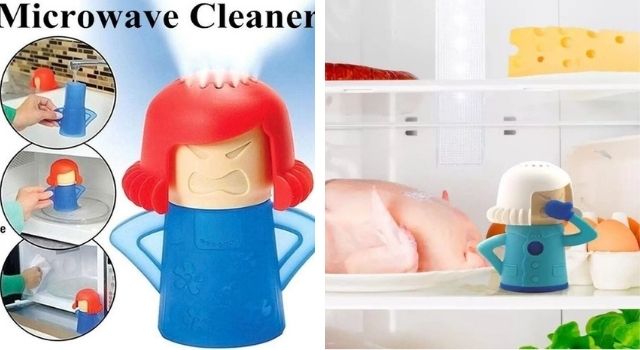 Pastry Mat with Measurements is such an Unusual Kitchen Gadget that every baker should own. This 24 x 16-inch large silicone mat has all the measurements bakers are looking for in inches and centimeters.  Roll out dough for pizza, knead bread dough, shape pies, cookies, and cakes to the size you need.  It's a non-stick surface and dishwasher safe.  If you know someone who loves to bake this is the perfect gift for them.  Also available in an extra-large size.  Gift Alert Idea! Available at Amazon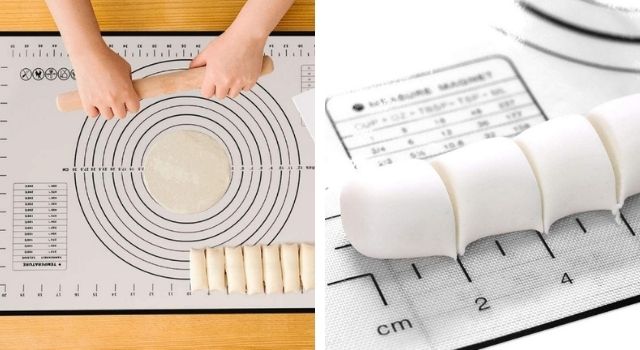 Milk Spout 1 of A Kind Kitchen Gadget is the perfect size for standard milk jugs.  This is a good gadget to teach kids how to pour milk over cereal without spilling.  Great for adults with arthritis in their wrist, no more twisting off caps.  I reuse my milk jugs for watering plants and this Milk Spout enables me to pour right where I want to.  Available at Amazon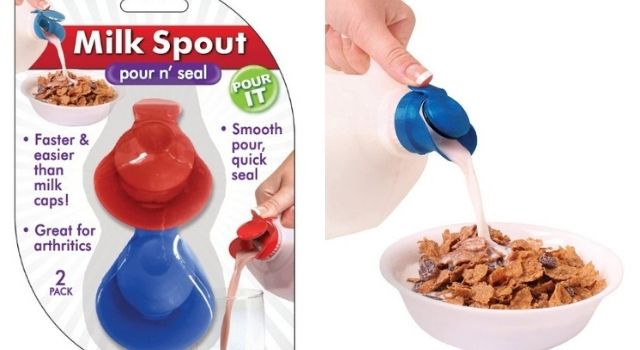 Original Bear Brown Sugar Warmer will save brown sugar from getting rock hard.  Toss him in either the bag or container of brown sugar and this little bear will save you from throwing it away.  He will keep brown sugar, cakes, cookies, dried fruits, coconut, and raisins moist for 3 to 6 months.  He will also keep buns and rolls warm at the dinner table.  Great Stocking Stuffer Idea.  Available at Amazon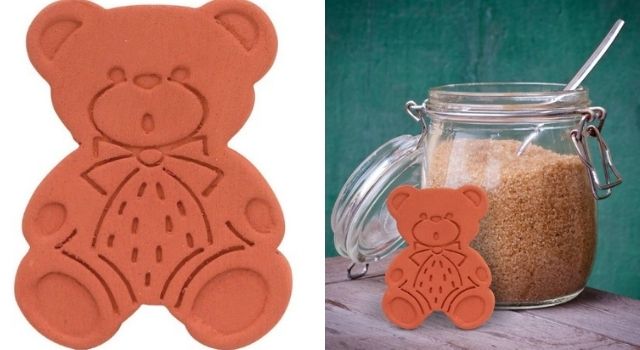 Red Crab Spoon Holder & Steam Releaser is a super cute Kitchen Gadget everyone will love.  The Crab Spoon Holder will put a smile on your face while you cook.  Once you give this little guy home in your kitchen be sure to give him a name.  With a spoon in his claws and the lid on his legs, he will be helping around the kitchen every day.  He will be the talk around the kitchen table.  Available at Amazon
Red Crab Spoon Holder & Steam Releaser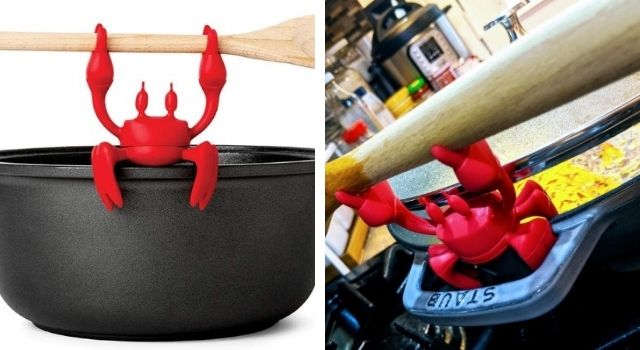 Now, aren't they the cutest and fun Unusual Kitchen Gadgets you have ever seen?  How many family members or friends did you think of when you saw several of these items? 
Now you have a birthday, Christmas, Mother's Day, Father's Day, any holiday a fun gift idea. 
But the list doesn't stop there check out the Cool Sports Theme Gadgets I put together you won't want to miss.