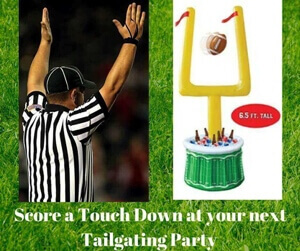 I am sure you know someone in your life that loves sports. We are big sports fans and love having family and friends over for the big games.  During Football Season we grab our Cool Sports Gadgets and have a party.
We live in the US so we are talking about American sports, which basically change with the seasons.
Our favorite sports are football, baseball, hockey, and basketball. We were born and raised in Philadelphia, PA, and have green running through our blood.
GO EAGLES! We also enjoy watching the Phillies, Flyers, and Sixers games we support all our home teams. We moved to Florida so now we cheer on two teams GO DOLPHINS!
When there's a game on, we invite friends over to cheer them on. It becomes a party pretty fast with all the food, drinks, and cheering. We serve our food with our team logo or colors which really makes it a fun game.
We prepare and serve fun and tasty snacks for the games with our Cool Sports Gadgets. Our recipes can be made for any sports party you are hosting. Some recipes are prepared before and some are so easy like basic chips and pretzels that every fan loves.
Cool Sports Gadgets for the Big Game
---
---
Our football fans absolutely love the Football Snack Helmet. They always try to take it home with them. Choose from your Favorite NFL Team
Great for chips, dip, pretzels, nuts, or salsa and nachos.

Perfect for a tailgating party

Trays are removable, microwavable, and dishwasher safe.

Great for any football tailgating, house parties, or everyday entertaining.

Replica Full-size helmet with face mask has a 2-compartment tray and large bowl in the helmet.

Size: One Size Fits All

Made in the USA
---
This ceramic hand-painted Football Stadium Serving Set is great for wings, hot dogs, or party dip with chips.
Football dip dish is removable so you can use for two different food if not for a dip

Tray measures: 2″H X 12 1/2″W X 9 1/2″

Football dish measures: 2″H X 5″W X 3 3/4″D

Weights 3.45 pounds

Bright colors and super cute

It will be the talk of all your fans

Great gift idea for every football fan
---

Who wouldn't love this cool Bamboo Football Shaped Cutting Board and Serving Tray? Crackers, pepperoni, and cheese are one of the simplest snacks for the game and the first to be gone.
Bamboo Football shape cutting board with Engraved NFL Team Logo of your Favorite Team

Pull out drawer holds the corkscrew, cheese fork, and cheese knife

Corkscrew, cheese fork, and cheese knives are stainless steel and great quality

Perfect for any football theme party, birthday, and tailgate

Cutting board is 1 1/5″ H x 8 3/4″ W x 15″ L

Nice weight of 4.6 pounds
---

On a cold winter's day watching a great football game who wouldn't love some hot chili. NFL Football Crock-Pot is a great way to serve every football fan.
It's 6-quart capacity with travel locking lid

Travel Locking Lid is great when going to a tailgate party

Three settings High, Low and Warm for during the game

The oval shape is great for big roast or chicken

Stoneware is removable and dishwasher safe

Bonus Little Dipper Food Warmer is great for those hot nacho dips

Easiest cheese dip in the world

8 oz. VELVEETA Cheese, cut into cubes and 1/2 cup TACO BELL Thick & Chunky Salsa

Little Dipper Food Warmer holds 16-ounces
---
NFL Kitchen Knives will get you in the spirit while preparing for the big game. This set of 5 knives includes a  paring knife, utility knife, carving knife, bread knife, and chef's knife. Whether you are cutting bread for bruschetta or craving a roast for the game you can do it with team spirit.
Ergonomic handles have a non-slip grip

Custom NFL Team of your choice printed artwork on both sides

The custom team printed artwork on both sides of the knife

Sharp stainless steel blades 16″ x 9.8″ x 0.8″ inches

Hand wash for best results, very easy to clean

Great gift for that Football Fan who has everything else

Very good quality
This really isn't a gadget but we just thought it would be fun to have at any NFL Football Party.
---
This isn't really a Cool Sports Gadget but you have to admit it's Really Cool.  Buy a few of these and host a football game and your friends will love them.  You will be the envy of all your friends when you hand them their next beer.
Fits comfortably in your hand with the curved shape and curved handle

Holds up to 37 ounces of your favorite beverage

Awesome gift for Every Football Fan

Measure 12.2″ x 7.5″ x 5.7″ inches
Get a Beer Mug with your favorite Team Logo to Cheer them on at their next game.  Don't forget to pick up an awesome NFL Tailgate Bundle for when you head to the game.  
ENJOY THE GAME