This classic American-Italian Beef Braciole Recipe meal we like to make around the holidays.  What is Beef Braciole, you ask? 
First let's learn how to say it, in American, it's pronounced bra-jol-a and in Italian, it's bra-cho-leh.  Either way, you say Braciole it's Delicious.

This meal does take a little time to create however, the end results are well worth the wait. For this recipe, we're breaking out the Copper Chef Pan to make this meal.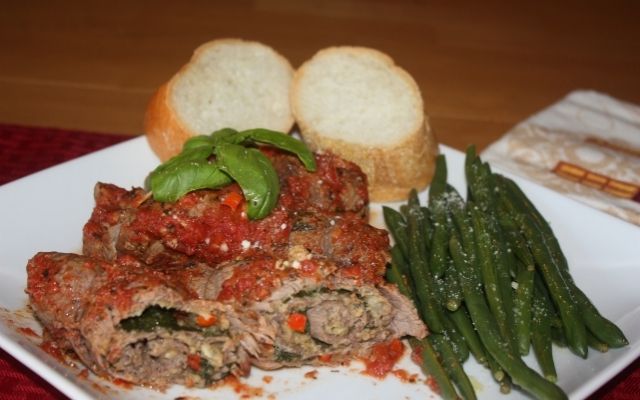 What is in Beef Braciole?
Now that you know how to say it, What is Beef Braciole?  Braciole is a thin slice of meat such as beef, pork, or chicken wrapped like a roulade and cooked in wine. 
Typically, it's just cheese and breadcrumbs rolled in the middle of thin piece of meat.  But I decided to add some spinach to this recipe and it's delicious.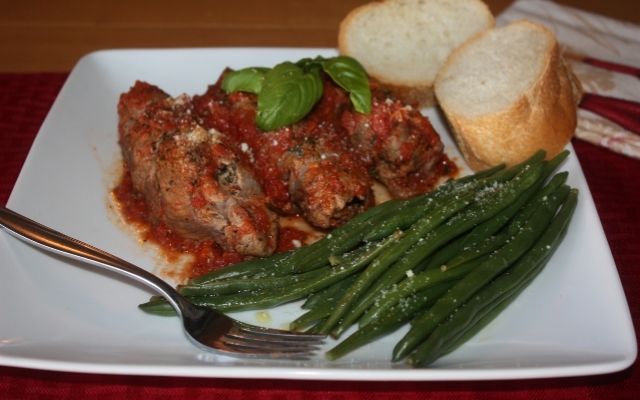 What kind of Beef to Use?
Beef Braciole is made with thin slices of flank steak, skirt steak, top round, bottom round, or beef rump.  Just be sure it's a thin cut so it can be rolled. 
We used flank steak which can be tough but because it's such a thin slice it's actually a tender steak.  Flank steak has an intense beefy flavor with every bite. 

What to do with Leftovers?
Be sure to put leftovers in an airtight container and refrigerate within 1 hour of cooking.  Keep in the refrigerator for up to 4 days after that it should be tossed. 
This Italian Recipe will make a big splash with your family or friends and they will want leftovers.  Trust me!
What goes with Beef Braciole?
Pasta or vegetables are a delicious side dish to go with Braciole it's that versatile.  A nice glass of wine and some bread make for a fancy plate.  For this particular recipe, we decided to cook a side of fresh green beans cooked in a Food Steamer. 
Video on How to Make Braciole
Everybody Loves Raymond TV Show – Braciole
Who Remembers this Episode?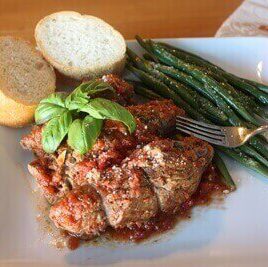 Print Recipe
Italian Beef Braciole Recipe
Ingredients
1-1/2

lbs

Beef Flank Steak

Flatten to 1/2" thickness or pre-sliced thin pieces

2

cans

Whole Peeled Tomatoes

Make homemade sauce or your favorite jar of sauce

1

pkg

Fresh String Beans

Cooked in a steamer
Vegetable Mixture
1/2

bag

Baby Spinach

1/2

cup

Bread Crumbs

1

whole

Onion

Chopped

1

whole

Red Pepper

Chopped

1/2

cup

Grated Pecorino Romano Cheese

1

tbsp

Fresh Parsley

1

tsp

Italian Seasoning

1

tsp

Dried Oregano

1/2

clove

Garlic

Minced

1/2

tsp

Salt

1/2

tsp

Pepper

3

tbsp

Extra Virgin Olive Oil
Instructions
In a large size mixing bowl, add all of the vegetable mixture ingredients listed above and mix well

Lightly brush some olive oil over the beef. Spread an equal amount of the mixture evenly onto a piece of Flank Steak

Carefully roll one end of the beef over the mixture tightly and secure with either toothpicks or cooking string

Heat 2 tbsp of Olive Oil in the pan over a medium-high heat and brown the beef rolls on all sides

Add sauce to the pan, cover and turn the heat to low and cook for approximately 30 minutes