Simple Egg Salad Sandwich Recipe
What to do with all those Eggs at Easter?  Make a Delicious Simple Egg Salad Sandwich.  Here's a Super Simple Egg Salad Sandwich Recipe that you probably already have all the ingredients for.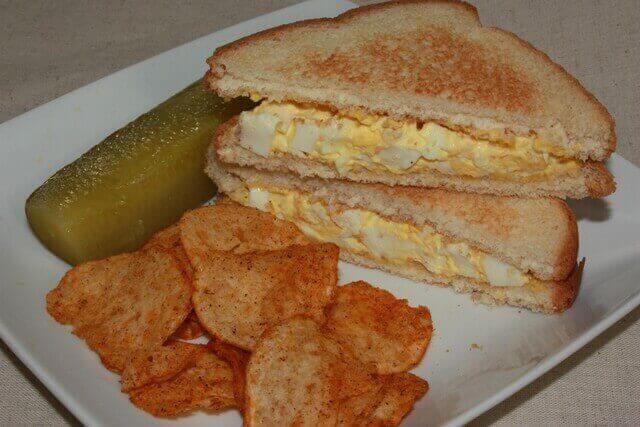 What goes in an Egg Salad Sandwich?
This is an Egg Salad Sandwich Recipe that you can get creative with.  Start with the basic ingredients of hardboiled eggs and mayo and then add some of your own ideas. 
Such as you could add bacon, celery,  hot peppers, hot sauce, raisins, cranberries, grapes, walnuts, the possibles are endless. 
Why I Chop my Eggs?
I chop my eggs for an Egg Salad Sandwich instead of smashing them with a fork.  When I chop the eggs, you get nice bite-size pieces and it doesn't look like mush.  If you are having some friends over for lunch the presentation looks great and it dresses up an Egg Salad Sandwich. 
I use a Vidalia Chop Wizard which is a countertop chopper. Vidalia Chopper is one of my favorite Kitchen Gadgets and Gizmos.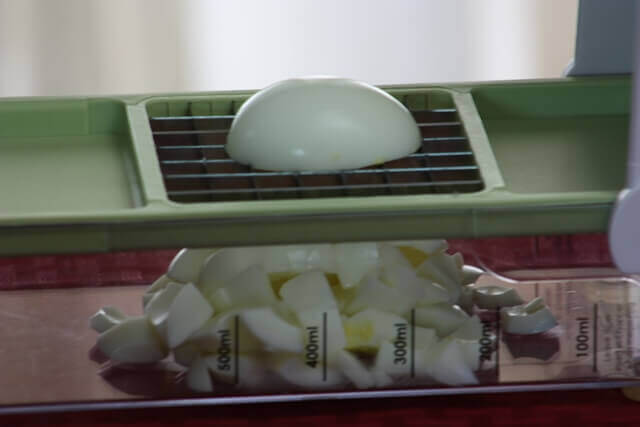 How to Serve Egg Salad?
Egg Salad is a very versatile recipe that can be served on toast, wheat bread, lettuce cup, in beefsteak tomatoes, or in small tomatoes for delicious appetizers. 
Egg Salad is great for any time of the day, breakfast, lunch, or dinner.  Think about it, you could have Eggs Salad in the morning with toast for breakfast. 
Eggs Salad in a tortilla wrap for lunch or Eggs Salad in a beefsteak tomato for dinner with a delicious soup.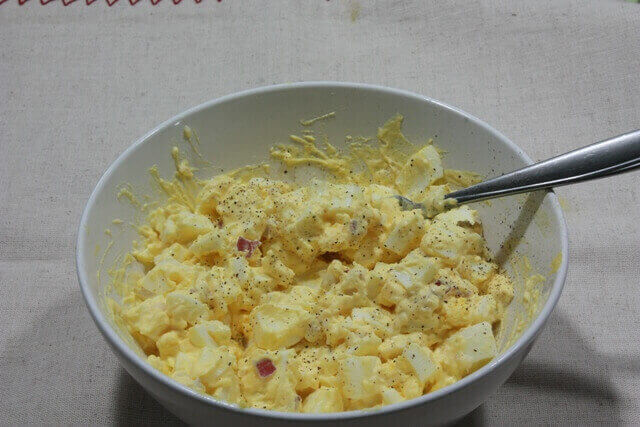 What I Love About Egg Salad:
Super Simple Recipe

Inexpensive

Only includes five ingredients

Customize to your liking

Make ahead of time
Cook Perfect Hard-Boiled Eggs Every Time
Over the years I have tried a few different ways to hard-boil an egg.  It sounds like a simple task, right? Believe it or not, I have undercooked or overcooked a Hard-Boiled Egg.
I've cooked them with boiling water on a stovetop, tried the microwave, even baking them. 
The best way I found to Cook Perfect Hard-Boiled Eggs Every Time is by Steaming them.  This really was the simplest way and they came out perfect every time.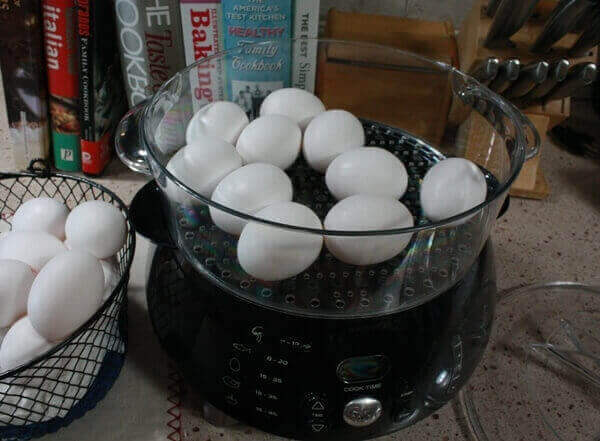 When you Steam Eggs you should simply place them in a steamer and set the timer for 20 minutes.  They turn out perfect every time and are very easy to peel. 
Why Steamed Eggs are easier to peel is that eggshells are permeable, so while steaming eggs get moisture from the steam penetrated the shell.   Which causes the egg white to pull away from the membrane (the thin layer of skin) eggshell. 
How long to keep Egg Salad?
According to the U.S. Food & Drug Administration (FDA), hardboiled eggs should be used within a week, shelled, or peeled.  Egg Salad can last between 3 to 4 days in the refrigerator in a sealed container.  Discard Egg Salad if left out at room temperature for more than 2 hours.  Eggs left out longer than 2 hours and below 40 F can grow bacteria.
Which makes for super easy peeling.  To find out more about Steaming Eggs check out our article.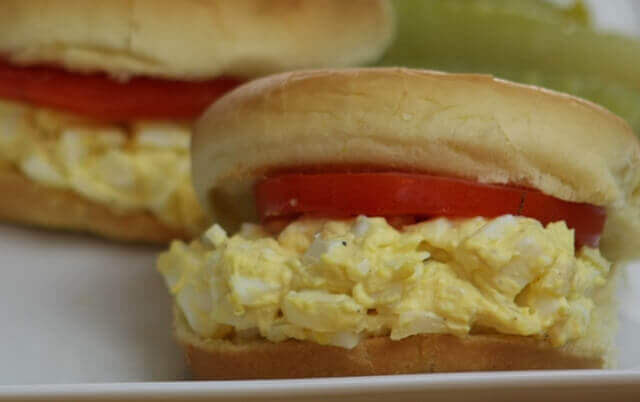 Print Recipe
Simple Egg Salad Sandwich
Ingredients
3

Eggs

2

tbsp

Mayonnaise

1

tsp

Dijon Mustard

1

slice

Chopped Onion

Salt and Pepper to taste
Instructions
Steam or boil eggs until they are hard-boiled

Peel the eggshell off the egg and cut in half lengthwise

Chop egg whites with a Food Chopper for small square pieces

Add egg whites to the yolk bowl

Chop Onion slice into small pieces

Put in Mayonnaise, Dijon Mustard, and Chopped Onion in with the Egg Mixture and mix together

Add Salt and Pepper to taste