Sausage Peppers Onions Recipe
This Sausage Peppers Onions Recipe is cooked in a Pressure Cooker it's a relatively simple and quick meal to prepare.
What Kind of Sausage to Use?
We used Sweet Italian Sausage for this recipe, but you can use mild or hot sausage as well. Sometimes I will add a Hot Pepper to the Pressure Cooker to give it that sweet and spicy taste.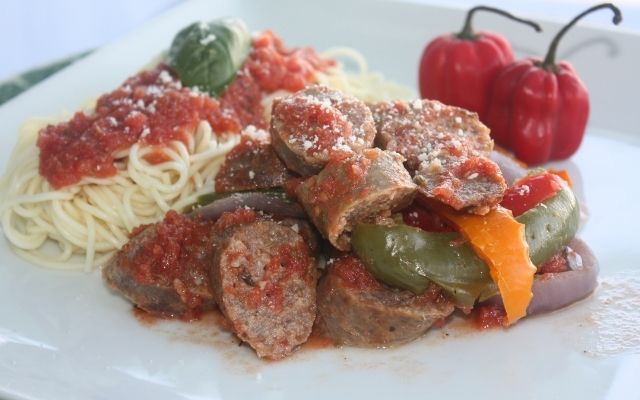 Check out the Hot Corner article for the Scoville Scale of Hotness.
Turkey Sausage can also be used as a substitute instead of Italian Sausage making this meal a bit healthier. 
How to Serve Sausage Peppers Onions Recipe
The sausage turns out very tender; you could cut it with a fork easily. This is a great meal that goes well with any type of pasta, add garlic bread and the meal is complete. Sausage, Peppers, and Onions are a great way to start a fine Italian meal.  
This is also great to just put on a long roll and enjoy as a Sausage Peppers and Onions sandwich. Add a slice of mozzarella or provolone cheese to the roll first and then put the Sausage, Peppers, and Onions on top to melt the cheese.  It's Delicious!
I remember working downtown in my city and getting a Sausage, Pepper, and Onion sandwich for lunch off the lunch cart. They are always so delicious.

Storing Leftovers
This is a simple inexpensive meal that goes a long way and there's usually leftovers.  Store leftovers in an airtight container in the refrigerator for up to 3 days.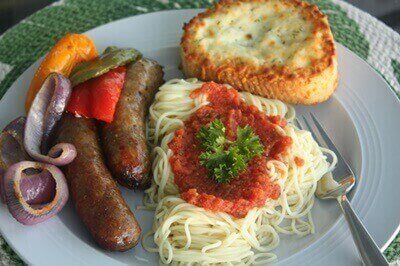 Warm up in the microwave for about 2 minutes depending on how much you have left, and lunch or dinner is served again.  
Our family enjoys this meal so much we have it in our meal planner at least once a month.  It's one of those comfy meals when you need one.  
Print Recipe
Sausage Peppers and Onions
Ingredients
2

pds

Italian Sausage

1

ea

Onion

Cut in quarters

1

bag

Mixed Sweet Peppers

1

28 oz

Can Diced Tomatoes

1

15 oz

Tomato Sauce

1

6 oz

Tomato Paste

1

cup

Water

1

tbsp

Basil

2

tsp

Garlic Powder

1

tbsp

Italian Seasoning
Instructions
In the Pressure Cooker, combine tomatoes, tomato sauce, tomato paste, water basil, garlic powder, Italian seasoning, and onions.

 Add sausages to the sauce, and place the peppers on top of the sausage, but don't mix.

Lock lid in place and select high pressure, set the timer for 25 minutes and press start.  Refer to your Pressure Cooker booklet for complete user instructions.