Philly CheeseSteak Egg Roll Recipe
How does a new twist on a traditional Philly CheeseSteak sandwich sound? Turn them into Philly CheeseSteak Egg Rolls? This is a great appetizer recipe that has all the Cheesesteak flavor you and your friends will enjoy.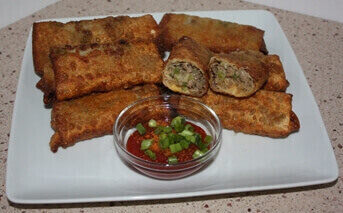 I am originally from Philadelphia, Pennsylvania but I moved to sunny Florida in 2015.  I love the weather in Florida (except hurricane season) sunshine and rainy days are beautiful to me. 
BUT, You can not find a delicious Philly Cheesesteak anywhere. One of the reasons is the Roll, Florida doesn't have the wonderful Amoroso's Italian Rolls.  They just don't make them in the south. The other thing that is hard to find in Florida is good Chinese Food.  
Philly CheeseSteak Egg Roll Recipe in Florida!
So, I decided to make my own Cheesesteak Egg Roll and I was so happy I did.  There is nothing like the Original Philly Cheese Steak, but I can't be flying to Philly every weekend. So, the Philly CheeseSteak Egg Rolls was created.   
Combine the two great flavors of a crispy egg roll with the delicious taste of Cheese Steak in one bit.  We're always thinking about Finger Food ideas to make before a big football game.  The Philly CheeseSteak Egg Rolls is a tasty start.
To create this recipe we used two of our current kitchen gadgets, the Copper Chef Pan and the Vidalia Chop Wizard which comes in handy and quickly chops the onions and peppers.
You can add additional flavors to make this your own, such as mushrooms, garlic, pepperoni, use your imagination. Use whatever kind of cheese you like the traditional Cheese Whiz, American, Provolone, Mozzarella, etc. 
If you enjoy this recipe try our Tasty Cheeseburger Egg Roll Recipe with a step-by-step video.
Cheese Steak Dipping Sauce
Here is a list of some of my Favorite Philly Cheese Steak Dipping Sauces for Egg Rolls:
Ketchup (it's basic but still delicious)

Cheese Whiz (another Philly Favorite)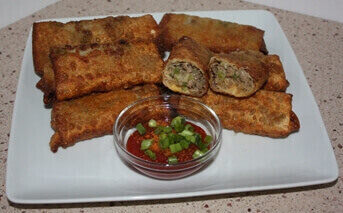 Print Recipe
Philly CheeseSteak Egg Roll Recipe
Ingredients
1

pkg

Egg Roll Wrappers

1

lb

Beef Shaved Steak

Ribeye thinly cut

1

cup

Diced Onion

1

cup

Diced Green Peppers

4

cups

Vegetable Oil

Salt & Pepper to taste

2

tbsp

Extra Virgin Olive Oil

slices or jar

Cheese

Provolone/American/Cheese Whiz or choice of cheese
Instructions
Heat 1 tbsp of Olive Oil in a pan and saute the onions and peppers until soft

Heat 1 tbsp of Olive Oil in a pan and cook the Beef Shaved Steak until brown, chopping it as you cook it

Once the beef is cooked, toss in the sauted onions and green peppers and mix well

Brush the entire length of each corner of the egg roll wrapper with water. The water will help seal the entire egg roll as you roll it

Place approximately 2 tbsp of the beef mixture onto the egg roll wrapper towards the middle

Place the cheese (of your choice) over the beef mixture

Fold the egg rolls according to package directions

Heat the vegetable oil until it reaches approximately 350 degrees.

Carefully add the egg rolls to the basket and submerge into the oil. We used the Copper Chef Pan and deep fried 2 egg rolls at a time.

Cook the egg rolls on one side for approximately 1 minute then flip and cook for 1 addtional minute