How to Clean Bottom of Pot to Look Brand New
When you first buy new pots and pans, they look clean and shiny. After several years of using them, they get dirty.  Everyone cleans their pots and pans after each uses the best they can.  But do you know How to Clean Bottom of Pot to make them look brand New Again? 
I have a set of Revere Ware pots that I've had for years and the bottoms got really dirty.  I forgot that that's what they were because the bottom was so dirty, I couldn't see the name.
The spills and splashes build up over the years and made the pots dirty. I know Yuk! But it happens. I used to have a gas stove so when food would boil over the spills would stick to the pots.
When I moved to my new home it had an electric glass stove. That's when I noticed that my pots and pans had dirt built up.  I found out quickly that dirty pots and pans scratch glass top electric stoves. 
It was time to give my pots and pans a good cleaning. There are several different ways you can give your pots a good cleaning, but I was using what I had on hand. 
How to Clean Burned Pots
This was pretty easy, but I guess it depends on how dirty your pots are.  Mine wasn't too bad but it was scratching my glass top stove, so I had to clean them.  You will need four things to clean the bottom of your pots to look brand new. 
I've included a video so you can see how it was done in real-time.  No trick photography here because I don't know how to do that.  Lol 

What You'll Need: 
Rubber Gloves I didn't use them in the video, but I should have. My hands felt rough for days after cleaning my pots.
Bar Keepers Friend Cleanser I use this for a lot of things in my home, so I had it on hand. It's right on the label that it's good for cookware so I had no worries using it.  I guess you could use baking soda also, but I chose to use Bar Keepers Friend Cleanser instead.  If you do use Baking Soda, please let me know how it works.  I ran out of pots to clean before I thought about the baking soda. 
White Vinegar is something I always have on hand, it's great for cleaning tile floors, cookware, garbage disposal the list goes on. That will have to be another post. 😊  I put the white vinegar in a spray bottle to coat the bottom evenly.  Otherwise, if you just pour it over the Bar Keepers Friend Cleanser you would wash it all away.
Scouring Pad that's made for general purpose worked great for me. I didn't want to use a stainless steel sponge because I didn't want to scratch the pots.  I used a thin Scouring Pad that I got from Dollar Tree and it worked great.

Elbow Grease and arm strength will vary depending on how dirty your pots are. Just scrub as hard as you can it will be rewarding at the end.

Water to rinse everything off, I used a wet rag and then ran water over it just to see how shiny it was.
Step by Step Instruction on How to Clean Bottom of Pot
Step 1 – Sprinkle Bar Keepers Friend Cleanser all over the bottom of the pot.  Make sure to give it a full cover, it doesn't have to be thick it just has to cover the bottom of the pot. 
Step 2 – Put the White Vinegar into a spray bottle for easy use.
Step 3 – Spray the White Vinegar over the Bar Keepers Friend Cleanser that you coated the bottom of your pot with evenly.  Make sure to use a spray bottle for the Vinegar.  Otherwise, if you just pour it over the Bar Keepers Friend Cleanser you will wash it all away.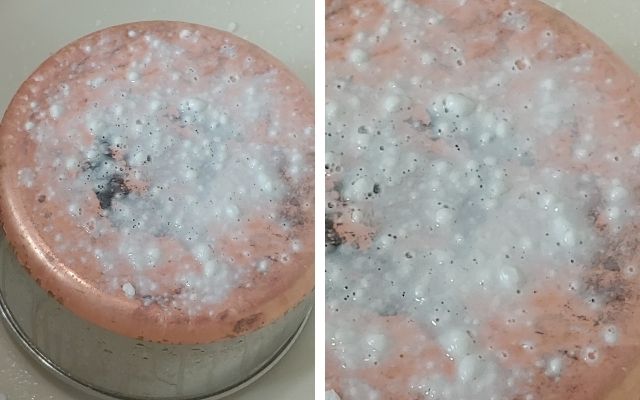 Step 4 – Scrub the bottom of the pot with a Scouring Pad and this is where the Elbow Grease comes in at.  Scrub until the bottom is clean.  You might have to add more Bar Keepers Friend Cleanser or more White Vinegar as you go long. 
Step 5 – Rinse Clean under the sink or by using a wet rag.  Be sure to get all the cleanser off so you don't scratch your stovetop. 
That's all to it, you are now a proud owner of clean and shiny pots once again. 
Now, let's get those pans dirty again and get cooking.  Give my Potato Salad Recipe or Chicken Parmesan Recipe a try.