Classic Stuffed Bell Peppers Recipe in 10 Minutes
Are you looking for a Classic Stuffed Bell Peppers Recipe that doesn't take a lot of time to cook?  Make this Classic Stuffed Bell Peppers Recipe in 10 minutes.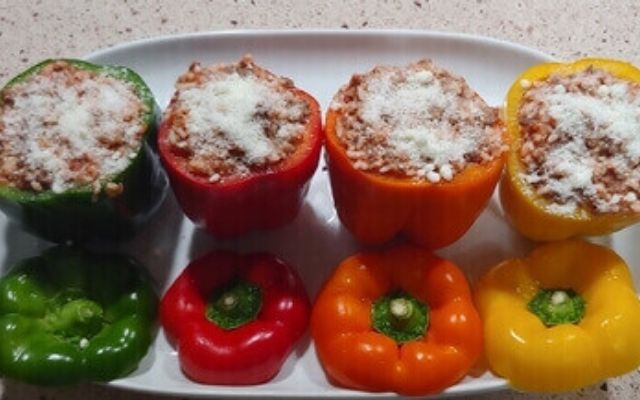 This Stuffed Bell Peppers Recipe is one of my family's favorite meals during the fall and winter months. The Peppers are so colorful and are one of our comfort foods. 
How to Cook a Classic Stuffed Bell Peppers
I prep the ground meat the night before having Stuffed Peppers, it makes for an easy quick meal after work.   
Using a Pressure Cooker of your choice, this delicious meal is made in just 10 minutes. That's correct, only 10 minutes! There's no need to boil the peppers first to soften them up.  The Pressure Cooker softens the pepper while they cook. 
In fact, after the cooking time is up, you'll be able to cut the Peppers with a spoon that's how soft they'll turn out.
How to Pick the Right Peppers for Stuffing
That is one of the great things about making the Classic Stuffed Bell Peppers Recipe it can be very colorful. Mixing in a few colorful bell peppers like Red, Orange, Green, and Yellow will brighten up your plate. 
One of the key things about Picking the Right Pepper for Stuffing is you want the Pepper to be able to stand straight up.  Otherwise, it falls over and the meat and rice fall out.  
Alternative Ingredients for Stuffed Peppers
Although this recipe calls for ground beef, you can use ground turkey as a low-fat alternative if you'd like. You can add many ingredients to the Stuffed Peppers Recipe. 
Like, throw in some mushrooms, onions, or replace the white rice with brown rice.  If you are someone who enjoys hot food, you could even through in some Habanero Peppers in your mixture of ground meat to really heat things up.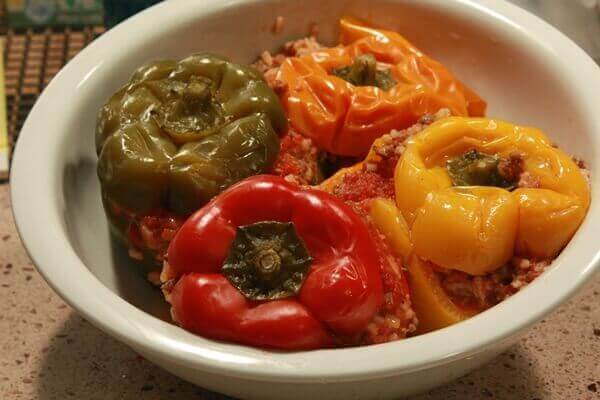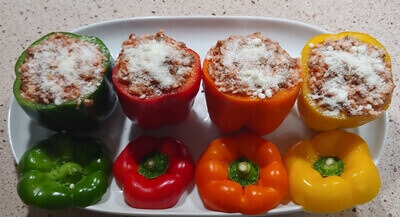 Print Recipe
Easy Stuffed Peppers Recipe
Ingredients
4

whole/large

Bell Pepper

Tops cut off and seeds removed from peppers

1

lb

Ground Beef

Cut down on the fat, use Lean Ground Beef with a ratio of 93/7

2

cup

White Rice

Cooked per instructions

1

cup

Shredded Mozzarella Cheese

Or favorite Grated Cheese
Homemade Sauce
1

28 oz can

Whole Peeled Tomatoes

Should make 2 cups of sauce

1/2

cup

Red Onion

1

tbsp

Garlic Powder

1

tbsp

Onion Powder

1

tbsp

Parmesan cheese

1

tsp

Pink Himalayan Sea Salt
Instructions
Cook the ground beef and drain off any excess fat and set it aside. Shouldn't be much if you're using a ratio of 93/7 ground beef

Cook the white rice according to the directions on the package

Using a food processor, blend the whole tomatoes to a consistency of your choice

In a large bowl. mix the following ingredients *Cooked ground beef *2 cups of cooked rice *1 Cup Shredded Mozzarella Cheese *1-1/2 cups of the Homemade Sauce saving 1/2 cup of sauce for the top of peppers

Stuff each green pepper with the beef mixture to the top of the pepper and set it aside

Pour 1/2 cup of water into the pressure cooker

Put each stuffed pepper into the pressure cooker. Sprinkle grated cheese of your choice on top of each pepper

Pour remaining 1/2 cup of homemade tomato sauce over the stuffed peppers

Lock the lid onto your pressure cooker and set the timer for 10 minutes