Top 5 Best Pizzelle Maker on the Market
Pizzelle are an Italian cookie, it's a crispy waffle type of cookie made with sugar, flour, eggs, and butter is the main ingredient.
They are often made around the holidays of Christmas and Easter.  Some people like the Italian Pizzelles Cookies made either soft or crispy.  What is your preference?
My family likes our Pizzelle's crispy and we like to get creative when making Pizzelles around Christmas.  The whole family gathers in the kitchen and we each pick a special ingredient to add to the Pizzelle batter.
We've done Mini Chocolate Chips, Jimmies (also known as Sprinkles), Sliced Almonds, Dip half in Chocolate, the possibilities are endless.  When picking out an ingredient be sure it's not too thick or it will not fit in the Pizzelle Cookie since they are a thin cookie. 
Authentic Italian Pizzelle are not the only thing that can be made with the Pizzelle Maker. You can also make Cannoli, Ice Cream Cones, Ice Cream Sandwiches, Ice Cream Bowls, you are only limited to your imagination.  Get creative and have fun with it!
When looking for the Best Pizzelle Maker make sure it has these Key Features:
---
Non-Stick Surface – you don't want to make a big mess trying to get the Pizzelle off the surface.
Ready Indicator Light – so you know when the Pizzelle Maker is hot and ready to use.  You don't want to start when the machine is not hot or touch it with your hand.
Cooking Timer – this is an important feature because you don't want to have to guess each time you make a batch.
Temperature Setting – bake it the way you like them, with different browning settings you choose how you like your Pizzelle.
Locking Lid – there is no guessing on how thick the Pizzelle will come out you will get a uniform thickness.
Top 5 Best Pizzelle Maker on the Market: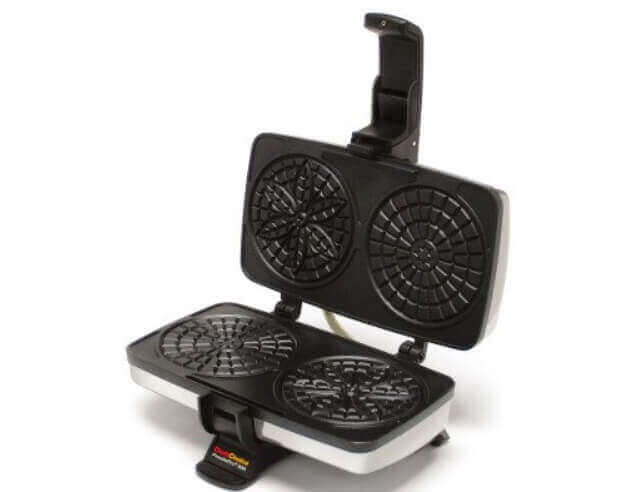 The Sur La Table PizzellePro Maker is a great little Pizzelle Press that is nothing fancy but very simple to use.  It makes two delicate five-inch Pizzelles in less than 60 seconds. 
This is where this machine is missing a feature that is very helpful in the other machines listed, it doesn't have a timer.  You have to figure out how long to cook the Pizzelle depending on how you enjoy your Pizzelles either soft or crispy one and time it yourself.
But this is a great machine because it does have some of the key features such as a locking lid, and a non-stick surface.  The Pizzelle cookies size is 5-inch which is great for making Ice Cream Cones or Ice Cream Sandwiches.  



Cucina Pro Pizzelle Maker is a great Pizzelle Maker with two different designs on the plates.  It also has a non-stick surface for a very easy clean up.  It makes two 5 inch crispy Pizzelles at once. This Pizzelle Maker heats up pretty quickly so you can start cooking right away. 
It takes about 30 to 40 seconds for the perfect brown and crispy cookie. Comes with a Pizzelle Recipe booklet so you will be ready to start baking, you'll just need the ingredients.  
Product Dimensions: 10.2 x 10 x 5 inches, Product Weight 4.75 pounds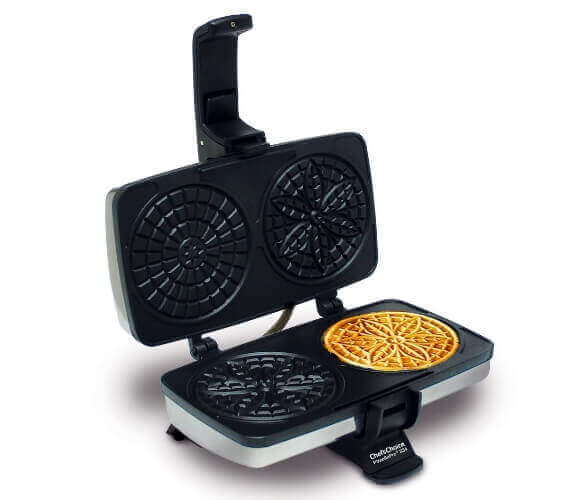 The Chef's Choice 834 Pizzelle Pro Express Bake makes two 4-3/4 inch Pizzelle's in about 30 seconds. It's a little smaller than the other Pizzelle Press machines but still a perfect cookie.
Chef's Choice 834 Pizzelle Pro has a consistent heat for fast batch making and a locking latch for uniform thickness.  Has non-stick surfaces for easy clean-up with a wet paper towel.  
Product Dimensions: 12.4 x 10.5 x 5 inches, Product Weight 5.1 pounds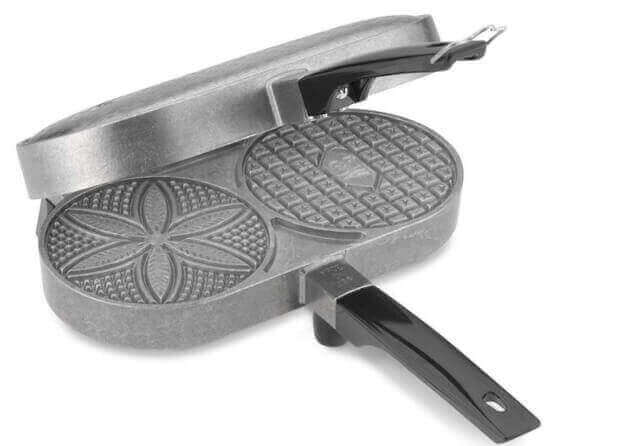 Palmer Pizzelle Maker Classic has the classic look of the original Pizzelle Makers.  Unlike the original Pizzelle Makers where you can only make one Pizzelle at a time. The Palmer makes two 5-inch cookies at one time with two different designs. 
It's made out of chrome and cast aluminum plates instead of the non-stick surface. It's made in the USA by Palmer Manufacturing.
With the smaller design, it doesn't give any room for the overfill of dough, so the extra dough goes on the counter.  It takes some getting used to how much dough to use for each one, but once you figure it out all is good.  It's about 1 teaspoon of dough for each cookie.  Comes with a recipe booklet to get you started right away.
Product Dimensions: 15 x 10.4 x 3.9 inches, Product Weight 5.45 pounds



Cuisinart WM-PZ10 Pizzelle Press Best Pizzelle Maker and my personal favorite.  I own this machine and it works great.  This is the simplest one to use there's no guessing when it's ready. 
Very well designed and thought out machine. It has a "Ready" red light to let you know when it's hot and ready to cook.  There is also a "Green" light to let you know when the Pizzelle's are done.  It makes two 4-inch Pizzelle's on a non-stick surface which is a very easy cleanup.
There is 1, 2, 3, 4, 5 browning setting (1) being light, and (5) is darker, depending on how you like your Pizzelles.  Also, comes with a measuring scoop so there's no guessing how much dough to use.  Also included are a rolling dowel and a recipe booklet. 
Product Dimensions: 5.8 x 9 x 10.5 inches, Product Weight 4.45 pounds



What's the Best Pizzelle Maker?
---
In my opinion, the Best Pizzelle Maker is the Cuisinart WM-PZ10 Pizzelle Press it has great features that are helpful when making Pizzelles. 
If you have never made Pizzelle's before and this is your first try at it, the Cuisinart WM-PZ10 Pizzelle Press is the one for you.   It comes with everything you need except the ingredients. 
It has all the key features a Pizzelle Maker should have like the non-stick surface, a ready light, green light for a timer, temperature setting, and a locking lid.  I love my Cuisinart WM-PZ10 Pizzelle Press. 
Go ahead and have a little bit of fun with your Pizzelle Maker and get creative.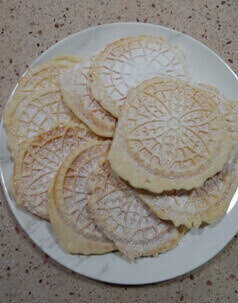 Print Recipe
Authentic Italian Pizzelle Recipes
Ingredients
1 3/4

cups

All purpose Flour

2

tsp

Baking Powder

3

large

Eggs

3/4

cup

Granulated Sugar

1/2

cup

Unsalted Butter

Melted

1

tbsp

Anise Extract

or Vanilla Extract

dusting

Confectioners Sugar
ADDITIONAL OPTIONS
1/2

cup

Mini Chocolate Chips
Instructions
Combined flour and baking powder in a small bowl and mixed together. Set aside to add later.

Melt butter in the microwave for about 15 seconds. (time may vary depending on microwave wattage)

Place eggs and granulated sugar in a medium bowl, mix together with a hand mixer on medium speed for 1 minute.

After 1 minute turn the hand mixer speed to low and add the melted butter and anise extract (or vanilla extract). Mix for about 15 seconds until all is combined.

Now, add the flour and baking powder mixture to the rest of the ingredients and mix for about 15 seconds. Don't over mix it will get too thick.

Scoop about 1 teaspoon of dough onto the Pizzelle Maker (dough size may vary depending on Pizzelle Maker)

Following the instructions that came with your Pizzelle Maker for cooking times.

Lay flat on a cooling rack and add a dusting of confectioner sugar while still warm.