Beef Sirloin Tip Roast Recipe – Rotisserie Style
Looking for a quick and easy, inexpensive but delicious meal. Try this Beef Sirloin Tip Roast recipe that is cooked in a Rotisserie Oven instead of an oven.

If you're trying to stretch your budget, the Sirloin Tip Roast is a great choice of meat.  Roasts range in sizes from 2 lb. and up, choose a size that best fits your family needs.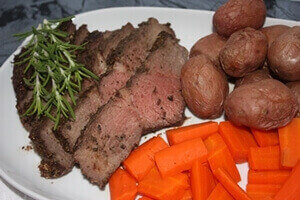 The traditional method of cooking a roast is on a Rotisserie over low heat outdoors. But this Beef Sirloin Tip Roast Recipe is for a Rotisserie Oven and can be cooked indoors. 
A 2 to 3 lb. roast fit nice in our Rotisserie Oven and cooked evenly. Whether your preference is Rare, Medium-Rare, Medium, or Medium-Well, the Rotisserie has got it covered.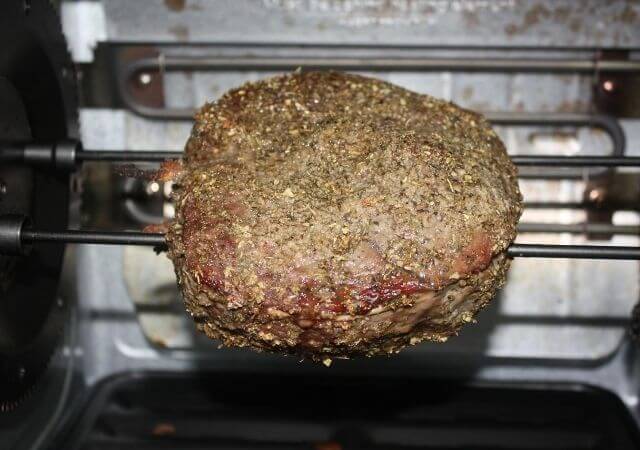 Beef Sirloin Tip Roast Internal Temperature
To get the perfect doneness here is a list of the internal temperatures for this Beef Sirloin Tip Roast Recipe.  
Rare / Cool Red Center= 135° F
Medium Rare / Warm Red Center = 140° F
Medium / Warm Pink Center= 150° F
Medium Well / Slightly Pink Center= 155° F
Well Done / Little to Not Pink Center= 160° F
A meat thermometer comes in handy as the roast cooks in the Rotisserie. Check the temperature of the roast and cook it to your liking.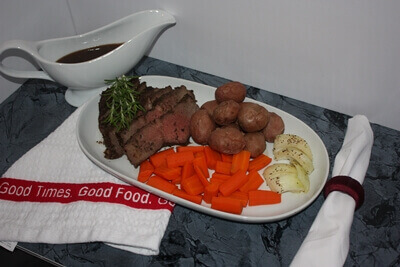 We've seen Beef Sirloin Tip Roasts cooked in a Slow Cooker but prefer the Rotisserie method better.  Although it does come out just as tender in the Slow Cooker
There's so much flavor when using this method, it assures even cooking and self-basting.  It's our number one cooking method for a Beef Sirloin Tip Roast.
What to serve with Beef Sirloin Tip Roast
Combine the roast with small red potatoes and fresh carrots cooked in a Food Steamer, you've now created a healthy, delicious meal for the entire family that's easy to do. 
Invite the family or friends over, or just enjoy leftovers for another meal. Try this Beef Sirloin Tip Roast Recipe cooked on the Rotisserie.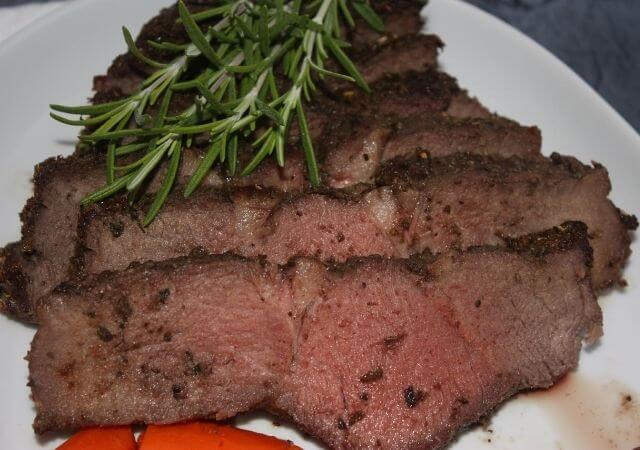 Beef Roast Tips
Take the roast out about 1 hour before you want to start cooking to get it to room temperature. When the meat is at room temperature before cooks it will cook evenly.

Use a thermometer to check for proper internal temperature and doneness.

Let the meat rest after it's done cooking for about 15 minutes so all the juices can redistribute.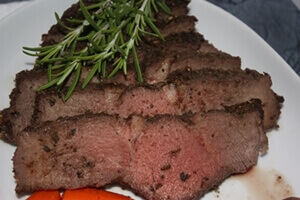 Print Recipe
Beef Sirloin Tip Roast Recipe
Ingredients
1

2-3 lb

Sirloin Tip Roast

1

bag

10-12 small Red Potatoes

1

bag

Carrots

1

whole

Onion

Red, White or Yellow
Spices for the Roast
1

tbsp

Garlic Powder

1

tbsp

Onion Powder

1

tbsp

Dried Oregano or Italian Seasoning

1

tbsp

Salt

1

tbsp

Pepper
Instructions
Put all of the Spices listed above into a bowl and mix together

Coat both sides of the meat with the spices and rub in evenly

Place the roast into the rotisserie and set the timer based on 18 minutes per lb, cook to the desired doneness

Cover the roast with foil and let sit for 10-15 minutes so the juices distribute evenly

Carve the roast to desired thickness and enjoy!!!
Internal Temperature
Medium-Rare: 140°F (60° C)

Medium: 145°F (62.8° C)

Medium Well: 150°F (65° C)