What to Cook with Beef Stew
Beef Stew can be made in many different ways. It all depends on what you like in your Beef Stew, some people like carrots, celery, peppers, or even peas. What to Cook with Beef Stew in Pressure Cooker simple ingredients.  You can substitute any of the ingredients to your liking. 
A Quick and Easy Beef Stew on a dreary cold day can really warm you up.  Beef Stew is comfort food for the whole family. 

How to Cook Beef Stew in 25 Minutes
Beef Stew use to take all day to make but not anymore.  You don't have to wait all day to cook a delicious Beef Stew in a Slow Cooker anymore just use a Pressure Cooker or Instant Pot.  It gives it the same great taste of the Slow Cooker but in a lot less time.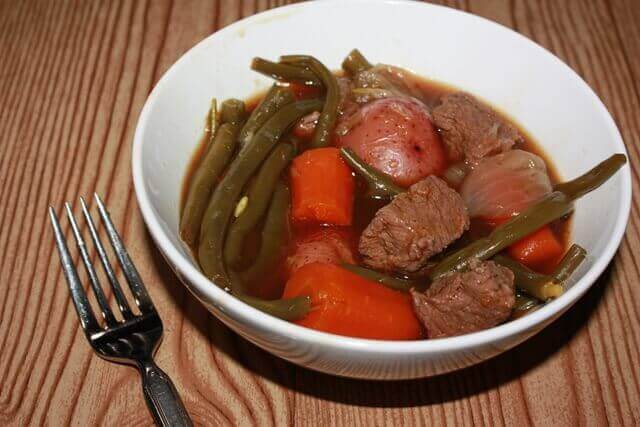 This can be a last-minute idea for dinner because it only takes 25 minutes to cook.  You won't have to plan ahead if you want a Heart Healthy Quick and Easy Beef Stew. 
Just stop by the grocery store after work and pick up the ingredients and in less than 30 minutes you have a delicious meal.  I know the McCormick Hearty Beef Stew Seasoning Mix says to mix with water but the Beef Broth gives it so much more flavor. 
How Long will Beef Stew Leftovers Last?
After the Beef Stew has cooled down to room temperature store in an airtight container.  Stored in an airtight container in the refrigerator  Beef Stew will last between 3 to 4 days. 
To make it last even longer store it in the freezer for up to 4 to 5 months.  It's a great meal to share with elderly people who might not be able to make it for themselves anymore.  Beef Stew is a Heart Healthy Meal.  
Make a lot and share any day of the week.  Pressure Cookers or Instant Pots are great for working families who don't have a lot of prep time for dinners.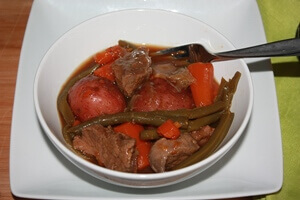 Print Recipe
Quick and Easy Beef Stew
Ingredients
1-1/2

pounds

Beef Round Chucks

32

ounces

Beef Broth

1

pkg

McCormick Hearty Beef Stew Seasoning Mix

for Slow Cooker

1

cup

Carrots

10-12

small

Red Potatoes

1

cup

Fresh String Beans

1

Onion
Instructions
We used fresh carrots and peeled the skin and chopped in about 3" pieces. You could also use baby carrots for less prep work. Put carrots in the Pressure Cooker first.

Just wash off the red potatoes and put them on top of the carrots.

Then put in the fresh string beans next

Chop up the onion into slices and place on top of the string beans

Place the beef round chucks on top of everything.

Mix the McCormick Hearty Beef Stew Seasoning Mix and Beef Broth together in a bowl. Then pour it into the Pressure Cooker over all the ingredients.

Set Pressure Cooker time to 25 minutes.