Unique Wine Bottle Stoppers
Top 7 Unique Wine Bottle Stoppers for Gifts 
---
We are all searching for that Fun Unique Gift to give someone for a birthday, holiday or a special occasion.  A bottle a wine is a gift everyone enjoys receiving.  Grab a Nice Bottle of Wine and accompany it with a Fun and Unique Wine Bottle Stoppers.   We have found some Fun Bottle Stoppers that everyone will enjoy.  
Wine Condom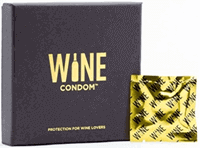 ---
It's just fun saying  "Wine Condom".  You'll laugh every time you

 say it.

The Wine Condom goes on tight around the rim, Protection from spills.


Individually Packaged in Gold Foil Packaging and discreetly fits in any pocket or wallet.

Great gifts for every woman and man wine lover in your life.

Hand them out at your next Holiday gathering and you will make many happy Wine Lovers.

Unlike other Condoms, the Wine Condom is reusable so you will be protected every time.
CELEBRITIES WHO LIKE WINE CONDOMS: Amy Poehler, Sharon Stone, Mila Kunis, Madonna, Bethenny Frankel, Melissa McCarthy, Patricia Arquette, Rosie O'Donnell, and Ruby Rose have one!
Funny Wine Stoppers 
---
Having a "Rough Day" or did "Sip Happens" grab a bottle "Liquid Therapy".

Funny Wine Stoppers will brighten any day of the week. 

Use a Wine Stoppers to keep your wine fresh and preserved. 

Designed to provide an airtight seal and won't leak. 

Thinking "Wine Not" grab a bottle of your favorite wine and relax. 

Silicone and durable and can be hand-wash or tossed into the dishwasher. 

Perfect simple addition to a bottle of wine gift. 

Fits wine, beer, and other liquor bottles.  Grab some for your family or friends, you will be happy you did and so will they. 
Decorative Reusable Corks 
Wine Stoppers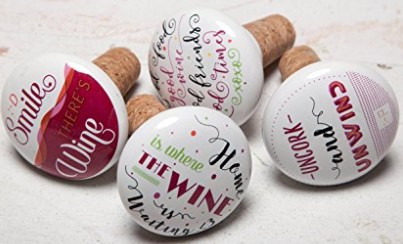 ---
Decorative Reusable Cork Wine Stoppers are great housewarming gift which will accompany a nice bottle of wine. 

Conversation piece or icebreaker for the next party you attend.   

Recork your next bottle of wine after you have "Uncork and Unwind". 

 "Good Food, Good Wine, Good Friends = Good Times". 

Don't hesitate to open another bottle of wine again if you enjoy red and a friend enjoys white, open both. 

Easily recork the rest and save for another night.
Novelty Wine Bottle Stoppers
---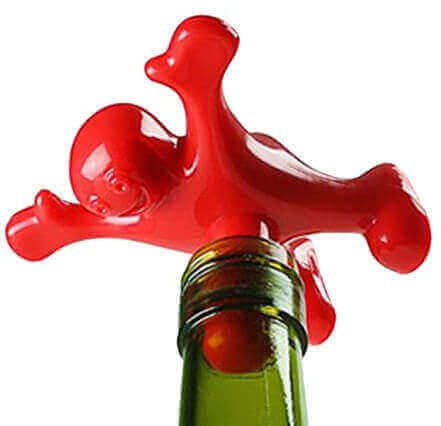 Hilarious Gift to give any wine drinker you know. 

This Happy Man Wine Stopper is an all-around fun gift but is also a functional gift. 

He's very durable and rock hard. 

Give him a name and put him to work right away.

Great for milestone birthdays, bachelorette parties, weddings, give as party favors.

Guaranteed lots of laughter and fun with this man.  
Flip Flop Bottle Stopper and Coaster
---
Package includes 1 Flip Flop Bottle Stopper and 2  Coasters.

Great for any summer theme party, beach theme parties.

Great Favor Gifts for summer weddings, bridal shower, or baby shower.

Take these on vacation with you for when you are poolside relaxing with a glass of wine.

Tight seal rubber gasket to keep wine tasting fresh.

They are bright and colorful fun to living up any bottle of wine. 

Add some Wine Glass Charms to give a great fun gift everyone will love. 
Set of 2 Vacuum Seal Wine Stoppers
---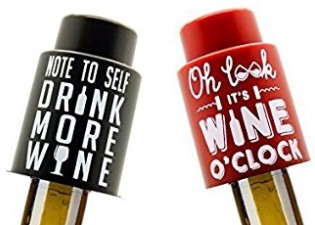 Have fresh wine for weeks with this airtight & leak-proof seal wine stoppers. 

Ideal gift for every occasion with fun sayings. 

Spoil the wine lover in your life with these fun wine stoppers. 

Fun designs that will put a smile on your face when you pour your next glass of wine.

Comes in a pretty box which is very nice when gifting.  
 Blown Glass Bottle Stopper

---
Handmade unique

 Finest Glass Artisans 

wine bottle stopper comes in 20 + styles.  Octopus, owl, ladybug and many others. 

Fits a variety of bottles such as wine, olive oil, and liquor. 

Eye-catching and a great decor for your kitchen. 

With any kind of handmade glass, there is no two that are alike.

Great gift idea for teachers, hairdresser, or neighbors.
 Don't Forget the Bottle of Wine. 
Give the gift that keeps on giving all year long.