Perfect Steamed Hard Boiled Eggs
Everybody knows how to Boil Hard Boiled Eggs Right? Well, have you ever thought of Steaming Eggs???  It takes only 20 minutes in a Food Steamer to cook the Perfect Steamed Hard Boiled Eggs.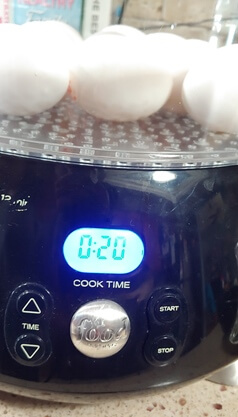 Yep, It's true!  You can steam the Perfect Hard-Boiled Eggs.  Whether you are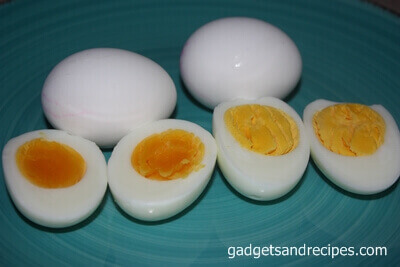 looking to enjoy an Egg Salad Sandwich for lunch or making Deviled Eggs as a Finger Food for a party, steaming them is the way to go. 
Eggs are very simple food but can be the trickiest to cook to perfection. It's easy and simple and there is no guessing if they are done or not. 
If you cook them too long the yoke gets a gray-green color to them. If you don't cook them long enough they are soft and running which is great if you enjoy soft-boiled eggs.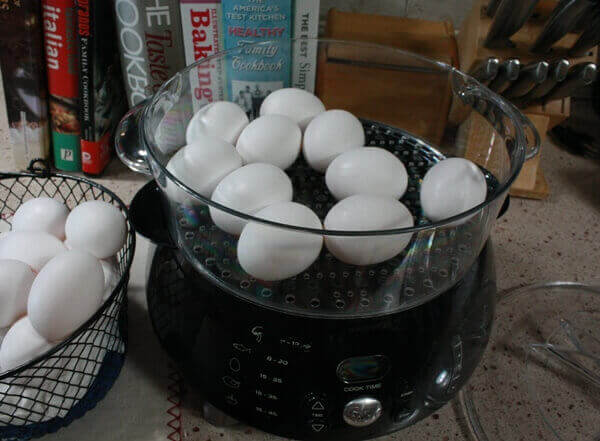 Forget about boiling eggs on the stovetop, the simplest way is Steaming them to perfection. Steaming offers a more consistent and evenly way of making hard-boiled eggs.
There's also less chance of the eggs cracking while cooking. Cooking eggs to your liking whether it's soft boiled or hard-boiled, steaming takes the guessing work out of it.  
Egg Tip:
As soon as the eggs are done in the steamer place them in a bowl with cold water and ice.  Let them sit for 5 minutes and this accomplishes two things it cools them down fast and makes for easy peeling.  
If you have a Food Steamer bet you didn't notice it had an egg setting, most of them do.  
When you steam eggs they are easier to peel the shells off.  You ask WHY are they easier to peel? 
Eggs shells are permeable which allows liquid to pass through them.  So when you Steam Eggs the moisture from the steam penetrates the shell and pulls the membrane (thin layer of skin) away from the shell.  When you run it under cold water it's even easier because the water gets between the egg and the shell.  
If you steam eggs instead of boiling you'll end up with a tender egg because it's been cooked gentler and evenly.
So in April make sure you grab your Food Steamer to cook those Easter Eggs!!!! Let's get Cracking 🙂  Egg-cellent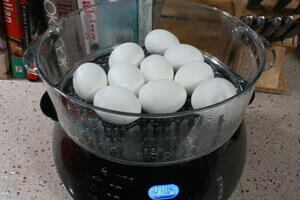 Print Recipe
Steamed Hard Boiled Eggs
Instructions
Follow the instructions per your Food Steamer on how much water to put in.

Place eggs into the Food Steamer container

Set timer to 10 minutes for a soft-boiled egg or 20 minutes for a hard-boiled egg

Place in ice cold water for about 15 minutes before peeling, make for easy peeling