Shrimp and Chicken Recipes
Steaming is a healthy way to cook when you are watching what you eat.  Chicken is a lean source of protein and cost-effective meat. Shrimp has high levels of omega-3 fatty acids, which is also great for your health.  So, if you put together Shrimp and Chicken Recipes and then steam it, you have a healthy low-calorie meal which is cost-effective. 

Shrimp and Chicken together make a great combination with any vegetable, rice, or noodles to complete the meal.  I added broccoli to the steamer to complete our dish.
How to Cook Shrimp and Chicken Recipes
When preparing Boneless Chicken & Shrimp for dinner tonight make sure you bring out the Food Steamer.
Boneless Chicken Breast and Shrimp have different cooking times so put the chicken in the steamer first and on the bottom.  Cook chicken for about 32 minutes then put Shrimp in for the last 3 minutes.
The Shrimp only takes about 3 minutes to cook, you don't want to overcook it.  When shrimp is overcooked, it gets chewy and that won't be good!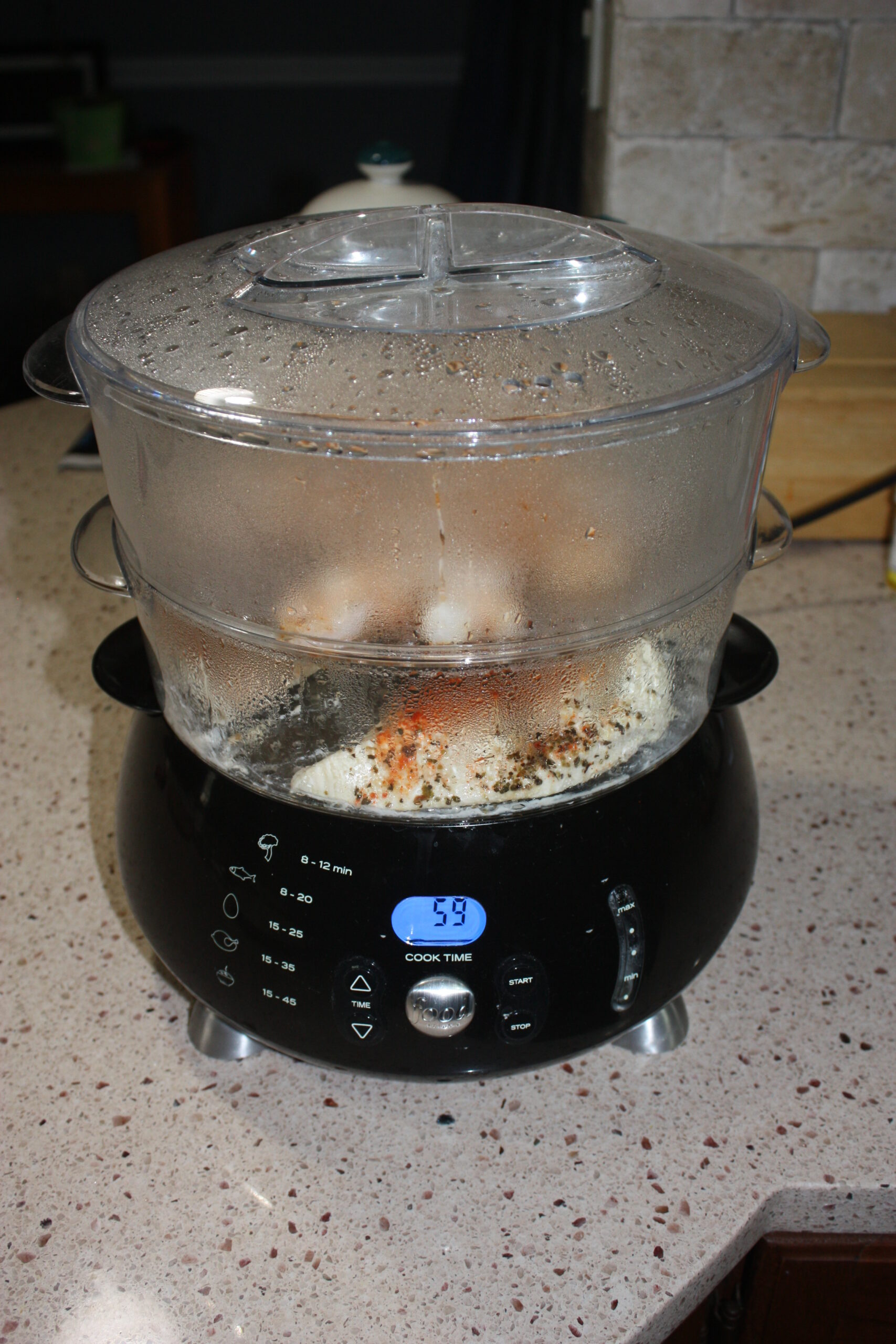 Best of all, this meal is high in protein and low in calories!  So if you are trying to stay fit or lose weight this is a great healthy low-calorie meal.
Since Chicken is a healthy and high protein, we tend to eat more of it, and sometimes it can get boring.  But if the chicken is steamed you can spice it up any way you like, and the flavors will not be lost during cooking. 
This delicious meal comes together in 35 minutes and only using one gadget to clean up.  It's also cost affected meal the whole family can enjoy at home. 
We used boneless chicken but if you like wings or thighs they will also be delicious. The possibilities are endless when it comes to chicken. 
Enjoy and Keep Steaming !!
Print Recipe
Chicken and Shrimp
Ingredients
4

pieces

Boneless Chicken Breast

12

ounces

Shrimp

PreCooked and medium size

1

tsp

Garlic salt

1

tsp

Paprika

1

tsp

Italian Seasoning
Instructions
Trim the Boneless Chicken Breast of excess fat.

Season with garlic salt, paprika, and Italian seasoning.

Place into bottom steaming tray and set the timer for 35 minutes.

If you have pre-cooked shrimp wait until the timer gets down to 3 minutes left for the chicken and add the shrimp to the top tray and cover.

After the final 3 minutes are up, make sure the chicken is fully cooked reaching an internal temperature of 165 degrees.