Roast Pork Loin Recipes With a Citrus Marinade
Boneless Roast Pork Loin Recipes is a great cut of meat to cook in a Rotisserie Oven.  Pork Loin is a cut of meat from a pig's dorsal side of the ribcage.  The Pork Loin cut of meat can be tough, but it is on the cheap side when it comes to cost. 
If you cook a Pork Loin too long it can become tough.  Using a brine or a marinade will make the Boneless Roast Pork Loin tender. 
The best way to cook Boneless Roast Pork Loin is in a Rotisserie Oven or Crock-Pot.  A Rotisserie Oven redistributes the juices in the meat during every turn.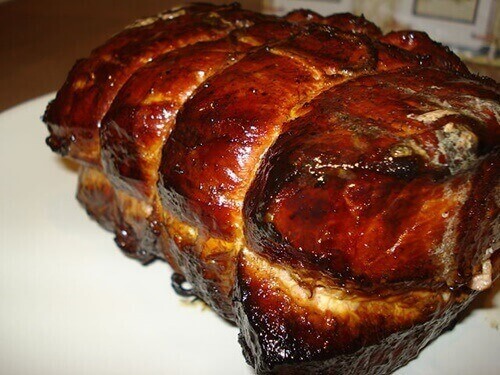 Rotisserie Roast Pork – With a Citrus Marinade
In this recipe, I am using a tasty Citrus Marinade that is simple to make. The flavors of the marinade blend nicely as this Boneless Roast Pork Loin cooks in the Rotisserie. 
This recipe Citrus Marinade includes orange, lemon, and lime juices.  The acid in the citrus acid in this marinade will enhance flavors while tenderizing the meat.
This doesn't have to be prepared for a special occasion or holiday you can make it for any night of the week. 
Nowadays there are various Rotisseries Ovens available on the market, every kitchen should have one. The amount of quality meals you can cook in a rotisserie is endless. 
When you get tired of making chicken or beef during the week for dinner, try this Boneless Roast Pork Loin Recipes.
What to Cook with a Boneless Roast Pork Loin Recipes?
My favorite side dish for a Pork Roast is any kind of potato.  Whether it's a baked potato, small red potato, or even mashed potatoes it just goes with Pork Roast for me. 
Steamed string beans, carrots, or broccoli are delicious vegetables to complement the meal.  To complete it would be to add a dinner roll. 

How to Store Boneless Roast Pork Loin Leftovers?
Hope you enjoyed this Boneless Roast Pork Loin Recipe cooked in the Rotisserie Oven.  If you have leftovers be sure to put them into the refrigerator within 2 hours after cooking. 
Refrigerate in an airtight container for 4 to 5 days for food safety.   Heat back up in the microwave and enjoy this delicious meal again.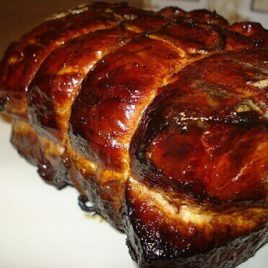 Print Recipe
Rotisserie Roast Pork
Ingredients
3-4 lb

Pork Loin Roast

3-4

Whole

Potatoes

Cut into Quarter pieces

1

Bag

Baby Carrots
Citrus Marinade
3/4 Cup

Orange Juice

1/3 Cup

Lemon Juice

1/4 Cup

Lime Juice

2

Whole

Garlic Cloves

Minced

1/2

tsp

Dried Oregano

1/2

tsp

Dried Thyme

1/2

tsp

Fresh Rosemary

Chopped

1/2

tsp

Ground Cumin

1/4

tsp

Ground Cinnamon

1/4

tsp

Salt

1/4

tsp

Pepper
Instructions
Combine all of the Marinade ingredients listed above in a large bowl and whisk together

Place the 3-4 lb Pork Loin Roast into another large bowl and pour the Marinade over it

Cover with plastic wrap and marinate the roast in the refrigerator for at least 3-4 hours or you can marinate this overnight

When the marinate process is completed, remove from the refrigerator and let it sit between 20-30 minutes at room temperature

Using cooking string, tie the roast every few inches to keep it intact during the cooking process

Cook the Pork Roast approximately 20-25 minutes per pound or until the center of the roast reaches 160° F (71.1°) C

Wait approximately 10 minutes before cutting the roast