Pressure Cook Corned Beef Brisket
Pressure Cook Corned Beef Brisket this St. Patricks Day and save yourself hours of waiting. Flat Cut Seasoned Corned Beef Brisket is a salt-cured beef product.
The term comes from the treatment of the meat with large grained rock salt.  The brisket part of beef is tough and that is why it needs to be cured with salt to tenderize it.
When cooking a Brisket depending on how you are cooking it, it can take anywhere between 2 to 7 hours. Unless you cook it in a Pressure Cooker is only takes 90 minutes.  Now that is a big time-saver for sure!  Corned Beef Brisket has a salty, spicy, beef flavor so NO salt is needed.  

St Patrick Day Meal Ideas
---
Corned Beef is a traditional meal served with cabbage on St. Patrick's Day.  It is an Irish American twist on the more traditional meal salted pork.  
The traditional meat on St. Patrick's Day was cured salt pork, which was bacon, but that became too expensive.  So, the closest substitute the Irish immigrants could afford and find in the U.S. was Corned Beef. 
Why not complete this traditional Irish meal by adding boiled potatoes and cabbage? Want to boil potatoes in a faster manner? Try cooking them in a Pressure Cooker to save time if you're in a rush. 

Looking for something to wash it down with? You cannot go wrong with a few pints of Guinness.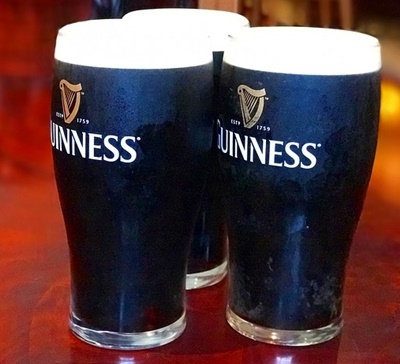 How to Pressure Cook Corned Beef Brisket 
We used a simple Grill Mates Montreal Steak Seasoning for ours. There are many types of Corned Beef Brisket seasons on the market.  One ingredient you shouldn't add is salt.  Corned Beef Brisket usually comes with a seasoning package that you can use if you like. 
Make sure you put in liquid, like beef broth to keep the brisket moist while cooking.  You can also substitute the beef broth with some Guinness beer, which will make a huge difference in taste.  
Print Recipe
Seasoned Corned Beef Brisket
Ingredients
2 1/2

lbs

Flat Cut Corned Beef Brisket

use the seasoning packet that comes with Brisket

1/2

cup

Beef Stock

1

tbsp

Worcestershire Sauce

1

tsp

Grill Mates Montreal Steak Seasoning

Pepper to taste
Instructions
Take the Flat Cut Corned Beef Brisket out of the wrapper and place the seasoning pack off to the side

In the Pressure Cooker combine Beef Stock and Worcestershire Sauce

Add Corned Beef Brisket in next then sprinkle the seasoning packet that comes with brisket on top

Sprinkle the Grill Mates Montreal Steak Seasoning and salt & pepper to taste on top

Lock lid in place and select high pressure, set timer to 60 minutes