When you think of Beef Roast you could be talking about:
Chuck Roast

Eye Round Roast

Top Round Roast

Rump Roast

Sirloin Tip Roast
For this recipe, we cooked a Top Round Roast and it was delicious!  One of my favorite places to purchase meat from is Omaha Steaks.  They have great deals and the food is delicious, but that is for another post.
Whatever kind of Roast it is it doesn't have to be complicated to cook.  We are going to share How to Cook a Beef Roast in less than an hour.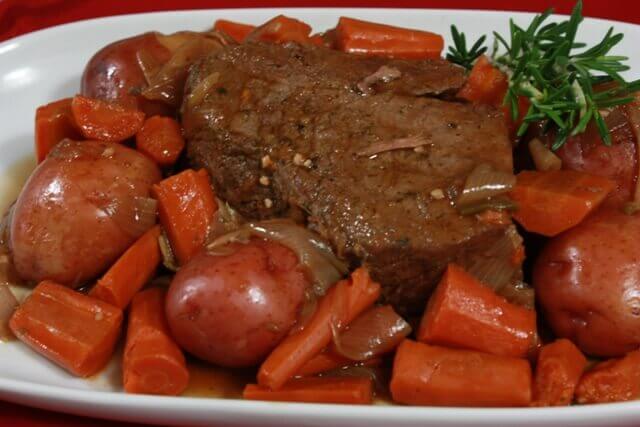 We've made Beef Roast in the oven and CrockPots/Slow Cooker for years and it always turned out so delicious.  But, sometimes we just didn't have 2 hours to wait for dinner to cook. 
This is when you took out our Pressure Cooker and cooked a Beef Roast in less than an hour.  Yes, it's true you can enjoy a delicious, moist and tender Beef Roast in 45 minutes well done.  If you like your roast a medium done it would take less time. 
If you don't own a Pressure Cooker you should consider getting one for your kitchen.  You can find them at Amazon for a great price without running around to different retailers to find the one you want. 
You will wonder how you lived without it.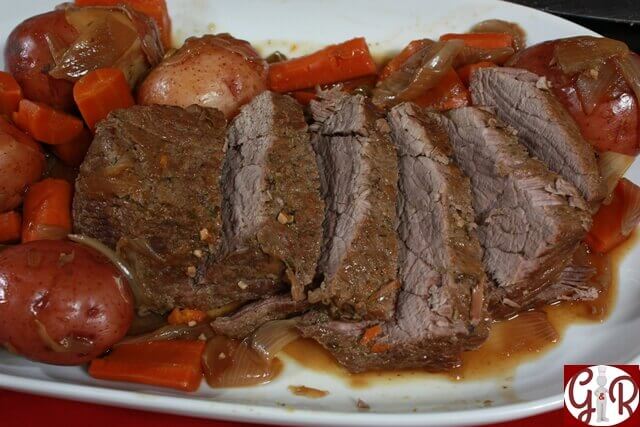 How to Cook a Pot Roast in a Pressure Cooker
---
When cooking with a Pressure Cooker one of my favorite things is to cook the whole meal in one pot. It makes for easy cooking and easy cleanup. 
The Pressure Cooker cuts down on cooking time but doesn't lose any of the flavors of your food.  The meat doesn't come out chewy or dry, it's actually the opposite, the roast is easily shredded and moist while the potatoes and carrots are very tender.
We are all very busy in life with careers and family and don't always have time to cook a healthy delicious meal. Unless you own a Pressure Cooker, then you don't need much time to cook.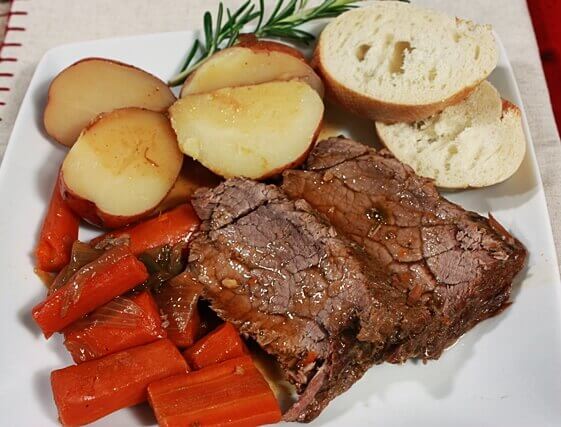 Cooking a Beef Roast
We seasoned our Top Round Roast with garlic, onion powder, italian seasoning, and rosemary but you can get creative and any in any other seasoning you like. 
The thing that makes our Beef Roast different is we use beef broth and beef gravy.  What this does is thins out the gravy a little bit which is the way we like it.  It's also great for the potatoes and carrots. 
But, if you like a thicker or thinner sauce you can always just use either five cups of beef broth or five cups beef gravy, the choice is yours.  
Rub the Beef Roast with the Italian Seasoning, Garlic Powder, Onion Powder, and Salt & Pepper

Pour 1 tbsp of Olive Oil in the Pressure Cooker and turn the Pressure Cooker on high

Add the Beef Roast to the Pressure Cooker and sear until all sides are brown or you can sear in a pan

Add the Potatoes, Carrots, Onions, and Minced Garlic around and on top of the Roast

In a small bowl mix the Beef Broth, Beef Gravy and Worcestershire sauce then pour over ingredients

Lock the lid on the Pressure Cooker

Set the cooking timer for 45 minutes