Homemade Cheeseburger Egg Roll Wrapper Recipe
Want a tasty appetizer for your next gathering? Try this easy Homemade Cheeseburger Egg Roll Wrapper Recipe.  Cheeseburgers are not just delicious on buns and they don't have to be made with ground beef.  Have you ever tried a Cheeseburger with ground turkey or ground pork?
Cheeseburgers on a bun became popular in the late-1920s according to Wikipedia.  You can get a cheeseburger pretty much at any restaurant.  Cheeseburgers are delicious for lunch or dinner, but have you thought about making them as a snack for your next party? 
What Kind of Wrap to Use for Egg Rolls?
There are two kinds of wraps that you can use for making an Egg Roll.  An Egg Roll Wrap is a little thicker than a Spring Roll and will turn out crispy.   Spring Roll Wraps turn out crispy and a little bit chewy but delicious. 
I used Nasoya Egg Roll Wraps for this recipe, but you can use whatever brand your local grocery store carries.  But I would look for a brand that states that it's an Egg Roll Wrap on the package.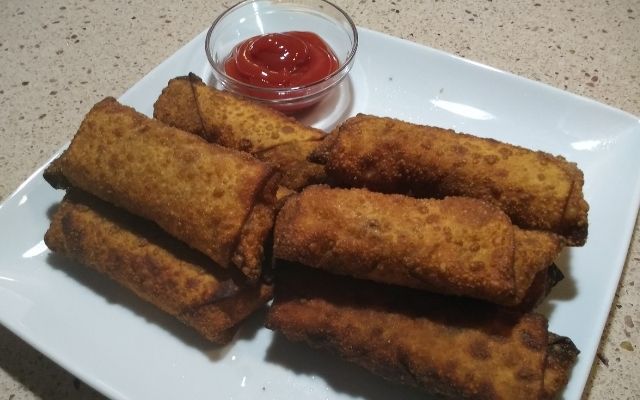 Tasty Cheeseburger Egg Roll Recipe
We created this Homemade Cheeseburger Egg Roll Wrapper Recipe that can be prepared and served for any type of Finger Food gathering.  This recipe for Cheeseburger Egg Rolls are simple to make, so be sure to make enough because they usually go quickly.
They are great for an after-school snack or a meal for the whole family.  Having people over to watch Football, Baseball, or the next big Fight make a batch of Homemade Cheeseburger Egg Roll Wrappers it will be a crowd-pleaser. 
This is a Chinese Classic with an American twist.  Enjoy a Cheeseburger with a golden crisp egg roll that has a little crunch.  Put in all the delicious ingredients you enjoy on your Cheeseburger on a Bun and create the Cheeseburger Egg Roll Recipe.  
Cheeseburger Egg Roll Dipping Sauces
Use your favorite kind of cheese and melt it for a dipping sauce. You could microwave some Cheese Whiz which is delicious.  Any Cheese will do. 

Get creative and make your own dipping sauce with ketchup, mustard, mayonnaise, onion, and garlic powder.  Mix all together and taste as you go for the flavor you are looking for.

Ketchup mixed with some Hot Sauce depending on your Scoville Scale tolerance.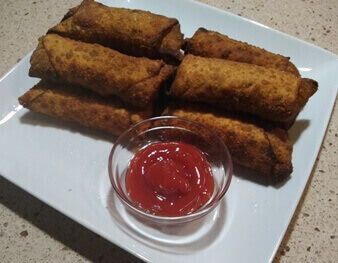 Print Recipe
Tasty Cheeseburger Egg Roll Recipe
Ingredients
1

lb

Ground Beef

1

tbsp

Garlic Powder

3/4

cup

Bacon Bits

1

tbsp

Worcestershire Sauce

1

cup

Shredded Cheddar Cheese

Choose any cheese of your liking

4

cups

Vegetable Oil
Instructions
Brown the Ground beef in the Copper Chef Pan

Add in garlic powder, bacon bits, and worcestershire sauce while it's still on the stove. Mix together well (You can also use real bacon but you just have to cook it up before putting it in with the ground beef)

Take off the heat and mix in shredded cheddar cheese. You don't want the cheese to melt too fast.

Use a damp towel and place egg roll wrappers on the towel to roll. Fold the egg rolls according to package directions.

Put about 2 Tbsp of ground beef mixture on egg roll and start wrapping

Continue until all ground beef is used, we made 10 Cheeseburger egg rolls

Heat the vegetable oil until it reaches approximately 350° degrees.

Carefully add the egg rolls to the basket and submerge into the oil. We used the Copper Chef Pan and deep fried 2 egg rolls at a time.

Cook the egg rolls on one side for approximately 1 minute then flip and cook for 1 additional minute

Place Egg Rolls on a paper towel to cool off.