Best Way to Cook a Pineapple Glazed Spiral Ham
Cooking a Glazed Spiral Ham is a breeze with a Pressure Cooker.  You get that sweet-savory taste of brown sugar and pineapples.  
It cooks while holding in all the flavor and juices. So when your family & friends are ready to enjoy a delicious holiday meal they will be impressed by how mouthwatering your ham is this year.  You will get compliments until next year.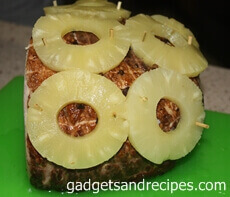 Holiday Ham
The holidays bring family and friends together for a delicious feast, so why not make cooking simple.  While the Spiral Ham is cooking it adds a wonderful sweet aromatic to your home as well.
When you think of a Spiral Ham you probably think of the holidays.  Well, it is true you can enjoy a Pineapple Glazed Spiral Ham during the holidays, but why not enjoy it at other times of the year. 
So don't just wait for Easter, Thanksgiving, or Christmas to enjoy a mouthwatering Glazed Spiral Ham when you can have it any night of the week. 
How to Cut a Spiral Ham
After you take the ham out of the oven let it rest for about 15 minutes so all the juices can redistribute throughout. 
* Lay the ham so the bone is facing up. 
* Guide your carving knife around the muscle line of the bone. 
 *  At this point, the ham should fall off the bone because spiral hams are precut into a spiral. 
Glazed Spiral Ham Leftovers Recipe
Pineapple Glazed Spiral Ham is another meal that will go a long way.  You will enjoy it for dinner and then again for lunch the next day when you make a Ham Sandwich. 
This is one of my mom's famous recipes that always pleased the family with
leftover ham.  She calls it "Shepard's Pie with a Twist".  You take the leftover Glazed Spiral Ham and chop it up in the blender, just enough to cover about 2 inches of the bottom of a 12 X 12 casserole dish. 
Drain 1 – 15 oz. can of corn place it on top of the chopped-up Ham. Cover the corn with mashed potatoes to the top of your casserole dish. 
Cook for about 1 hour at 375 degrees until the top is a little golden brown.  This is definitely a family-pleaser recipe and you can use up the leftovers without wasting food.
If you want to add some green vegetables to this meal just switch the 1 can of corn for a 1 can of peas.  It turns out just as enjoyable.
So give it a try and please let us know how much your family loves "Shepard's Pie with a Twist"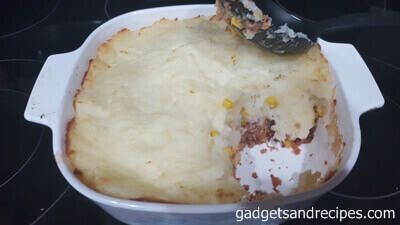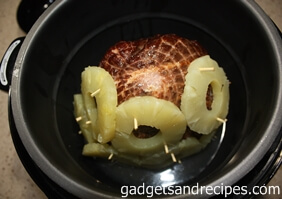 Print Recipe
Pineapple Glazed Spiral Ham
Delicious Holiday Spiral Ham with Pineapples and Brown Sugar
Ingredients
5-6

lbs

Spiral Ham

30

Garlic Cloves

8-10

Sliced Pineapples

1

cup

Pineapple Juice

1/2

cup

Brown Sugar

1/2

cup

Water

Toothpicks
Instructions
Combine Pineapple Juice, Brown Sugar, and Water. Pour 1/2 of the mixture into the Pressure Cooker

Place Garlic Cloves into the Spiral Ham about 1 to 2 inches away from each other

Place the Pineapple Slices on the Spiral Ham and secure them with toothpicks

Place Spiral Ham into Pressure Cooker carefully

Pour the rest of the Pineapple Juice, Brown Sugar and Water mixture on top of Spiral Ham

Place lid on Pressure Cooker and set a timer for 1 hour