Funny Kitchen Wall Decals Ideas
We spend so much time in our kitchen preparing meals for our family. Plain walls and surfaces can get kind of boring.  Since it's too expensive to repaint the walls and replace all your cabinets we decided to decorate.  I started using Funny Kitchen Wall Decals to liven up my kitchen.
Here are 8 of my favorite Funny Kitchen Wall Decals that I have found.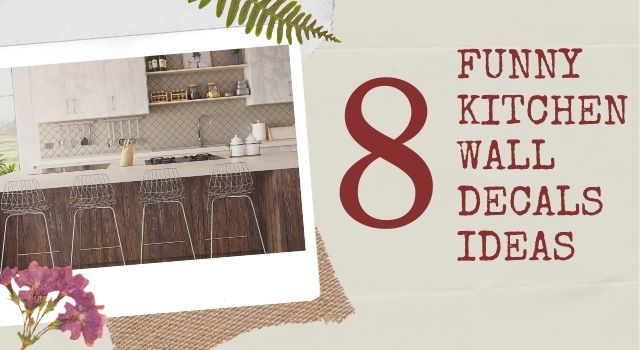 Funny Kitchen Wall Decals may be applied to any smooth surface such as walls, windows, glass doors, refrigerators, flat cabinets, or kitchen appliances.
The Kitchen is the Heart of the Home this is true for many homes.  This is where everyone usually gathers for parties.  This wall décor decal is non-toxic, easily applies to smooth dry surfaces.  It measures 23.6" x 5.9" so it's not large but still sends a big message.  This looks great over cabinets, above doorways, over the sink, and over a stovetop.  The words are broken into sections so you'll have a little freedom with spacing.  Purchase via Amazon
This Kitchen is Seasoned with Love is decal is 16″ x 31″ in size.  It's a vinyl material and non-toxic, and waterproof.  This pre-cut, peel & stick decal is easy to apply, and removable.  Won't leave mark on the wall and can be used indoors or outdoors. 
Each letter will need to be individually placed so you can put the words in whatever order you want. It can be placed around clocks or above windows.  Purchase via Amazon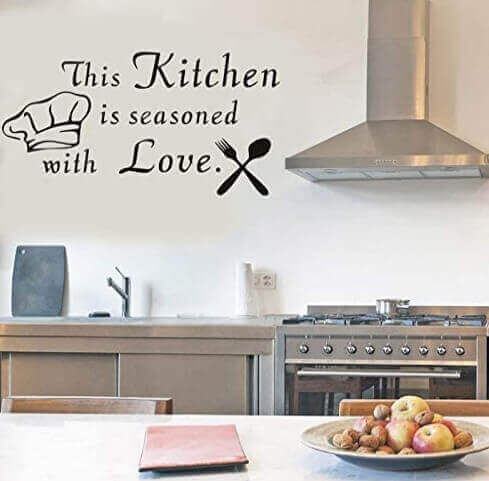 A Pinch of Patience, A Dash of Kindness, A Spoonful of Laughter, and a Heap of Love is available in two sizes.  It comes in a small size that measures 22" wide x 16" high and large size is 30" wide x 22" high so it will fit many places.  Made of black vinyl material it looks great in any kitchen large or small.  The decal can adhere to smooth surfaces right above the sink or stove would look lovely.  Purchase via Amazon
Bless the Food before us, the Family beside us, and the Love between us Prayer is a great addition to your Holiday Decor.  This wall decal looks beautiful above any Thanksgiving table.  It will remind us that the holidays aren't the only time to enjoy family and friends.  It's easy to apply to any smooth surface and measures 14.2" x 40.8".  It also makes a great holiday or hostess gift. Purchase via Amazon
The Kitchen really is where all the magic happens within a home.  It brings families together at the end of each day to enjoy a delicious meal.  This is why this wall decal is one of my favorites because the statement is true.  Kitchens were made to bring families together wall decal measures 36" x 22" and made with vinyl material.  Includes decal instructions for easy application.  Purchase via Amazon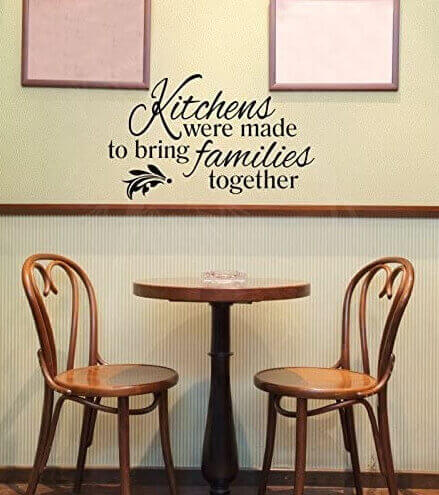 6 & 7) Kitchens Rules Wall Decals
I think every kitchen should include these two Kitchen Rules Wall Decals.  This makes life so simple!  You wouldn't have to keep repeating yourself a thousand times a day.  If it's Dirty, Wash It, If you get it out, put it away. 😊  I say that at least 10 times a day at my home.  Both Kitchen Rules Wall Decals bring life to any flat surface and adds fun to the room.   It measures 23.6" x 13" and it's 100% PVC material, waterproof, and easily removable.  Purchase via Amazon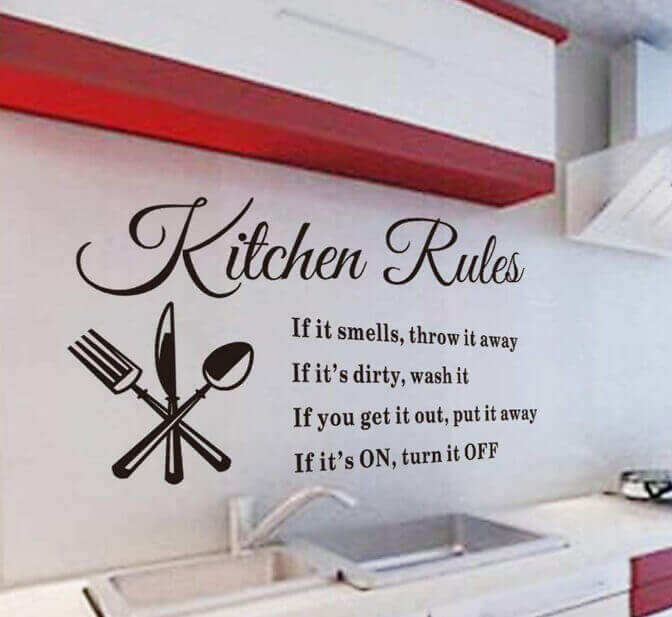 This is for all the Coffee Lovers out there like me this is a must-have for your kitchen.  After I crawl out of bed, I just want my coffee mug in my hand.  That warm delicious flavor just wakes me up and this wall decal fits perfect next to my Keurig Machine.  It can be put up on any smooth surface and measures 22.4 x 15.7 and is made of PVC Vinyl.  I love that it's a chalkboard also I can leave Good Morning Notes for myself.  Purchase via Amazon
These are all great gift ideas for anyone you don't know what to buy.  Mothers-in-law, Friends, Sister-in-law, Girlfriend, Boyfriend, Neighbor, even a House warming gift.
There are many more Kitchen Wall Decals available that I don't have, find the one that best fits Your Family.