What do you do the day after you make the Spicy Hot Chili? What do you make??? You make some delicious Chili Hot Dogs!!!! 
They are delicious and flavorful and will add some flair to any regular hot dog.  Microwave the Chili from the night before for a few seconds until hot.  Grill up some delicious Nathan's Hot Dogs, (which is the kind we enjoy) and lunch or dinner will be served in less than 20 minutes.
Chili Hot Dogs is one of my go-to meals at the end of winter.  We have several BBQs in the Spring and Summer, so Hot Dogs makes me think of those seasons.  Usually, in March I'll make some Chili and then I pull out my T-Gal Grill to cook Hot Dogs.  How about some Chili Dogs for Sunday Football!!!!!
You can even jazz it up a little more by adding some onions, peppers, and sharp cheddar cheese to add some fun to the meal.  Chili Hot Dogs are great for any time of year with the T-Fal OptiGrill.  
How about some Chili Dogs for Sunday Football!!!!!
Chili Hot Dog has many different names from state to state.  New Jersey and Pennsylvania, Hot Dogs are known as "Texas Hot Dog" or "Texas Hot". In Michigan, they are known as "Coney Island Hot Dog".  New Yorker's call them "Hot Wiener". 
No matter what you call the delicious and messy Chili Hot Dog you can get your own Hot and Spicy Flavor.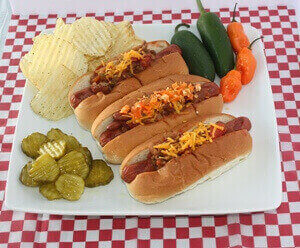 Print
Best Chili Hot Dogs
Ingredients
4

Hot Dogs

Hot Spicy Chili

Leftovers

4

Hot Dog Rolls
Instructions
Grill Hot Dogs to your liking on the T-Fal OptiGrill

Heat up your leftover Hot Spicy Chili in the microwave

Add any additional toppings of your choice
Notes
Gadgets used for this Recipe
---
If you really want to Heat things up!!!!! Check out our Hot Corner for some hot peppers to add to your Chili Hot Dog.