Chicken Marsala and Mushrooms Recipe
Try this quick Classic Italian-American Chicken Marsala Mushrooms Recipe dish tonight.   It's super easy and doesn't take a lot of prep time.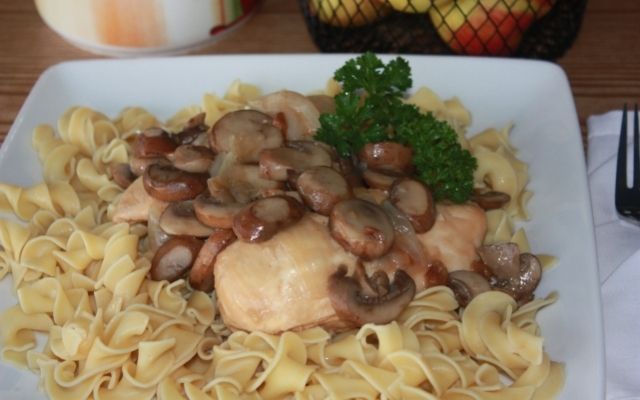 Grab a Campbell's Sauces Skillet Chicken Marsala package at the grocery store. It was in the gravy and sauce aisle at my local store. One night I was pressed for time trying to figure out what to make for dinner.
Have you ever had one of those nights?   I figured why not give it a try and I was happy I did. 
All the flavor of Chicken Marsala in one package and in a lot less time. Forget about the planning and multiple ingredients or a messy kitchen for this tasty meal.

Just add chicken and more mushrooms and onions and no one will know it was right out of the packet.  This will be your family's next favorite meal and easy one for you to make.
Quick Easy Chicken Marsala Mushrooms Recipe
The simplest way to cook Chicken Marsala Mushrooms Recipe is in a Pressure Cooker.  Just put Boneless Chicken Breast into the pot add in Campbell's Sauces Skillet Chicken Marsala package.  Add in ½ cup of Water and lock the lid and cook for 30 minutes.   Dinner is ready!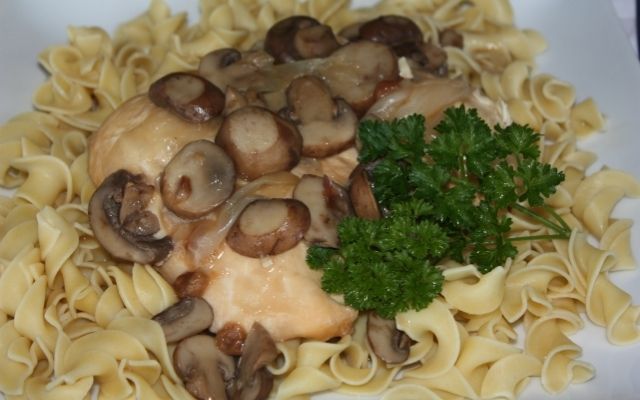 Add rice, pasta, or egg noodles and you have a completely delicious meal.  Make a side of vegetables if you like.  Sounds Yummy Right!!
Pour yourself a glass of Pinot Noir to complete the delicious Italian-American meal.  
What is Marsala Wine
Marsala wine is a cooking wine that can be either dry or sweet.  Look on the label of the bottle and it will say that it's a Cooking Wine. You usually use Marsala for meals that have ingredients like onions and mushrooms.
There is a Marsala Wine that you drink that is delicious. The Marsala wine is fortified from the West section of Sicily and usually has distilled spirit, usually brandy.  Marsala Wine creates a rich caramelized sauce.
How Long can Chicken Marsala Last in Refrigerator?
According to the USDA (United States Department of Agriculture), chicken that is cooked in gravy or broth can last 3 to 4 days in the refrigerator.  As long as it's kept in an airtight container and not left out longer than 2 hours after cooking. 
Chicken Marsala can last in the freezer for up to 2 or 3 months in an airtight freezer container.  This is great for another night's meal if you're not in the mood to cook like I am sometimes.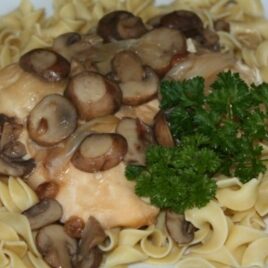 Print Recipe
Chicken Marsala
Ingredients
4

pieces

Boneless Chicken Breast

1

pkg

Campbell's Sauces Skillet Chicken Marsala

1/2

cup

Water

1/2

lb

Fresh Mushrooms

Sliced

1

whole

Small Onion

Chopped into quarters

2

cups

Egg Noodles

Salt & Pepper to taste
Instructions
Place boneless chicken breasts in the Pressure Cooker

Pour Campbell's Sauces Skillet Chicken Marsala over chicken

Pour in 1/2 cup of Water

Chop 1/2 onion into quarters and place around the chicken

Add in the fresh mushrooms

Set a timer for 30 minutes

Cook Egg Noodles according to package instructions