Chicken Cacciatore in Instant Pot
Chicken Cacciatore in Instant Pot is an appetizing version of the Italian Classic made easy and full of rich flavor. It's a meal that can be made in one pot. 
If you're pressed for time! This is a simple yet nutritious meal the whole family will enjoy.
The word "Cacciatore" means hunter in Italian. Which refers to a meal prepared "hunter-style" with onions, herbs, tomatoes, and often bell peppers.  Let's not forget the wine!
The aroma that permeates in the air will have you watching the countdown on the digital timer on the Pressure Cooker with great anticipation for a delicious meal. Cooking this in the Pressure Cooker does two things, it makes the chicken tender and juicy and it only takes 30 minutes to cook. 
How to Make Chicken Cacciatore in Instant Pot?
Chop the peppers and onion into small pieces or into strips.  I used my Food Chopper which I love and makes for easy chopping.  Sauté the peppers and onions in the Pressure Cooker by choosing the sauté button but do not put the lid on.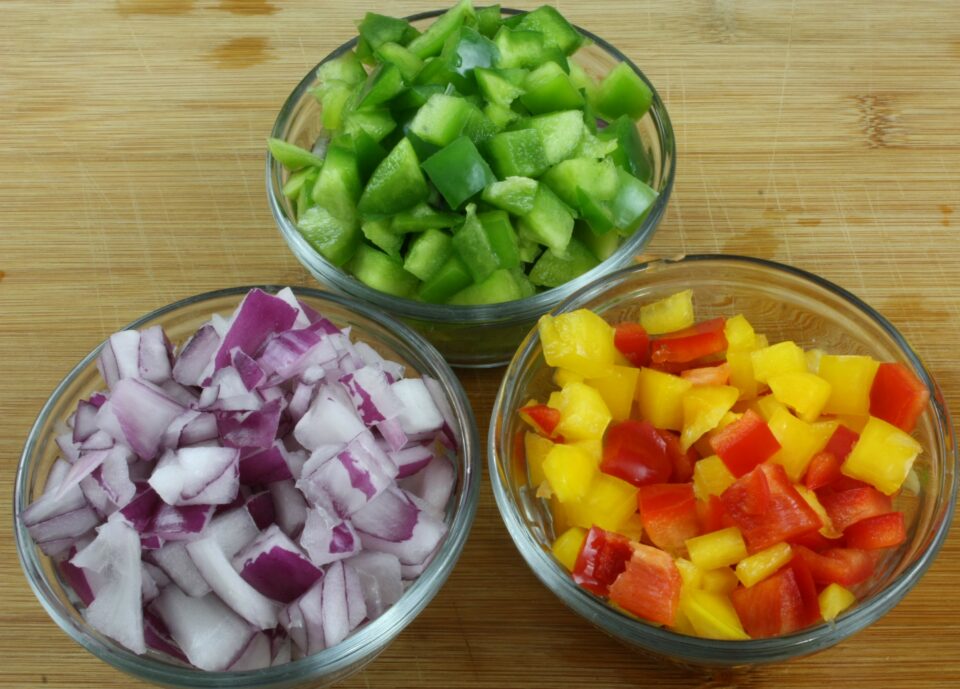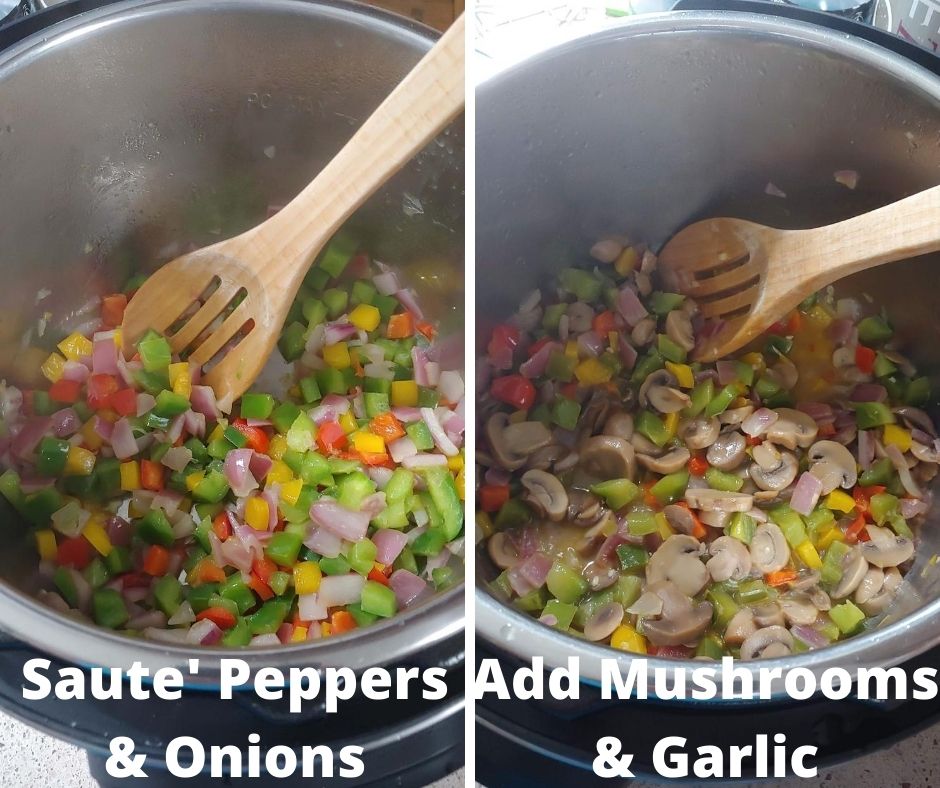 After peppers and onion are sauté add in the mushrooms and garlic and mix.  Mix the crushed tomatoes and tomato paste together in a small bowl.  Add the wine and chicken to the Pressure Cooker and pour tomato mixture on top of chicken. 
Place the lid on the Pressure Cooker and choose the Poultry button and change Pressure to Low. (check your Pressure Cooker manual to adjust level) Set time to 30 minutes.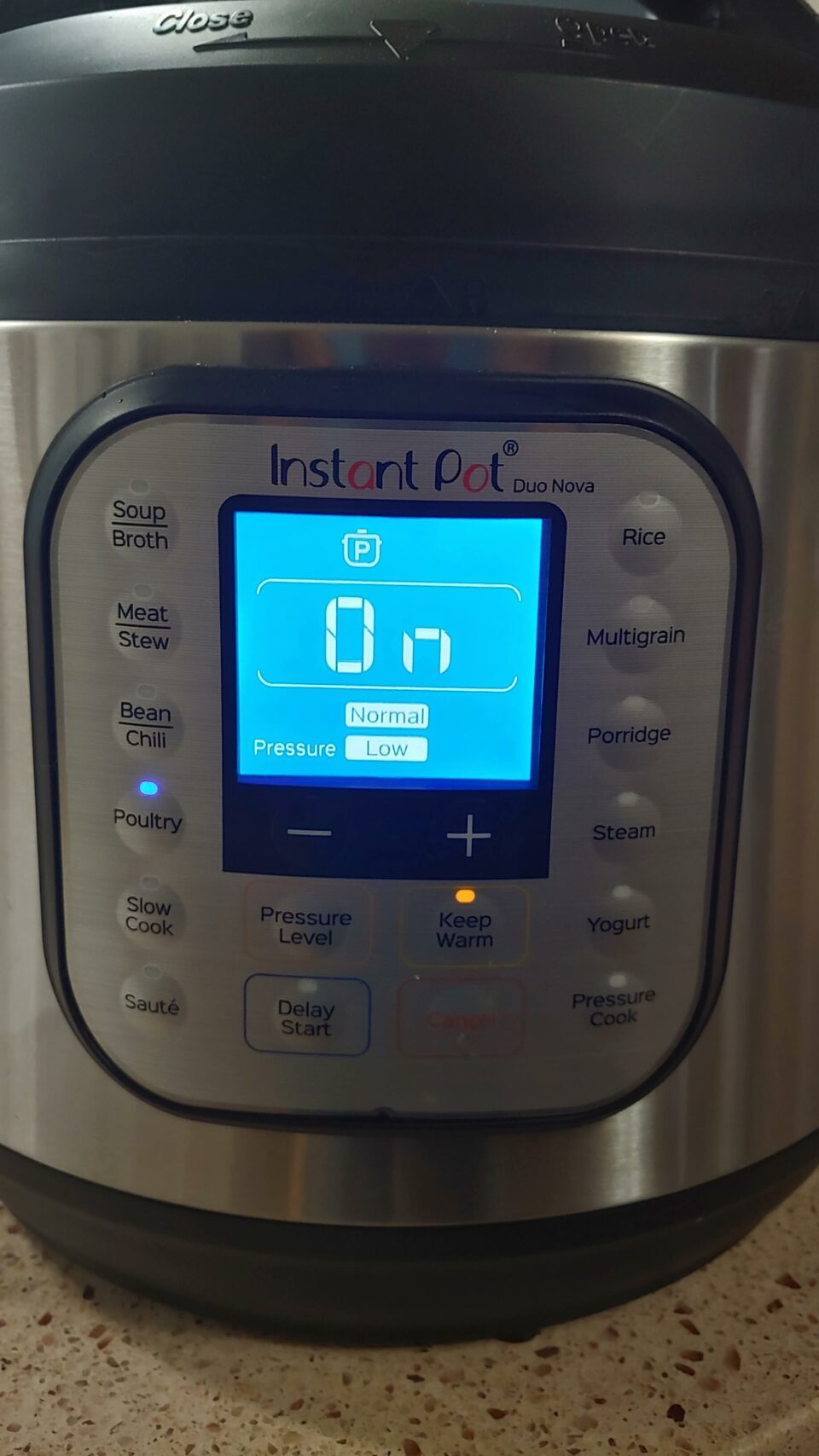 Italian Chicken Cacciatore is a comfort meal for me.  It's tasty delicious and easy to make.  Everyone needs at least one classic Italian dish included in their recipe collection, and this is it!
Grab a bottle of red wine, such as Chianti Classico or American Chardonnay. Grab Your Favorite Wine from Wine of the Month Club.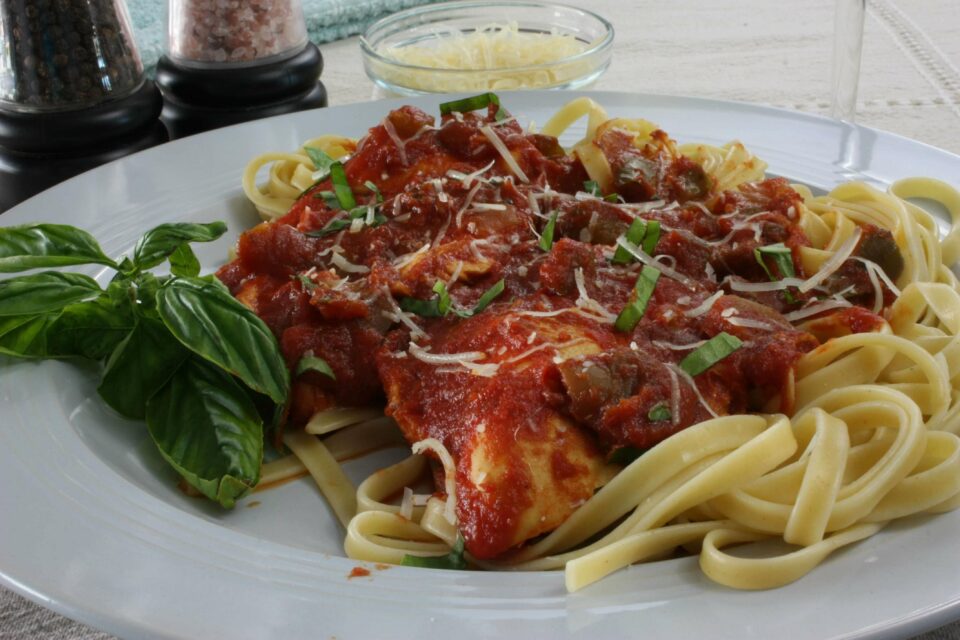 What type of Chicken should you use?
Any kind!  I prefer breast meat, but you can use any part of the chicken you enjoy the most.  Chicken wings, thighs, drumsticks, or breast all will work with this recipe. It's best if you remove the skin from the chicken first before you cook it.  It will decrease the amount of grease and oil in the dish.  
Side Dish for Chicken Cacciatore
Chicken Cacciatore in Instant Pot is an overall delicious Italian dish but sometimes a little side dish goes a long way.  Here are some Side Dish Ideas.
Garlic Bread is great for dipping

French Bread

Italian Salad

Steamed mixed vegetables

Caesar Salad

Mashed Potatoes

Baked Potatoes

How to Store Leftovers
Leftover Chicken Cacciatore can be transferred to an airtight container and stored in the refrigerator for 3-4 days.  It can also freeze it up to 3 months if you don't want leftovers right away.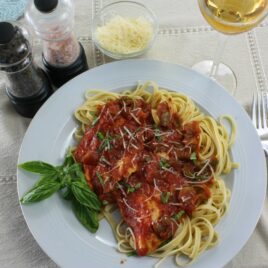 Print Recipe
Chicken Cacciatore
Ingredients
4

pieces

Boneless Chicken Breast

1

Red Pepper

cut into 2" squares

1

Green Bell Pepper

cut into 2" squares

1/2

Red Onion

cut into 2" squares

1

Garlic Clove

chopped

4.5

ounce

Mushrooms

with the juice

28

ounce

Crushed Tomatoes

basil seasoned

6

ounce

Tomato Paste

1/2

cup

Dry White Wine

Salt & Pepper to taste

Parmesan cheese to taste
Instructions
In the pressure cooker add 2 tbsp. of olive oil and sauté the peppers and onions.

After the peppers and onions are softened, add the white wine.

Add the mushrooms and garlic stirring occasionally.

Add the chicken pieces on top of the other ingredients and then cover the chicken with the tomato mixture

Set the timer on the pressure cooker to 30 minutes.