Best Grilled Salmon Recipes
Looking for a simple worry-free way to cook Salmon Fillets? Well, you just stumbled on to it. This is one of the easiest Brown Sugar Grilled Salmon Recipes. Grab your T-Fal OptiGrill and head to the Kitchen.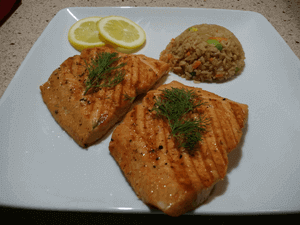 While you are at the grocery store head to the fish depart of and ask for some Artic Keta Salmon Fillets.  That is the kind I used but you can get whatever kind your store sells.  
Frozen Salmon is just as delicious but I prefer to eat Fresh instead of Frozen.   The Choice is up to you!
How Long to Cook Grilled Salmon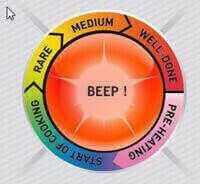 The T-Fal Grill takes the guessing work out of cooking. Wait for the proper doneness which is Medium for Fish, and then the Beep!  It takes about 3 minutes depending on the thickness of the Salmon Fillets. 
Place the Salmon on the T-Fal OptiGrill and press the fish button then hit ok. After that, all you have to do is watch for the correct color of doneness.
The T-Fal OptiGrill cooks both sides at the same time. So there no guessing on when to flip the fillet over.  When the Salmon is done it should flake, and fall apart on your plate. 
It's That Simple!!
Marinating Salmon for about 1 hour will give to so much more delicious flavors.  This is the time when all the flavors soak into the Grilled Salmon for a delicious taste. 
You will be eating more Salmon after knowing how simple it really is to cook.  Salmon is high in Nutrients such as Protein, it's a very good source of Minerals. Not to mention all of the great Vitamins it has that your body needs. 
Eating Seafood at least twice a week can reduce your risk of heart disease by at least 36%.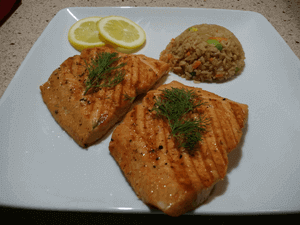 Print Recipe
Artic Keta Salmon Grilled
Ingredients
Marinade Ingredients
1/4

cup

Brown Sugar

1

tbsp

Lemon Juice

Squeezed from a whole lemon

1

tbsp

Water

1

tsp

Cajun Seasoning

Optional if a spicy kick is needed

1

Salt & Pepper to taste
Instructions
Combine all Marinade Ingredients in a bowl

Place Salmon Fillet in the bowl and marinate in the refrigerator for approx. 1 hour

Place on the T-Fal OptiGrill and cook until the desired doneness

Garnish with some fresh dill or green onion

Suggested Side Dishes: Rice, Steamed Vegetables