The Best Sausage Peppers Recipe
Looking for the Best Sausage Peppers Recipe to cook for dinner tonight? Using your favorite Rotisserie Oven, here's a simple but delicious recipe. Place the sausages, peppers, and onions in the rotisserie basket. Sent the Rotisserie timer for 25 minutes and it's that simple!
Why is this The Best Sausage Peppers Recipe? 
This is the Best Sausage Peppers Recipe because it can be served in several ways. Set up a buffet kind of style meal for your family and let them choose how they want to eat it. Put out rolls, pasta, tomato sauce, and rice. 
I serve it on a roll for a delicious Sausage, Pepper, and Onion sandwich.  Heat up some sauce and serve on top of a pasta noodle such as spaghetti.  Serve alongside white rice and tomato sauce.  Or just cut up the sausage, peppers, and onions into bite-size pieces for a meal on its own.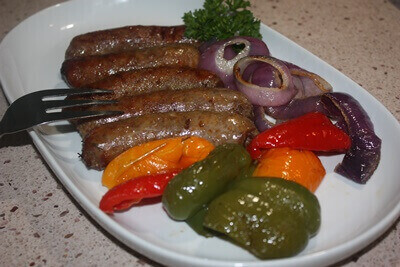 This easy recipe works as a traditional Italian dinner as well as for watching the big game. Get any kind of sausage you enjoy such as mild, hot, or spicy. The Sausages get so juicy and cooked perfectly while the peppers and onions are roasted with every turn of the Rotisserie.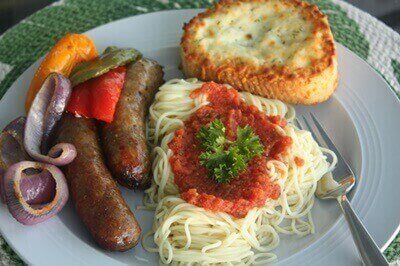 The aroma of the sausage, peppers, and onions will permeate throughout the kitchen and throughout the entire house. 
Want to really kick this recipe up a few notches in heat, try adding a few red Habanero Peppers if you can tolerate that type of intense heat.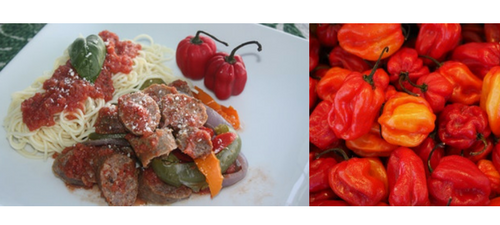 How to Store Leftovers?
Cooked Sausage, Peppers, and Onions will last 3 to 4 days in the refrigerator and up to 3 months in the freezer.  Defrost in the refrigerator overnight and pop into the microwave for about 3 minutes.  Or toss in a saucepan with a little bit of water or oil until warmed throughout.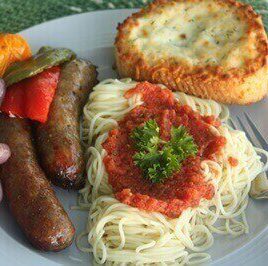 Print Recipe
Best Sausage Peppers Recipe - Rotisserie Cooking
Ingredients
1

pkg of 5

Italian Sausage

Sweet, Mild or Hot

3

Bell Peppers

Green,Yellow, Red

1/2

Red Onion

Cut in thick slices

1

tbsp

Garlic Powder

1

tbsp

Onion Powder

1

Salt & Pepper to taste

1

whole

Habanero Pepper

Sliced into thin pieces-optional
Instructions
Mix garlic powder, onion powder, salt, and pepper over each sausage.

Cut each bell pepper in half vertically. Cut off stems and remove seeds.

Slice the red onion into thick round slices.

Using the basket supplied with the rotisserie, arrange the sausages, peppers, and onions evenly.

Place basket into the rotisserie and set the timer for 25 minutes, Cook until internal temperature reaches 160° F (71.1° C)