Easy Shredded Chicken Sandwiches
I have made my Easy Shredded Chicken Sandwiches in the Pressure Cookers for years.  It's a meal that can be eaten in many ways.  You can make sandwiches, wraps, on salads, or make slider sandwiches for parties.
If hosting a party make Easy Shredded Chicken Sliders as a Finger Food and you will be glad you did.  They are super easy to make, which will give you more time with your guest.  
How to Make Shred Chicken Sandwiches?
Easy Shredded Chicken Sandwiches are one of the easiest meals to make and feeds a lot of people.  By using the Pressure Cooker, it only takes 30 minutes instead of 5 to 7 hours in a Slow Cooker.  
I use Boneless Chicken Breast, but you can use any kind of chicken you like. When using chicken thighs or chicken breast on the bone you'll have to take the meat off the bone.  Add your favorite BBQ Sauce and seasoning and that is it.  It's That Simple. 
Cooking with the Pressure Cooker the Chicken comes out so tender and juicy.  It easily falls apart but use a spoon or forks to shred it into pieces.
When Should you Make Shredded Chicken Sandwiches?
Easy Shredded Chicken Sandwiches is a meal that can be made for one person or a large group.  It all depends on how many pieces of chicken you cook. 
We used four pieces of chicken and we still had leftovers for the next day. When making it for a party just increase the number of pieces of chicken.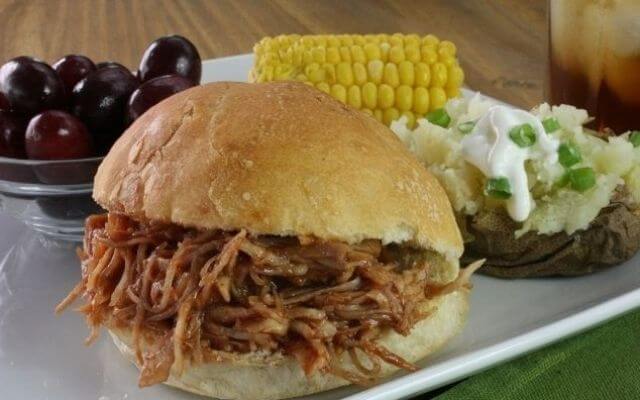 Meals made in the Pressure Cooker or Slow Cooker stay warm until you're ready to serve.  Which is great when making this meal for a large group or a party so you can focus on having fun. 
Additional Flavor to Shredded Chicken Sandwiches
Add some Onions, Peppers, or Cheese to give that extra yummy taste.  To turn up the heat a little bit and make a HOT Pulled Chicken Sandwiches check out our Hot Corner and choose which Pepper to use. 
Place a Pepper of choice in the Pressure Cooker with the chicken while it cooks.  It makes your Easy Shredded Chicken Sandwiches Spicy Hot and Delicious!!!  
Side Dishes Ideas 
Corn on the Cob

Pickles

Potato Chip

Potato Salad

Cole Slaw

Mac & Cheese

Macaroni Salad

Coleslaw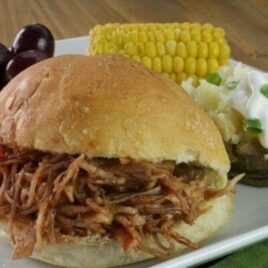 Print Recipe
Pulled Chicken Sandwich
Pulled Chicken Sandwich or Wrap great for lunch or dinner. You can make it as Hot or Mild as you like.
Ingredients
2

pieces

Boneless Chicken Breast

1

18 oz bottle

BBQ Sauce

BBQ Sauce of your flavor

1/2

cup

Water
Chicken Spices
1/2

tsp

Garlic Powder

1/2

tsp

Onion Powder

1/2

tsp

Italian Seasoning

1

dash

Salt & Pepper to taste
Instructions
Pour 1/2 cup of water into the Pressure Cooker

Add your Boneless Chicken pieces

Pour 1/2 bottle of BBQ Sauce of your choice over the chicken pieces

Add the group of Chicken Spices, garlic powder, onion powder, Italian seasoning, and salt & pepper.

Cook for 30 minutes, take Chicken out of Pressure Cooker and Pull apart with 2 forks

Add the rest of the BBQ Sauce and stir

Put on a roll or a wrap and enjoy!